With the release of Apple's OS9 for the Apple Watch, multi-sport athletes and triathletes now have access to automated multi-event tracking. This is great news. No more do you have to fumble with an extra watch in a transition area, or worry that you forget to restart a run after stopping a bike event.
The feature is not just for races through. It is great for training, including Brick workouts (see our guide to running brick workouts for beginners). Workouts can be configured to be bike-run only, swim-run-swim, and even long combinations of repeats (bike-run repeated 6 times).
This article describes the basics of using multi-sport mode on Apple Watch. It also includes things we've learned from using the features to track and upload to Strava, locked Swim settings, and more.
Apple Watch Triathlon Mode
Yes, Apple Watch has a triathlon mode. It is part of the multi-sport tracking on the native app.
Will triathlon mode on Apple Watch automatically know transitions? Yes, triathlon transitions can be automatically detected on Apple Watch, if the setting is flipped. It is not perfect though. For long transitions, especially bike to run, the watch sometimes switches to the new sport prior to exiting the transition area.
Using the triathlon mode is simple, just vanguard to a multi sport and start an activity.

Once recorded the GPS track is saved and the Watch will automatically detect transitions. The watch did a great job in our first tests of switching between activities. The final result was saved with notations for when each activity started. This makes it possible to import the GOS file into other systems (some covered below), although not all workout trackers will import it natively.

The native Apple workout though contains details for each activity independently. This means you will get calories burned, time, distance, and heart rate averages for each activity as well as a total for the complete event.
Switch Apple Watch Triathlon to Manually Go Through Transitions
When doing a training run, or a longer race where you don't mind fidgeting with a watch in transition, using the manual mode is fine. This option can be swapped within the multisport settings. To get to the below screen on your Apple Watch go to "Workouts">"Multi-Sport" (Hit the three dots)> "Edit" (the pencil icon)> "Transitions" of the multi-sport combo you want.
If you are comparing the transition times to that of official tracking of a race, defer to the race timing. While Apple Watch can detect when you have swapped from a swimming mootion, to a run and gear movement, to being on the bike, it has no way of knowing where the timing pads are.
We have taken part in races where the transition area itself offers nearly half a mile of running. With this much between bike dismount and run start, many athletes will be running through transition. The watch in this case is likely to think (rightfully) that you are already running and it will stop your transition time.
Create Your Own Multi-Sport Combination on Apple Watch
When training for a triathlon or multi-sport event, athletes may follow their own workouts. Personally we wind up doing occasional repeats of a stationary bike followed by a run. This Run>Indoor Cycle>Run>Indoor Cycle is not popular enough to have a pre-set workout on the watch.
To set up your own custom configuration on an Apple Watch go to: Workout>Multi-Sport>Custom Workout. For now the options only allow for Indoor/Outdoor runs, Indoor/Outdoor Cycle, and Open Water/Pool swims.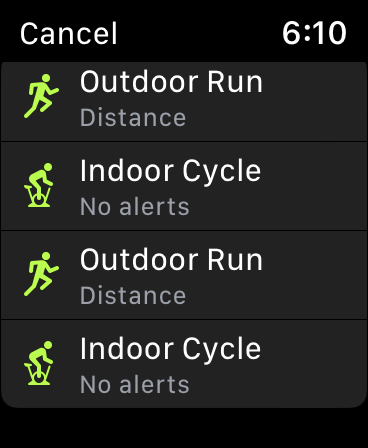 Apple Watch Multi-Sport for SUP, Erg, Kayak, Ski, Etc.
If you are doing any other multi-sport event (Stand-Up Paddle Board>Run duathlons maybe) you will not be able to track it automatically with Apple Watch. If you want to setup a mutli-sport event with anythiing other than Swim/Bike/Run you can though.
First, create a custom multi-sport event that cycles between the events that are supported. For any unsupported event, simple pick an alternate. Then change the transition mode to Manual instead of Automatic. This will keep the watch from sensing your motion and thinking that you have moved on to the next discipline.
If you are creating a multi-sport mode with manual transitions, use a bike or run event as the place holder. This is because water based events will trigger water resistance mode. Water resistance mode locks the screen. You will have to hold the crown button for 3-5 seconds to break it out of water mode and being able to touch the screen in order to make the transition.
You can tell if the watch is in water resistant mode two ways. The first is to touch the screen, if it does not respond or shows the alert for water mode, easy. Otherwise, look up at the clock area of the screen. Next to the time will be a water drop symbol. If the blue droplet is present the watch has entered water mode, this happens either due tot he activity or because it senses water (rain and sweat both can cause this even on a run).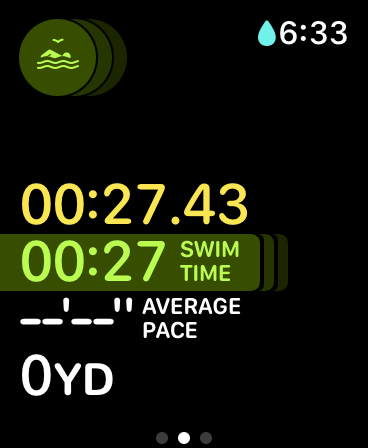 While this makes a ton of sense when doing water activities, where the watch may accidentally activate due to the electrical connection water makes, it makes non-water transitions annoying. Adding 3-5 seconds to fumble with a watch, especially when you are tired from a race, can be a frustrating experience. If however the event that you are doing (kayaking) risks having the watch get wet then choose a pool swim as the place holder.
Upload Apple Watch Multi-Sport to Strava
We of course cover Strava here, and live by the idea that what's not on Strava does not count. This is too much for many athletes, but others we've spoken to live by the same idea. However, uploading a triathlon to Strava is a pain.
Strava does not have a default multi-sport mode. If you upload the multi-sport activity from an Apple Watch directly, it will be imported as a workout. Thankfully GPS data is kept, but there is no ID in the Strava event for transitions.
To switch an Apple triathlon or multi-sport event in Strava you need to split the activity. To do this you can use the Strava split tool. But generally you will need to follow these steps:
Record the triathlon or multi-sport event on your Apple Watch
Upload it to Strava (automatically or manually). It will import as a workout
Find the "workout" on Strava. Change the event type to Ride (or Run, but ride avoids getting instant PRs as a run). This step must be done for the Split tool to appear
Split the Original event at the point of the first transition. You can trim out the transition itself by zooming in on GPS data, or leave it in.
Save the initial split as the right activity (Swim). Leave the remainder as "Ride"
Repeat Step 4 for any additional disciplines.
Related Articles