On a Paddle board, to "track" is to keep a straight line which often is an efficient method of moving forward. But "tracking" is a verb for this but often also means to just track a Stand Up Paddle boarding (SUP) workouts. This can include distance, time spent, number of strokes, calories burned, as well as a lot of details about the weather. Compared to other sports weather, especially wind, can make a huge difference when paddle boarding.
The Apple Watch offers a workout type for paddling. Unfortunately this is not the best way to track, and you won't realize that until after the workout. Similar to indoor treadmill or other workouts, the paddling option does not include GPS data. The same issue occurs with Strava, which has a SUP option although it is not available on the default Strava watch app so it's harder to make the mistake of using it then not having mapped data. Of course there are specialized tools for tracking paddle boarding, which is great news since it is an all around strong workout.
Getting Paddle Boarding and SUP GPS Data for Strava
By default the SUP setting on Strava does not track GPS data. This means that distance data and speed do not get tracked, and for more scenic paddles you will not get a cool map graphic showing your route. There is of course some ways around this.
The easiest way to get GPS data into Strava for a non-GPS event is to track it as something else first. Start a Walk or Run event and complete the activity as such. Once it has finished and uploaded into the app you can go in and edit the activity. This is the same thing you do to alter the name, add comments, or add photos, but instead just swap the activity type to "Stand Up Paddle" and it will be recorded as such.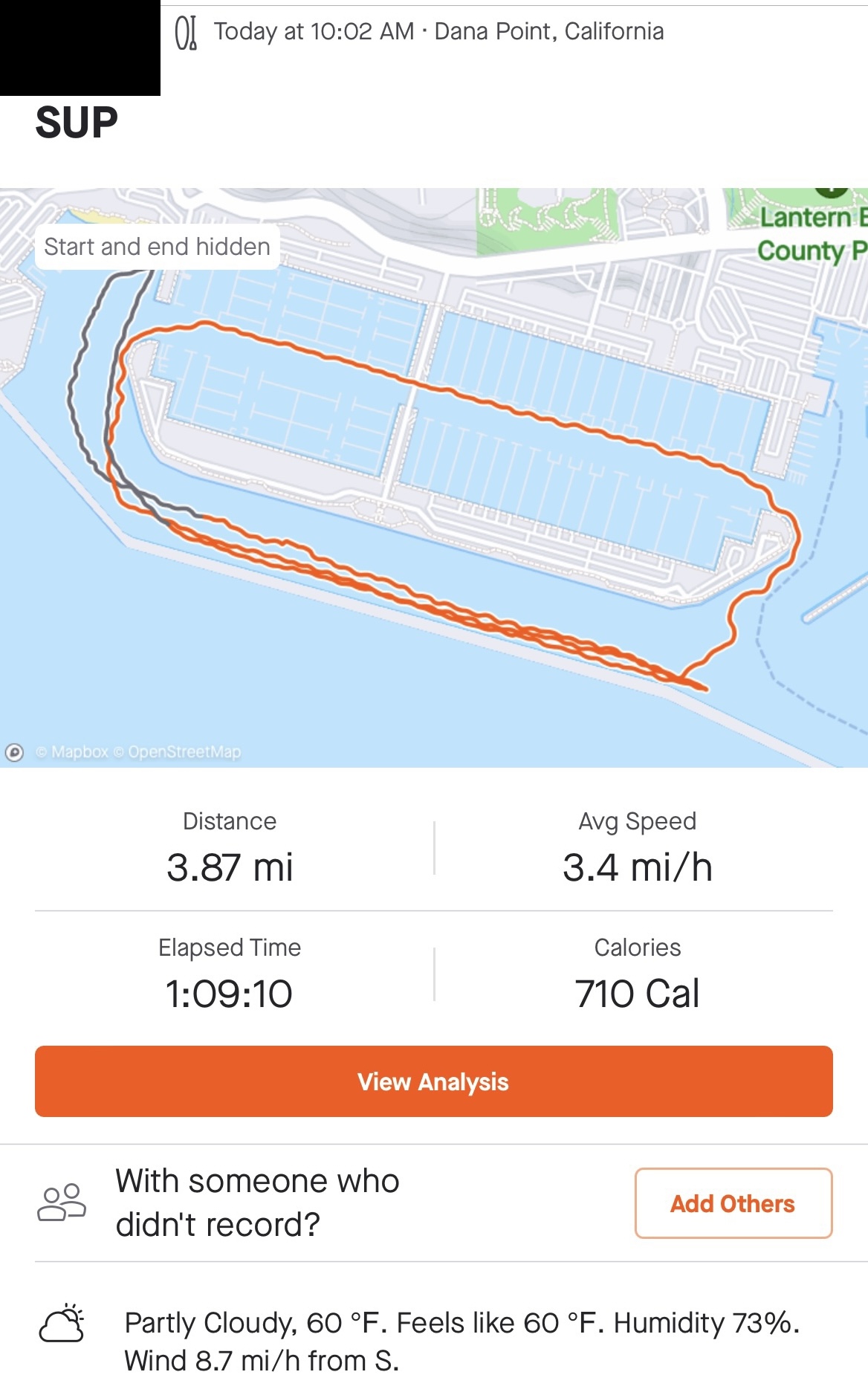 Thankfully it is rare that you produce a best mile time on SUP since it is comparatively slower than running, so there is no risk of annoying folks who watch KOM leaderboards. The only real risk is GPS glitches, which are more likely if you are paddling in a remote area and across water where you may not be getting accurate GPS points. In popular areas though, marinas and bays near populated areas, the stats are surprisingly accurate. In the below workout you can even see the wiggling trail through the water that is caused by alternating sides of the board to paddle on.
Using SUP Specific Apps for Paddle Board Tracking
Since paddling is not as popular as other fitness activities (like cycling and running), when it comes to tracking the default options are a bit lacking. Having an activity specific app is super helpful for this, as it is for other less common tracked activities like jumping rope or playing tennis. For paddling there are a handful of features that are nice to have and offered on some of the more popular apps.
GPS Tracking, Distance, and Path Tracking for SUP Workouts
GPS tracking is one of the most fun and useful added features to track. Espeically on lakes or inlets where finding out where you went after the fact is helpful, having the direct path for historical records is wonderful. It is also nice to get a sense of how far off shore you might have been, or see how the wind pushes you off a straight line. The other addition that GPS tracking has is that it allows for distance and speed to be populated in the apps. Again it's possible to find out how wind and current effect your pace, which can be useful if you are using the data to plan longer outings.
Safety Notifications with Open Water Workouts
Open water activity comes with inherent risks. Many SUP rental places will require personal floating devices (handy inflatable belts or vests) just as a way to reduce liability. For first timers, and even advanced paddlers, there is also always the risk of not being able to get back. With wind, currents, or potential injury there is a true risk of being caught on a board unable to get back. This is highlighted in one Apple Watch promo video, wtih a paddler placing a call from their watch to an emergency line that connects to a coastguard, but other apps also offer the option to broadcast a location beacon or automatically send alerts if you do not check in.
Heart Rate Max While Stand Up Paddle Boarding
Heart rate data is important for any sport, especially endurance ones where staying in a reasonable hert rate zone can help prolong the amount of time you can maintain an effort. Spiking into high heart rates for any activity can overload the body with lactic acid and make it hard to keep going, which is especially problematic if the return trip is into the wind or current. Tracking using any variation of app that has an apple watch integration will capture this data, while using an iPhone or Android tracker on a smart phone will leaving you wanting.
In a one hour session, going at a reasonable pace, I have been able to get my heart rate to 85%-90% of max while stand up paddle boarding, typically while powering across minor swells. Keeping balance engages the legs, and paddling engages the rest of the body so it is possible to really pump the heart rate up.
Paddle Specific Tracking Apps Include
Paddle Logger – This tracker offers all of the above relevant data, with a pro account. The basic account still gets you heart rate, GPS, and calories burned with a normal workout. This makes the free option better than the default Apple Watch, but only slightly. If you want additional data, including top speeds, split times, or the ability to populate a workout with some photos you need to upgrade to the pro-option. There is a free 7-day trial but beyond that it will cost you $40 for an annual plan, without the ability to aggregate other activities into the single app this is a bit steep for a tracker.