For kids, or adults, who have a few free hours and an open field in the summer there is nothing quite like hosting a pickup baseball game. The slow nature of play of a game makes it easy for players to come and go while having a chance to take a few swings or try for a catch. Many adults in the US now have fond memories of classic movies like The Sandlot which wax nostalgic on the concept of a never ending summer game. In order to deliver on this nostalgia there needs to be a place for that game to live.
A great ballpark can take on a life of its own. The mystic and stories of games played within a venue stick with it over time and a storied field can be as much a part of the game as the players that pass through it over time. All of this magic of the field has led many to ask the question, can I build a Wiffle Ball field in my own yard? Thankfully if you have a little bit of space and a few dollars that answer is likely yes. This article covers some of the best tips for setting up a field where you can make memories to cherish for years to come.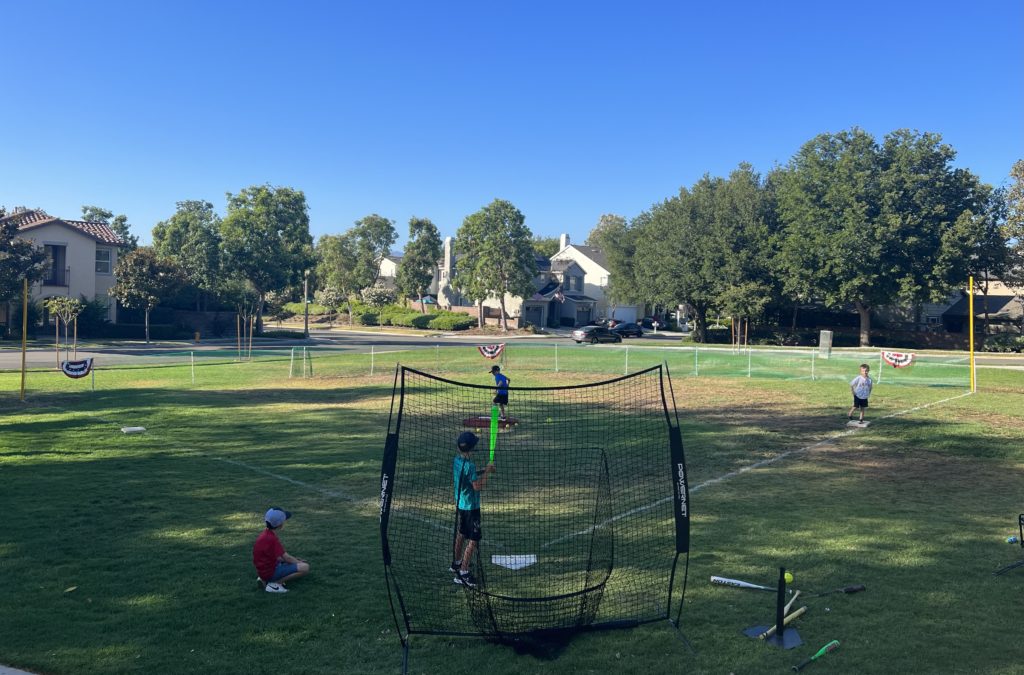 Must Have Items For a Wiffle Ball Field
In a pinch, the easiest tool to setup a good field with is spray chalk. We have found that as soon as you add chalk lines to any field it suddenly has a more official feel. The upside of spray chalk is that you can use it not only to mark the foul lines and outfield fence, but you can also spray out bases fairly quickly. While some areas may frown on the idea of spraying lines down on grass it is also minimally invasive since the lines will be cut up the next time someone mows.
The list then of must have items is fairly short:
Nice to Have Feature When Building a Wiffle Ball Field
Even having a few bases on an empty field, and a line to mark foul territory is sufficient for a whole bunch of fun. But, if you are going to be leaving a field up for a while, or want to host parties or a tournament, then taking things to the next level will make all the difference. Just like major ballparks there are loads of amenities that can be added to a Wiffle Ball Field, and this article is dedicated to all the unique and fun things you can add.
A Low Cost Outfield Fence for Temporary Fields
Fences can be made of all sorts of materials, we found the best material to build a whiffle ball fence to be rollable temporary garden or construction fencing. This stuff can be picked up at most hardware stores. 100 feet of fencing is sufficient to build a good field and can be picked up for less than $50. Check your dimensions first (standard wiffle ball dimensions are listed below).
Foul Poles for Wiffle Ball Field
The end of an outfield fence can be considered a foul pole, but adding a standing pole helps the look and feel of a field. We went with 10ft tall pieces of PVC pipe from a local hardware store and simply painted it yellow. This kept the cost to around $35 for two foul poles.
Fence Lining and Bunting
Bunting can be anything that hangs along a fence. If you are in the US though the pleated red white and blue fabric material is ideal for capturing the patriotic nature that earned baseball it's name as "America's Past Time". We choose three pieces of bunting and put them on them evenly spaced on the outfield wall. Alternately a yellow rope works as a good topper for the fence to give it an easy to see line and replicate the feeling of a pro field.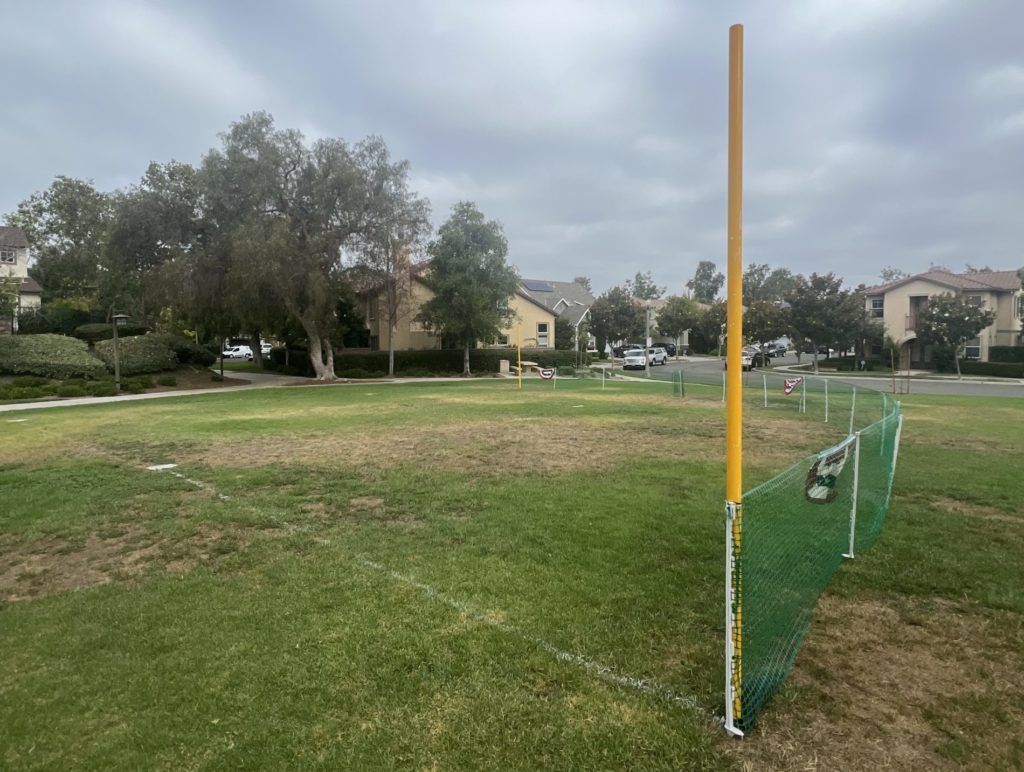 Backstop and Dugouts for Temporary Fields
A place for teams to throw their gear and hang out adds to the camaraderie of a home built field. For the backstop a simple pitching or hitting net, a staple of any little league coaches gear, works perfectly. Also an option is a home built strike zone, which can be created from a few dollars worth of PVC.
Dugouts are easiest to build with a simple tent or "easy-up". This provides enough shade but also makes them movable and do not limit access to the fields from any direction. They serve as a good place to have concession and more entrepreneurial kids or players can even setup concession tents under them to help support the teams directly!
Scoreboards and Signage
One great way to take a field to the next level is to add in a scoreboard or other signage. Decorating the fence line with any appropriate poster is a good start for signage, and makes for a good craft activity for anyone not playing. There are also a ton of great ways to add a scoreboard. A good option is some chalkboard paint used on a scrap piece of wood, which provides a vintage field for the stadium. More modern solutions include projectors and light configurations if you have the power to provide.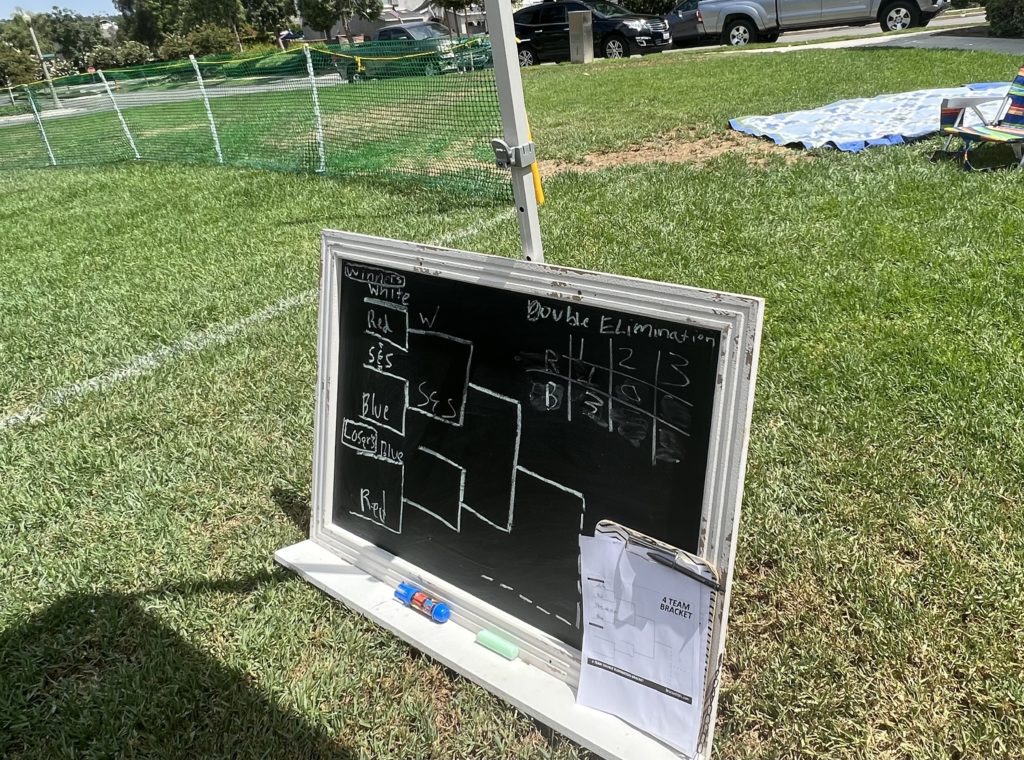 A scoreboard operator can be a great way for non-players to participate in a wiffle ball game. Consider grabbing a portable speaker and a smartphone and the operator can even become the commentator for a game.
What Are Standard Wiffle Ball Field Dimensions?
There are a handful of organized leagues for wiffle ball, but ultimately there is no national or international governing body for the sport. This means that finding a "standard" size for wiffle ball fields is difficult. Many leagues and neighborhoods simply rely on what works and fits in their area. As a standard this matches major league baseball which has fence locations that vary from ball park to ballpark.
If you are looking for the ideal dimensions it is worth finding out not only the dimensions of the space you have for setup, but also the types of players and batting equipment you plan to play with. Also, check out our full article on official wiffle ball field dimensions. We have found that setting up a single field and then changing the balls and bats can keep things fun. For little ones, adding in training balls or Smush balls allows them to hit further and sometimes put a ball out of the park, while more advanced players are better suited for standard wiffle balls with holes in them that will cut off the ball flight.
The dimensions that work best for us have been those that keep it fun for all ages. These measurement help enable home runs by all ages, keep fence safe for small collisions, establish foul territory that is hard to dispute, and allow for simple base running on well hit in the field balls.
30-35 foot base paths
45-50 feet from home to second base
60-100 feet for outfield (to make it fun for younger ages as well)
4 foot high outfield fence