This article covers the experience of a mid (ok, late) thirties runner and dad who decided to take triathlon training seriously, and hired a coach. In it are discussed the process of finding a coach, developing and working through a training plan, setting goals, and ultimately racing. If you are considering hiring a coach, it may help
Nearly 15 years ago I ran my first triathlon, with minimal guidance from a family member that was big into them at the time. The experience was great and led to a few additional races over the following years. As life caught up, the hobby fell by the wayside and my focus shifted mostly to running. Then in 2021 the re-opening of local events and a desire to do something new led to signing up for a local Olympic distance race, which was repeated in 2022.
Again things went well, it was an enjoyable two days and my focus on running led to an over indexing against the field in the run. As 2023 rolled around and the chance to signup for the race the third time approached, I made the decision to really try to improve. This led me on the search for a triathlon coach for the first time.
What Did I Expect from a Triathlon Coach
Before starting the search for a coach, I had to have a realistic expectation of what I was looking for. For the past 15 years I considered myself to be self-coached through a handful of Spring and Olympic distance triathlons, a dozen half-marathons, two marathons, an ultra-marathon (50k), and a few dozen local 5ks or other various events.
For at least two of those (the marathon and one of the 5Ks) I even managed to follow at least 80% of an actual structured training program. Even when not training, workouts stacked up over time as running was always a bit of mental therapy in addition to being a physical pursuit. Getting a formal coach though was a way of building accountability toward a plan and signaling a level of maturity and seriousness that had, to that point, not been applied to any of those trainings.
A short list of documented expectations from a coach that I wrote out prior to searching for and signing up to any program:
Accountability to a structured training plan that could be calibrated to my personal abilities and worked into my schedule
Access to a network of other athletes for potential sharing of tips
Direction on bike fitting, bike positioning, and a focus on bike improvements
Regular chat feedback on why a workout was in the plan, and what to do if it had to be skipped
Unbiased feedback on how I was preforming, with a focus on the ability to tell me any "bad" news or things I did not want to hear
A reasonable fee and ability to signup for a 3-4 month lead up to my initial target race
Specific experience with Olympic distance races and longer ones
Virtual communication as a first priority, with an ability to meet in person (preferring local coaches)
After some review and starting with a coach, the two bolded items were the keys where I quickly saw some value. It is easy enough to find a plan and additional information, but having a coach helped turn a rigid plan into a dynamic training block while keeping other variables (schedules, injuries, recovery, strength, life) that impacted the plan in perspective.
Finding and Hiring a Triathlon Coach
Once I decided to get a coach the next question was how to find one. There are a few options here but it really depends on what you are looking for. Beyond the above requirements I also wanted to ensure my coach had some credibility. There are a few major places where coaches can gain certifications for triathlon training, notably the USA Triathlon group has a certifications program.
To be listed on the USA Tri search for coaches though a coach must have an active certification, something that is renewed annually. For many coaches that maintain on-going clubs, have passed the certification at some point, staying current is a bit of a drain. The cost is minimal but it is unlikely that the search features really leads to a lot of clients beyond what an active club and business could generate with more local marketing.
Training Peaks, the training management software that we have reviewed before, also offers coaching certifications. They have their own Training Peaks coach search feature that can be used to find coaches, so long as they are still current. For the most part Training Peaks certification shows that a coach knows how to navigate the software although it does include at least some limited digital instruction on how to manage training plans.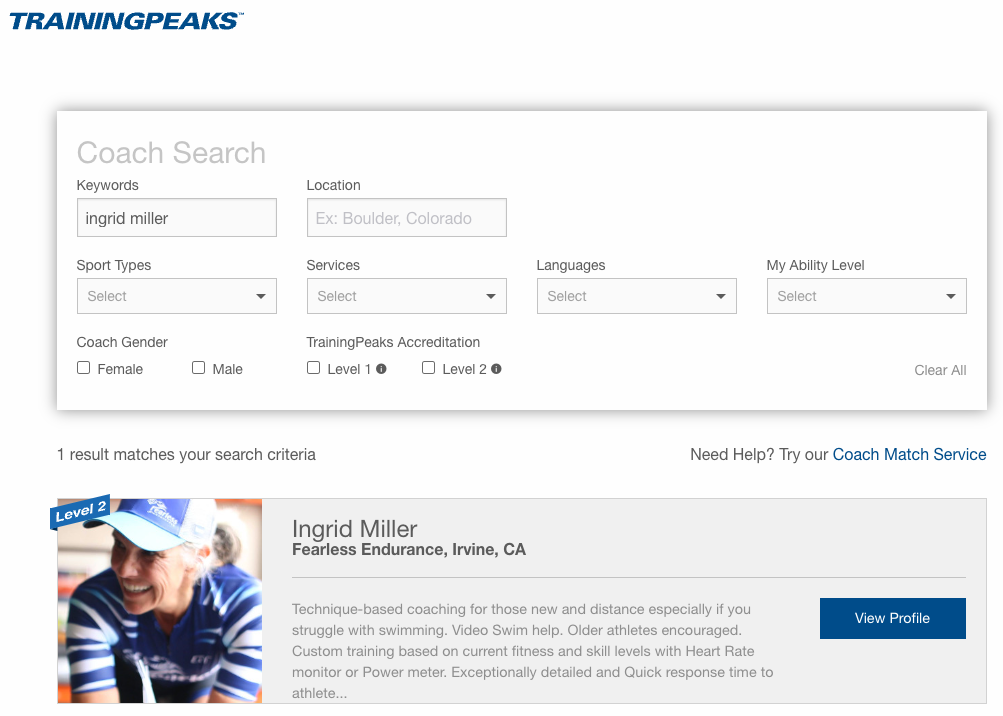 At the end of the day, personal referrals also work. It turns out that a friend had just completed a half-ironman 70.3 distance race under the guidance of a coach. At his recommendation we reached out, and although she was on some of the search features, they ultimately were no better than googling Triathlon Coaches near me.
Training for a Triathlon on a Busy Schedule
One of the first things to note about the new training schedule was the overall time it was expected to consume. After an initial ramp up the weekly schedule quickly ramped to 7-8 hours of workouts per week. Add in short travel time to a pool, prep time for rides, and shower time after and this easily gets to be 10 hours needed per week.
With a family of four, with two little ones in school and athletics themselves, working full time, volunteer coaching for youth sports, and having a handful of additional hobbies and social events, tacking on this amount of workouts meant finding time is serious. Thankfully not all of this was incremental time, even in a typical week there are 3-4 hours of workouts already, albeit in a more unstructured way.
This commitment of time was to be expected though. Part of the initial intake with my coach was sharing what time I was able to dedicate. For me I choose a simple 1 hour per day, each day, knowing that some days would likely require more. It's hard to prepare for a 2-3 hour race without ever doing a workout over 1 hour.
Is Having A Triathlon Coach Worth It
Six weeks into the Training plan and the ability to stick to a training plan has been enhanced by having some external accountability. With two in person sessions out of the way, it is also clear that there are some tougher to accept truths around training that are easy to understand when delivered by an unbiased third party (ie. You're not as fast as you think, so you're going to hard to often!).
We'll update here as the plan progresses. It is still two more months until the A race, the local Mission Viejo Olympic Distance Triathlon.
Related Articles