Background That Led to Following A Strava Training Plan
In June of 2020 I decided to take my health seriously, and drop some weight. While I was still biking a lot at the time I began to consistently run and kept my weeks in the 20-25 miles range. As the summer progressed I increased mileage in anticipation for a low key 30km race and eventually strung together 4 weeks that built from 26-38 miles. The race went great, I won, thanks to there being less than 20 runners in the field. 
The next two weeks I moved up to 42 miles each week, and then decided to make a real push. At age 35 this was the first formal training plan I had since high school, and was excited to be able to post some big mileage weeks.
As a Strava premium subscriber there was easy access to one of the personalized training plans from McMillan. This is what began my first 6-week training plan for a 5k, keeping in mind that I had a base of 12 weeks of consistent 30+ miles of running.
To get a personalized plan on Strava you need to input the number of days per week, a target time to run (to find paces), and length of the program. I chose to base the plan off a 19:30 target 5k, with an input of a 20:30 existing.
While I had not truly run a 20:30 recently, I did run a 21:56 on before the 12 weeks of building. At the time I was 15 lbs heavier (195 lbs vs. 180 lbs) and ran it by myself with a base of 15-20 miles/week plus some biking.
There were also two hard mile efforts in before and at the end of the base building that dropped from 6:30 down to 5:55 so I felt confident with the 20:30 as an input. Picking the right current pace level is key to being able to complete workouts and build confidence.
Setup Of A Training Plan For Sub 20 Min 5k
The larger goal of this program is to rebuild a running base in order to build a new personal record across all distances 1k-50k. It was clear from a few recent harder efforts that I was close to my best fitness, below are the PRs at various distances to achieve that goal.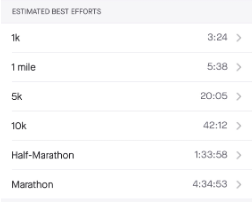 These are all quick enough and done effectively as races at those distances, but in actuality are what Strava tracks me at so there's a chance to beat them even just during training runs. The 1k is the only illegitimate one as it was run steep downhill, I've never raced a 1k. 
I choose the 5k as my first target in large part because it was so close to the magical 20 minute mark. As a high school runner I ran in the mid 19s a few times,  but that 20:05 PR was run in my early 30's.
As someone in their mid 30s I knew that breaking 20 would put me in an age group podium at most local races and if I was able to drop enough a lifetime PR was not out of the question. With those thoughts to motivate me, I began the 6 weeks eager to see what could be done.
Update: How Much Time Can You Drop Using McMillan 5k Plans
With all the relevant caveats that your results may vary, and that I am comparing not only the results of the plane but also to base building, you can drop a lot of time. In 4.5 months I dropped 2 minutes 24 seconds from my 5k time using the Strava training plan from a 21:56 down to a 19:32 and breaking the 20 minute 5k mark.
I was thrilled with this result. Not only was I able to run a faster than I had as ever as an adult, the 19:32 is in my top 3-5 results for a 5k including even in high school.
The 5k training did not just benefit me at that distance. In the process I was able to drop my mile PR down to below 5:30 and even managed to eek out a new 10k PR during a particularly quick (and slightly downhill) tempo run. The 5:30 was done as a part of the plan during one of the interval days, while the workout was modified from what the plan called for it was worth it for the motivation boost and it's relatively easy to recover form a hard mile effort.
In addition the training helped me drop and maintain a lower weight of about 20 pounds. Overall following the plan helped me achieve the goals of running a faster 5k and by the end of it I was still eager (after a week easy) to continue progressing into longer runs. The speed base was a huge benefit ahead of 20km+ mountain trail races!
Training Notes From A 6 Week Training Plan for a 5k
Most 5k training plans are designed to be short, so 6 weeks is a popular time frame. It is worth understanding though that having a base of workouts leading up to it will help. If you are an adult runner with years of casual training you can jump into a plan that is beyond just "beginner". My choice was a moderate one with an. ability to run 5-6 days per week. Here are my notes during the week.
Week 1 – Starting big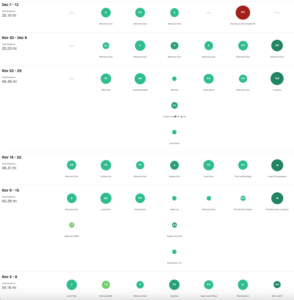 Overall week was 51 miles, 3250 feet of elevation, 7 hours 29 minutes of running. This is NOT a beginner plan.
The training plan started on "rest" day but I ran to log base miles. In general it seems that running more equates to faster, so long as you stay healthy.
Tuesday speed work was faster pace than predictor, a 12-16x400m at 77-84 seconds, measured out on the dirt path with moderate 4-5 foot decline and 1-2 feet incline. My measured quarter mile may have been short but this was the first indication I may be in better shape than the predictor numbers. Still ran all of them in 1:17-1:24, even short this would be 1:23-1:30 range which is spot on. It good but monotonous during the workout and I was happy to have 7 miles total for the day. Heart rate got up to 185 on the final few, wasn't all out efforts but could stand to make it feel easier. This was motivating in that I realized I could complete a solid workout and especially because it included a proper warmup and somehow even a workout resulted in 7 miles. 
Did the long run on a Sunday, planned to go around 10-12 miles in limited time. After 3.5 uphill, my watch stopped and started a new segment, the next 1.5 miles were uphill to the turnaround at the toll road, all below 7:30 pace then started going 6:45 back downhill. Two more miles in I realized I was near or below 7 average for the after watch pause and still had downhill miles left.
Decided to push the tempo a bit since HR was still 159-163 and I was in striking distance for a 10k PR. Kept it up with two more <6:30 miles and the final mile with -100 feet hard for a sub 6 finish! Picked up a 5k PR (19:33 down from 20:05) and a 10k PR (41:19 down from 42:12). Finished and ate, did some percussion massage an hour or so later and legs felt great. Little sore/pain in the ankles coming down stairs and starting the next day run but went away after the recovery run. Also powered by 3 donuts for the run(???) and ran around 11:30 so well after breakfast. Wasn't carrying water or nutrition since it was capped at 90min. 
---
Week 2 – Down week, base building.
Overall week was 39.2 miles, 3255 feet of elevation, 6 hours 1 minute of running. 
Again made all of the rest days into easy running days. I may have been a little encouraged by my Apple Watch saying I had a streak of closed rings, plus there was no other way to post 40+ mile weeks. Most of the easy days are on trails, so a bit hillier and a lot slower, but feels like a good way to build strength without much tax on the body.
Added in strides on Tuesday, Thursday Tempo Run which was a warm up then 2 mile hard effort at 6:11 min/mile. The  tempo run was faster than it should have been, not quite an all out effort but still faster than the pace I could hold for 50-60 minutes (typically that's what a tempo was). That said, doing hard efforts slightly ahead of my original pace chart, which called for 6:51-7:07 miles, is a motivator.
Finished the week with short but very hilly runs at altitude while on a few days vacation, then managed to get in a strong 10 miler on the day we drove home. Felt great to have kept at it even during a disruption in schedule. The 10 mile long was supposed to be a progression run and managed to raise the HR for the final 20 minutes but the pace doesn't reflect it in part because it was on the trails. 
---
Week 3: Strong 800m repeat workout
Overall week was 46.3 miles, 3999 feet of elevation, 6 hours 47 minutes of running.
Still managed to keep the streak alive and was feeling it at the end of the week. Tuesday included some fartlek fun, 30 seconds hard efforts at the end of a 7 mile run. Liked this as a way to make the easy miles feel a bit more fun and gives me a chance to KOM hunt if I plan it right. Thursday's workout was half mile repeats, the plan called for 5-6 and measured them out on a loose fire road that's mostly flat but did it in both directions and one direction (odd reps) were noticeably quicker. Went faster than the originally prescribed (3:04-3:12) 
800m #1- 2:52
800m #2- 2:55
800m #3- 2:49
800m #4- 3:01
800m #5- 2:54
The rest of the week started having some soreness in the legs. Easy Saturday wound up as a 6 mile trail run with 1k of climbing. Also doing a lot of walks (averaging over 20k steps/day) so likely adding to the leg stress. Progression long run of 10 miles still managed a final few under 7 min pace. 
---
Week 4: 5k Time Trial (PR!)
Finally took a rest day on Monday, it made a huge difference. Only took in 5k steps, did some pushups, and got to bed early. Legs felt really fresh for Tuesday, it was a much needed full day off. Did an easy run with two short sprint efforts in it and picked up a coveted KOM. 
The workout day came on thanksgiving day, called for a 3-5 mile tempo so I decided to do a small time trial on the 5k as a mental boost and knowing it's possible to recover quickly. Ran it on gravel fire road and put up a new PR by 1 second, the last PR was gravity aided so this felt like validation, and total at 19:32. Long run finally went for a full 13.2 and ran my second fastest half marathon ever at 1:36:55 even with 6 stream crossings. Confident I could go for the 3 minute improvement it would take to PR in the HM, but waiting a few more weeks to put in that effort as it'll hurt more.
Overall week was 46.5 miles, 2831 feet of elevation, 6 hours 10 minutes of running. More efficient and flat week. 
---
Week 5: Taper Start
The week began with some soreness thanks to the solid long run. Took Monday entirely off and walked a total of <5k steps, the lowest in months. Tuesday still feeling meh all around, diet was off but sleep is good, and didn't manage to do the Fartlek instead going for a completely low HR run (<125) for a short bit. 
Overall week was 35.3 miles, 2600 feet of elevation, 5 hours 10 minutes of running. More efficient and flat week. 
---
Week 6: Final Week and Shift to A 30k Race 
The week began with some soreness thanks to the solid long run. Took Monday entirely off and walked a total of <5k steps, the lowest in months. Tuesday still feeling meh all around, diet was off but sleep is good, and didn't manage to do the Fartlek instead going for a completely low HR run (<125) for a short bit. 
With the PR already under the belt, it made sense to avoid the hard Saturday effort, in favor of another low key race put on by the same group. This plan was done in 2020, and with so many activities cut short it made sense to see a few friends at a small event than to try for another PR.
Overall week was 35.2 miles, 5280 feet of elevation, 5 hours 34 minutes of running. More efficient and flat week. 
---
Pace Chart for a 5K training Plan
These are from MicMillan calculator, using a 20:30 active 5k pace to project.  While the pace is prescribed, I also included how this translated to the last workout that was done during the training plan to show how it actually translated to a resultant 19:30 5k. 
| | | | | |
| --- | --- | --- | --- | --- |
| Goal Pace and Race | 6:17/mile (planned) | Last workout  | 19:30 5k |   |
|   |   |   |   |   |
| Endurance | Pace |   | Effort | RPE |
| Recovery Jog | 8:47-9:26 | 9:06 mile pace – 126hR – 45 min | Very Easy | 2-3 |
| Long Run | 7:44-9:00 | 8:11 pace – 10 miler | Easy | 2-4 |
| Progression Long Run |   | 11 miles – 4 mile warmup at 7:54 pace 7 mile finish  at 6:45 pace |   |   |
| Easy Run | 7:41-8:40 | 8:54 – 6 mile run | Easy | 2-4 |
| Stamina  | Pace |   | Effort | RPE |
| Steady-State Run | 7:08-7:28 | 7:24/mile on 13.2 mile run | Easy- Med | 3-5 |
| Tempo Run | 6:51-7:07 | 3 mile tempo (20 min.)  | Medium | 4-7 |
| Tempo Interval | 6:46-6:59 |   | Med-Hard | 4-7 |
| 1 Mile Cruise | 6:40-6:53 |   | Med-Hard | 5-8 |
| 1200 Cruise | 6:39-6:53 (4:58-5:08) |   | Med-Hard | 5-8 |
| 1k cruise | 6:39-6:51 (4:08-4:16) |   | Med-Hard | 5-8 |
| 800 Cruise | 6:40-6:52 (3:19-3:25) |   | Med-Hard | 5-8 |
| 600 Cruise | 6:39-6:53 (2:29-2:34) |   | Med-Hard | 5-8 |
| 400 Cruise | 6:38-6:54 (1:39-1:43) |   | Med-Hard | 5-8 |
| Speed Pace | Pace |   | Effort | RPE |
| 400m | 5:55-6:15 (1:28-1:33) | 12x   1:17-1:24 | Hard | 8-9 |
| 600m | 6:03-6:22 (2:15-2:22) |   | Hard | 8-9 |
| 800m | 6:10-6:27 (3:04-3:12) | 5x 2:52-3:01 | Hard | 8-9 |
| 1000m | 6:16-6:37 (3:53-4:07) |   | Hard | 8-9 |
| 12000m | 6:16-6:43 (4:40-5:00) |   | Hard | 8-9 |
| 1600m | 6:35-6:47 (6:33-6:45) | 6:17 2 mile tempo (really harder)  | Hard | 8-9 |
| Sprinting Pace | Mile Pace (seconds) |   | Effort | RPE |
| 100m | 4:57-5:25 (18.5-20.2) |   | Hard | 8-9 |
| 200m | 5:04-5:38 (37.8-42.1) |   | Hard | 8-9 |
| 300m | 5:07-5:54 (57.4-1:06) |   | Hard | 8-9 |
| 400m | 5:13-5:55 (1:18-1:28) | 5x 1:17-1:24 | Hard | 8-9 |
| 600m | 5:38-6:03 (2:06-2:15) |   | Hard | 8-9 |