Apple Watch is one of the leaders in fitness trackers, but it does a lot more than just monitoring steps. Many folks will find themselves using it to track any and every type of activity, so it is important to understand the best things to track based on what sort of sport you are taking part in.
We are big fans of hitting the slopes in the winter. Naturally that means using the Watch to track downhill skiing, navigate the mountain, and stay connected with your ski party.
This article covers all the best tools track skiing on Apple Watch, primarily downhill skiing at a resort or mountain with chair lifts.
Best On Mountain App
Many popular ski resorts have their own app. Major management companies also offer a single app that spans many resorts. The best app is the one that is personalized to the mountain or resort you will be skiing.
Before heading out for the day download the local map. Big Bear mountain and Snow Summit, in Southern California, offer an app that lets you get real time on mountain location. Epic Pass, managed by the resorts at Park City and others also allows for an actual GPS tracker and gives you full season stats to find out how much vertical you have done each day. It also provides details on which chair you rode based on GPS data.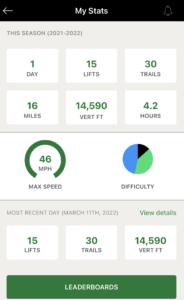 Sadly, neither of these apps have an integrated Apple Watch app. This means that you'll have to access your phone to use the features, which can be particularly annoying for things like finding friends. Having tried both of them personally they are sufficient for tracking, but Strava still winds up being the preference for us as a single place to consolidate all activities.

Find Friends While Skiing with GPS
Skiing with friends and family is great, but staying together can be tough when everyone is at a different level. Having a way to find friends is key. Similar to tracking friends for other activities, like finding a marathon runner during their race, preparing in advance will make things much easier.
Texts and phone calls can work, but with spotty service and a need to put a phone away while skiing or just wearing gloves, it's easier to passively track.
Plan for Battery Life – Does Apple Watch Battery Survive a Day of Skiing
Before starting you day you'll want to make sure your watch can last for the day. The Apple Watch is not guaranteed to last from first chair to last chair, but you can make it work with the right preparation. If you are into long and intense events the Apple Watch Ultra may be the best bet since it's battery life is the only one that will sustain GPS tracking for a complete day.
Other models of the Watch will still last for 5-6 hours of GPS tracking. This may reduce if you want to stream music or use the watch as well. You can always pack an external battery and charger though, as lifts and lunch are easy opportunities to really extend that functional life.
Find Out How Fast You Are Skiing
One of the best things about tracking is the insights you can get about how you are moving. For things like skiing, where the fun is moving quickly down the hill, everyone I know has at one point wondered "How fast am I skiing". GPS tracking will help answer this question, although the accuracy of speed is limited by the accuracy of the GPS readings. So how accurate is Apple Watch for downhill skiing?
The watch itself is only as good as the GPS signal and readings. Apple Watch has been able to track skiing speed for years, but as the GPS chip has improved so has the reliability of the metric. Still even as far back as 2020 we uploaded workouts to Strava that then spit out the top speed. We estimate that the actual readings of Apple Watch speeds in downhill skiing are typically within +/-10% of actual top speed, based off of manual timing over .25mi-.5mi known trails. While I would not rely on this metric if a cop told me I was speeding, the range that it is in at least passes the tests of believability.
For reference top speeds of skiers are listed below, note that it is certainly possible to ski below the lowest beginner rate, but accuracy of any tracking techniques are going to be tough and due to simple GPS point variation it is rare over the course of the day not to hit a peak speed in the low double digits (we've confirmed this with 4-6 year olds!)
| Speed (mph) | Speed (kph) | Description |
| --- | --- | --- |
| 158 mph | 254 kph | World Record Speed |
| 80 mph | 130 kph | Olympic Downhill Racers |
| 51 mph | 82 kph | Personal Wellness Tracking (Moderate Middle Aged Skier) |
| 10-25 mph | 16-40kph | Beginners |
At the same time, if you are an average skier and seeding speeds in excess of 45-60MPH for downhill rates you should start to question things. Moving at this pace is hard to do. You'll need the right combination of slope angle, skill, and measurement accuracy to get close to downhill race speeds even for a portion of just a single run.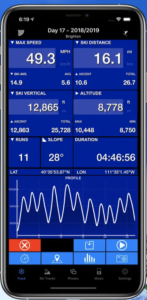 Ski Tracks is one of the top apps for dedicated alpine ski tracking. It is able to provide 3D maps of the tracked route as well as totals for the day. The interface for Ski Tracks is optimized to display skiing stats so things like the total number of runs, vertical distance, and slope angles are front and center. You can mimic some of these features by knowing how to display altitude metrics by default on an apple watch, but if you are into having a dedicated app for each activity it is a good choice.
It is worth noting that downhill skiing is not the only type you can track. With updated water resistance you can now track your activity while water skiing as well.