We love hiking and trail running, it's one of the best way to stay active. Of course we have shared how we track all of our hikes using Strava and it's add-ons, how we get a good nights rest before a hike by using Apple Watch for sleep, and even how long our standard trail shoes last; but what about the hike itself?
Finding and planning a good hike is about more than just plotting a route. Having pictures, topographic maps, and "beta" from other hikers makes things way easier.
In this article we'll review one of the most popular apps for planning and managing a hike, trail run, or outdoor adventure, AllTrails!
What is the AllTrails App
It should come as no surprise, given the name, that AllTrails is all about various trails. It is also one of the most popular trail research tools and boasts that as of Jan 2022 they had more than a million active monthly users on their app.
The app opens on the Explore trails tab and uses your location to find popular trails nearby. Each trail has its own page where users can review, comment on, or add images related to the trail.
Want to know where to park or if a waterfall is active? You may get lucky with a recent review that delivers just the right information.
There is also a feed for user posts, although this area of the app is relatively barren. Power users will find updates from those they follow but for new users it offers little benefit.
In addition to the pre-outing research AllTrails offers a GPS tracking in app. This can be used to track runs, hikes and others and saves them as standard GPS track files. You can export these to other popular services, like Strava (check out our Strava Premium review) or your favorite tracker.
AllTrails App Top Features
We have used AllTrails for dozens of hikes, trail runs, and outings and it is great for gathering intel. Often times the trail routes and details for routes will be better than the guides and pamphlets provided by the park managers themselves.
Park managers and land owners are best at maintaining the space, but check out a state park website and it's easy to see that easy to understand trail details is not their key. Each park system has their own standard of mark mappings and own cadence for map updates.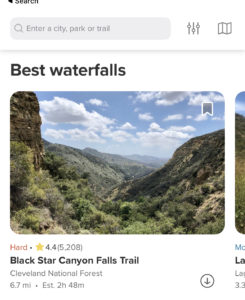 AllTrails on the other hand has uniform details shared across local, regional, state, and national park system trails. Even unmarked and unmaintained trails can have extensive details on AllTrails. The best part is that the reviews and images provided by users all include the date of their upload.  By doing this AllTrails can categorize trails into a variety of different ways so you can look for exactly the type of thing that you want, for example a "Waterfall trail" or something with similar features
AllTrails Vs. Strava – Where Does AllTrails App Fall Short?
Personally the one area of AllTrails that we do not use is the GPS tracking. Sure the tracker provides basic details, but it lacks the in depth metrics and aggregate displays that are great for workout tracking. It's worth noting that the two apps are not designed to do the same thing, both have primary features that differ but their secondary features (route finding, planning, tracking) have overlap.
We prefer to store and track everything in Strava, and use the dozens of available add ons to monitor workout data. While it is possible to record in AllTrails and upload it into Strava, the process is very round about and the syncing requires data sharing back to a phone device then to Strava. It is a pain and not worth the hassle just to record a run or hike in the same app you research the trail from.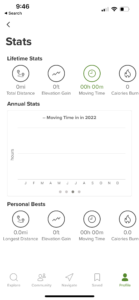 This feature seems to be an after thought, and is all newer than most of the other features. While it does make it helpful to have a single app to access when tracking a trail, this makes getting real time feedback easier, it is simple not the default.
Still for planning a route AllTrails is often preferred. Other than heat maps, Strava's features for route research are lacking. At most you can find popular routes but there is no curated information about what the route is all about other than a simple elevation profile.
AllTrails Apple Watch Review
One of the helpful features of on-the-go style apps is the ability to access the critical parts of them without messing with a phone. The GPS integration is a bit easier since there is an AllTrails Apple watch app, although it is limited in providing only a subset of the information you can get from the mobile app or desktop site, it is everything you need for on the go.
Primarily the Apple Watch integration for AllTrails focuses on two features:
Tracking Your Activity via GPS
Quickly accessing map data (including topographical maps and route following)
You will still need the premium subscription to AllTrail to get all the route following, but once done you can start an event on your watch. The tracking will capture workout data that can be shared with all the major apps (Apple Health, Strava, Training Peaks, etc.). It will also plot your planned route on the watch. This makes handling trail intersections super easy as you can keep your phone in a pack or pocket and simply check the route on the go.
Overall the Apple Watch features of the app are great. They have not tried to cram too much information into the watch version, instead leaving the route planning and exploration for the mobile and desktop versions. By focusing only on the moving features, and ensuring that saved events can sync to other devices AllTrails becomes a viable workout tracking with focused features for when hiking, trail running, or mountain biking.
Are There AllTrails Alternatives?
AllTrails is not the only player in trail research. The biggest competitor we have found is TrailForks (we have a Trailforks review available here), which has a similar set of user generated content. Of course you can also use independent park systems for research, this usually relies on a google maps search to find the park names in the area and then navigating through.
If you just want to plan a route, and not necessarily research it, you can also check out the review on the best ways to route plan for running or hiking. No doubt there are other ways to determine a new hiking route, including using an old school topographical map, but all maps rely on the fundamental data they are built on.
As soon as this information is out-dated your method of planning becomes less reliable. This can still be said for All Trails, so remember that even though a user post may seem reliable, being prepared is for a variety of conditions is still the safe way to go.
Free Version of AllTrails and Is AllTrails Pro Worth It?
One of the nice parts about the All Trails app is that it is free. You can access, as the name suggest, ALL trails in the free version. This means you are not limited to just the trails in your designated home area. If you just want to get details on a hike or trail run there is no need to jump to the premium version.
Related Articles