Finding a new place to hike can be tough. Thankfully apps like Trailforks exists to help explore safe and established trails in your area. In this Trailforks review we cover the best uses  of the app, when to do more research, and other apps to consider when planning you hike. So let's discuss, is Trailforks a good app? The short answer is yes, Trailforks is a useful app for discovering hikes and researching the details of where to park, conditions, and paths of the hikes.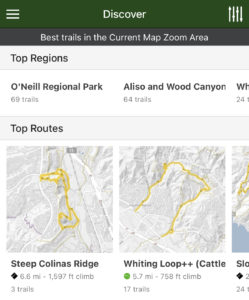 One of the best uses of Trailforks is for finding new and popular paths in a small area. Small area is key because Trailforks is free for a limited map, but Trailforks Pro will get you access to maps outside of the small local area. It's worth highlighting that "local" can be set to be something other than where you actually live. If you plan on going on some type of expedition, to a national park or similar, and have yet to download Trailforks and set a local area you can just choose the destination area as your local spot.
Once selected the maps show both heat maps of popular trails, as well as routes that are popular. Routes are often common trails that match to established trail maps by the parks and land managers, unlike things like segments on Strava that are user defined and can be any type of popular segment.
AllTrails vs Trail Forks
Alltrails and Trail Forks serve many of the same purposes. Each is designed to allow for exploring trails and learning more about them. In terms of popularity AllTrails seems to be much more popular than Trail Forks, at least according to Google Trends. There are a handful of regions where Trailforks skews it's popularity but generally speaking All Trails has better total coverage. In general, for research we prefer AllTrails but Trail Forks is the more complete feature set and having both will ensure you start your hike with the best available information.
Even though All Trails is more popular, it does not have any recording features. You can not use it to track a run, hike, or ride. This means that while it is good for researching a new spot, if you want a single app for everything then it is less functional.
The information in both apps is good, although a combination of them is better. Each relies on some sort of user generated content which means the recency of a post or user review can make or break the quality of the information. Also, since there are often popular tips or tricks tucked away in the reviews, expanding to both apps will help ensure you have the most information possible. 
Trailforks vs Strava
Trailforks has the ability to track activities and hikes, just like other trackers. Personally we are fans here of Strava, in large part because it is the tracker that we have used for years. Trailforks seems specialized for hikers, and to some extent mountain bikers, but beyond that there are few other activities worth tracking. There is no reason for Trailforks to track things like kayaking trips or stand up paddle boarding. Of course tracking and planning is crucial to knowing what type of gear you want to bring, if you need a handheld water bottle or a vest (see our hydration options guide), and everything else required for preparing for an outing. 
If you choose to use one or other other, Trailforks or Strava, you can still bring your recorded activity into the other app later. Both Strava and Trailforks allow for account linking or uploading of GPS data. There is a limit on how much privacy you can have while connecting the two apps, each limits the sharing ability of "private" rides or runs, so bringing private activity data into the other one will require some manual downloads and uploads. 
In terms of data tracked, Strava is the clear winner. It is designed as more of a workout analyzer, and the basic features, Strava Premium, and Strava add ons all provide significantly more ability to grab stats around a hike, run, or mountain bike. 
The need to upload activities to Trailforks is minimal. If you are using a secondary device, like a Garmin watch or Apple watch, once it is recorded than the benefit of uploading to Trailforks is just to consolidate viewing of activities. This compares to Strava which has much more of a social media style news feed where you can add comments and kudos to activities of your own and friends.
Is there a better app than Trailforks?
For researching new trails and gathering data Trailforks is a leader in the industry. Other options include AllTrails, which seems to be the market leader for consolidating trail maps. Some major land owners and parks, like the National Park Service, offer independent apps for their own park areas. One of our favorite parks, Yosemite and Curry Village, have a dedicated NPS app. The key feature of many of these is the ability to download maps to a local device, since often you loose service when out on the trails. Most smart phones with a GPS will still be able to provide a GPS location and plot you on a local map, even when out of cellular range. 
When it comes to tracking activities, Trailforks falls a bit short. While the GPS function works fine do build a map of the activity, there is little benefit to recording in Trailforks vs Strava, Apple Watch, MapMyRun or other trackers.