For many athletes and runners taking on a marathon is a special event. Given the dedication, training time, and physical effort required it is not uncommon to build a crowd of supporters along the way.
That means that when race day comes, there is likely to be people who want to follow along with your progress. So, how do you track a runner during a marathon? The answer depends on which marathon it is. Luckily there is a way to track regardless of which event they chose.
Live Race Tracking Hosted By Timing Companies and Major Marathons
The easiest way to track a runner on the day of their marathon is to often to use the organizers timing features. Most major marathons have a timing vendor which tracks runners using a series of timing pads that the runners pass over.
By embedding an RFID chip into their number bib or some small tracking trip worn as a bracelet or on a shoe, these timing companies provide verifiable time tracking on finish times and mile split times.
As an added benefit, with live relays of this timing information you can often get alerts on where your favorite runner is on the course. You will also get their accurate results and pacing details. The only issue here is that this series of tracking and live reporting is not inexpensive, and the cost is passed along via the race entry fees. Still it is better to know that your non-moving friend is still in the start corral and has not yet even crossed the start line.
Given this cost, and the general complexity of setting of the timing station, only smaller events are unlikely to have this sophisticated setup. A few of the major marathons that do have day of tracking for their runners though include.
Boston Marathon Live Runner Tracking – As a qualifier marathon that is on many runner's bucket list, the Boston marathon can be particularly hard on spectators since it is a point to point course. You can use the Boston Athletic Associations B.A.A Mobile app which has live race day runner tracking options.
Los Angeles Marathon Live Runner Tracking – LA is one of the largest marathons in the world and as a point to point course is important to have good athlete tracking since you will only have one chance to see your runner. The past few years they have used their Active.com app for live tracking.
Hong Kong Marathon Live Runner Tracking – Hong Kong has one of (if not the) largest running fields of any Marathon. The course does wrap back on itself so if you choose the right spot you can see your runner more than one time, but finding them in a field of nearly 75k runners still is tough. They have a webapp for live athlete tracking.
New York City Marathon Live Runner Tracking – Another of the major fields, NYC Marathon has only a handful of spots to see a runner more than once. Since those spots are mostly in Manhattan where the crowds are rumored to surpass 1M watchers, having a bead on your runner is key. They also provide an app experience to monitor your runner along the route.
Gold Coast Marathon Live Runner Tracking – As one of the largest marathons in the world, and the largest in Australia, the Gold Coast Marathon is a major destination event for a number of athletes. Track your runner using their live results page for finishes and incremental location alerts.
City2Surf Runner Tracking – Although not a full marathon the 14km run in Sydney is one of the largest around. Organizers have yet to release a dedicated app or timing partner with live tracking. If you want to follow a friend you can check out top spots to watch the run or some of our individual tracking recommendations below.
Find My Friend and Strava Beacon – When A Race Does Not Have Live Tracking
If the runner you are tracking prefers running with a phone it becomes simple to track them. Simple services like Apple's Find My Friend can run in the background and allow for live tracking during a race.
These options are better for finding a runner throughout the course of race day since the official tracking is limited to the course.
This location sharing option still requires a 1:1 sharing with a friend for explicit sharing though so other results may be preferred. This is where standard activity tracking services come in.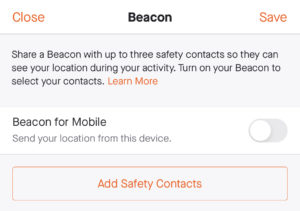 Most of the GPS based tracking aggregators, like Strava, will offer a individual broadcasting option. Strava has this as their "Strava Beacon" feature which is available to Strava premium users within the mobile app.
Although designed as a safety feature, it works well for race day tracking too. It allows you to share a URL to follow along on your workout, although the sharing is limited to up to three contacts. If you are planning on using this make sure your mobile device is fully powered during the ride as opening an app and broadcasting a GPS tracking for 5-6 hours can be a drain on battery. No one wants to get 20 miles into a run only to have their tracking fail!
Garmin LiveTrack, Pixel Watch and Android
So many runners prefer to track their own run with a smart watch or fitness tracker. While we covered above the Apple Watch, other leaders in the GPS watch space also have similar features.
Garmin offers a Live Track option for it's watches. By using the Garmin App you can share a users location by following the directions and granting access to an individual.
Pixel watch & Android also offers an option, which Apple users will know as Find my Friend, which allows you to locate a device. Google offers this on a device level, or if you are carrying an Android phone along with the Pixel watch you can opt to open Google Maps and share location with users through the Maps app. See instructions for this here.
What about tracking a runner with a FitBit or Whoop?
FitBit does NOT have live tracking available for runners. Even the FitBit Versa, which contains a GPS, does not share this data in real time to anywhere that a friend or family can follow along.
Whoop similarly lacks the features to track a runner in real time. This is because the Whoop band does not even have a GPS chip so it is not monitoring location. The companion app for whoop, run on a smart phone, is what is used for GPS based activity tracking.
Live Streaming for Runner Tracking
The final option for tracking involves much more runner engagement. A runner can open a sharing broadcast via a live streaming app. This is best if you are truly trying to broadcast a location, or performance, during the race.
Race apps will allow many people to check in on your, but their interfaces can be a pain. The sharing location apps are also somewhat limited in their desire for privacy and a limitation to explicitly share with a single person or handful of accounts.
One app that is built for location sharing and broadcast is the Glympse app. It does what the others do, but allows a many-to-one style of sharing. Anything beyond this looks more like a FaceBook Live or YouTube live.
Track A Runner During a Local Race or 5k
Most smaller races do not have live athlete tracking. Although this feature is becoming more popular with some timing companies, it still doesn't make sense for most local races to pay for the setup and tracking needed.
When a race does not have live tracking, you still may want to find your runner via a separate means. This may be to cheer them on, or make sure that you are on time to see them finish, or just to monitor them in between the provided check points that the official tracking has.
As most runners know it is easy to have something come up the deviates you from a normal pace, and that makes it hard to find someone if you only have check ins every 5k (or sometimes only just every 13.1 mile!). Without a tracker it is easy to turn away and miss someone, especially since many runners look similar in their racing gear.
Thankfully as GPS chips and watches have become more popular the options for tracking someone in real time have become more accessible. All of the above noted options are what we have found best for sharing location and tracking. There are dozens of other smart phone apps that do a similar thing, but with for simplicity and ease we recommend using the built in Apple and Android options.