These days nearly every type of workout or activity has a way to track your effort. For the stats nerds, skiing makes for a fun day of racking up runs, lifts rides, and vertical totals. Using a standard GPS tracker you can enter a specific sport profile, or if you are spending the day on the slopes at one of the major resorts they likely have an app that can be used for full tracking and guidance.
Coming from Southern California one of the most accessible and complete mountain is Big Bear and Snow Summit.  The interactive trail map and guide to the mountain comes in the form of the Big Bear Mountain Resort app. This is just one of many apps to track skiing, check out our full review to find other non-mountain specific apps. Weather and snow conditions are available directly in the map, and it stays up to date showing which runs and lifts are open so it is helpful to have handy even when riding up a lift.
There is also a feature that you can start tracking directly within the app and it will record your day. Each run and lift winds up being summed up, although on our most recent day it did miss a handful of lift rides and runs. Specifically it missed runs and lifts on the bunny hill where the kids and adults took some short runs, although it did capture some of those runs so it would appear that the accuracy is not 100%.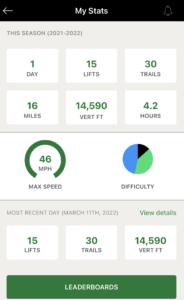 Ski trail tracking is useful to get the aggregate totals of the day, but there are some other fun stats as well. The primary one is your top speed. It is a bit risky to show this in the app as no doubt many people use it as a way to try to go faster. On a busy day or with less ideal conditions trying to hit a new top speed can lead to issue so be safe! Overall the app did manage to gather an accurate total skiing time, and the total lift rides and vertical feet sums pass the gut check (other than the missing few on the smaller hills). 
The trail totals are a great way to check in on what you did on the day. Especially on light days with minimal trail lines, it's easy to forget a handful of runs or which lift you went on 4 times or 5 times. As a badge of honor it's nice to be able to showcase to friends that you ticked off a double black, or spent some time in the terrain park. Seeing that you were able to get 25+ runs in over the course of the day also makes it easier to justify the substantial cost of a daily lift ticket. And for those that are working on a season pass, the leaderboards also track your total vertical gain and days on the mountain over the course of the season. This is great thing to look at when wrapping up the season and considering getting an additional season pass for next year. 
What Can You Learn From Tracking a Day of Ski Runs (And What is Missing)
When looking back at the runs total you can use this to plan out a future day on the slopes. The aggregates will tell you how many runs to expect, but if you want to recreate the entire path you can look through the line items listed in order. Each run has a time stamp next to it, so although it does not give you the total of how long it took to get down the mountain or how long the wait on the lift line was, you can estimate these based on the time stamps. That is one feature that we would love to see added though. The lift line in the interactive trail guide do include a wait estimate, but there is no good way to estimate from the data how long it takes you to complete any given section.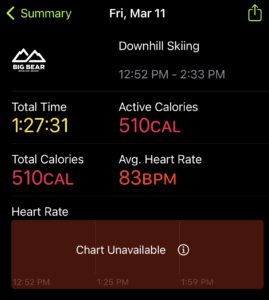 Although the Big Bear ski trail tracking gives you a summary of the day, it can also be used to track a workout. Once you allow the app to share data with other apps, like the Apple health Kit, it will get pulled in as a workout. The bummer here is that it is using a phone to track, so there is no good way to also get heart rate data from your day of skiing. To do this you will have to track a separate workout within another app (we like Strava or the standard Apple Watch fitness options), or just deal with having only a single average number. The single average number is mis-leading for skiing as well since there is plenty of time spent on lifts, which tends to be pretty relaxing.
If you have multiple trackers going you also need to be sure to avoid it uploading as a duplicate into whatever your preferred system is. This is not a major issue, but because the ski tracking is not optimized to track a workout it is worth knowing. In total the calories burned in 1.5 hours of skiing seems a bit light on the measurements (as a 200 pound person I would expect somewhere above 700 calories in 1.5 hours).
When riding or skiing with friends, the other great feature of the tracker is to be able to add multiple people and then see where they are on the mountain. This is similar to Apple's FindMyFriends feature, but is done from within the app. Especially on a mountain with spotty cell reception, where text messages can take time to go through, being able to chase down friends and meet back up with your party is wonderful.