How to setup your Apple Watch to show vertical feet climbed in real time.
For runners or enthusiasts who want to get stronger legs, doing hilly runs is a great option. Many runners also find themselves at times training for a race, either a trail race or road race, that has significant hills.
Whether you are running hills for training or for a race, knowing how much hill is left can be a big benefit. Often GPS tools like Strava or MapMyRun will show you elevation gain at the end of the run, but knowing live time can keep you engaged and motivated to keep powering through.
The Apple Watch lets you see how much elevation you have gained in live time. Have a race that you know has 500 feet of elevation gain? Use this setup and when if shows 450 feet you know it's almost all downhill (or flat) from here.
Training for a very hilly race? Find a local route the is similar in climb by tracking just the elevation.
Or challenge yourself in a new way with an elevation workout. Want to do a workout with a specific elevation gain, or need to hit a certain number to achieve a goal on Strava or another tracking app? That's easy if you can see the elevation on your watch while running.
To set this up you will need your paired iPhone.
Step one: Open the Watch App on your phone.

Step Two: Find the "Workout" option in the list of apps and click it.
Step 3: Select "Workout View" at the top of the screen.

Step 4: Select "Outdoor Run". Notice here your watch can display different metrics depending on the activity. If you want to display elevation gained for cycling or walking then select that activity instead. Each activity must be setup separately.
Step 5: Select "Edit"

Step 6: Select "Elevation Gain". Your watch can only display 5 stats at a time, if you already have 5 selected you must delete one before you can select another. Use the three lines on the right of the chosen stats to drag them up and down and select the order in which they will display.
Use Live Elevation Gain to Improve Your Running
What is the benefit of hill repeats for training? While for one it makes your legs stronger. Powering up hills uses different muscle than flat running and is a great way to ensure proper form.

Uphill running also is a quick way to raise your heart rate. Since at least 50% of running performance is aerobic, and the heart is a muscle, training your lungs and cardiovascular system is important.
Strava Hill repeats for getting that KOM. King of the mountains are a popular way to challenge yourself on the training app. Many segments follow common uphill or downhill sections for a real test.
Finding a few Strava segments to string together to create a hilly but non repetitive interval is a unique challenge. Using the Apple Watch to track elevation your can also compare your popular hill to your favorite segment.
Current Altitude on Apple Watch
The other useful stat for running hills is knowing your current elevation. Thanks to GPS your phone or watch can also provide this. You will need another app to find your current elevation on your watch.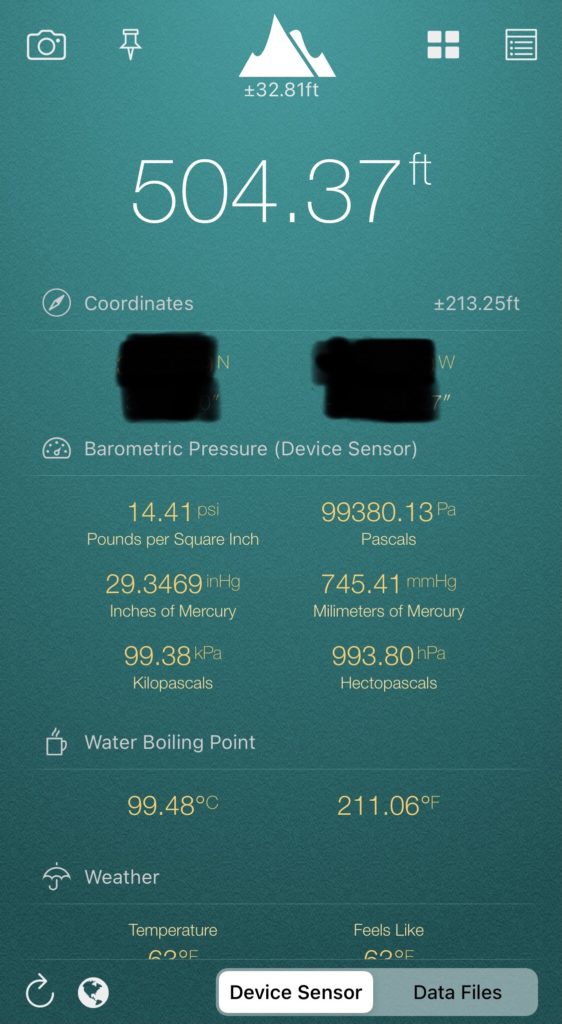 A favorite for this is the My Altitude app. It's free and simply tells you the altitude of your current coordinates.
The screen shot above is from the phone app, but you can toggle on the app for your watch as well.