Race Info
What: OC Triathlon Olympic Distance (Prior course review here)
When: April 30, 2023
Where: Lake Mission Viejo, Mission Viejo California
Goals:
| Goal | Description | Completed |
| --- | --- | --- |
| A | PR (3:13:32) | Yes |
| B | Break 3 Hours | Yes |
| C | Break 2:45 | Yes (2:42:29) |
| Bonus | Qualify for Age Group nationals (Top 35% in age group) | Yes |
Background
I ran a few triathlons in my 20s, having been a high school swimmer and cross country runner. Those went well but I always preferred running and after my last triathlon in 2013 went back to primarily running. In 2021 with encouragement of a friend I jumped back into the OC Triathlon at Mission Viejo Lake in large part because it starts 10 minutes from home, which eliminates a lot of the logistical complexities.
The race is primarily an Olympic distance, though they've added other distances. But with years of running half marathons up to 20 mile races that distance was not too daunting.
Due to Covid the 2021 event was held in the October, and six months later it returned to it's normal Spring slot. Both of those I did on a facebook marketplace purchased bike, a 12 year old touring style bike with toe cages that was not a proper fit but still got me through things.
Each time I approached the race mostly as a supported workout. I swam in a pair of lined running shorts on one, and a tri kit the second time, but was not ready to commit to the cost of saying "I do triathlons" and diving into gear. Results from each race are below, I improved slightly the second go around but still was far from my younger self in terms of relative finishing place.
Finally in December 2022, five months out from the race, the signup for the race came in and I decided to do it again, but this time take it more seriously. I signed up, found a coach a friend recommended that got him though a 70.3, and starting shopping for gear.
Training Prep
Training took multiple fronts, with some big initial weeks in December and a sobering look at my weight trend in 2022. Things started in earnest in early January when the coaching plan kicked in. I did a few baseline setting workouts (1 mile is a personally depressing 7 min flat, FTP test of 258 watts), and noted that the scale read 212 lbs on Jan 1.
Conversations with my coach noted that I was a confident swimmer and runner, but really thought I could improve on the bike. That's in part because I was bottom 80% of the field in past rides. I knew that getting a better bike and dropping weight could help.
Coach got me on a regular interval training coupled with long zone 2 rides that topped out at 2.5 hours. Nearly all of this was done on a Peloton that was not fit to me, with the partnership of a lot of podcasts to keep me entertained.
The rest of the training plan was about the same. Two-four runs per week and a planned 2 swims per week (though I often only got one in). The runs had a similar balance of some speedy intervals and a longer effort, though in total it was less running that I would typically do overall since that has been my primary sport for the past 5-6 years.
On off days I would get in some longer walks, in part to keep an Apple Watch rings streak going. There were also a handful of pure recovery rides and runs just burning calories and keeping the heart rate in zone 1. Over time these felt better and better. The high end intervals also got better and better over time, with a few peak weeks workouts really building confidence since they were below the pace of my previous racing effort.
In total I did an average of 6 hours of workouts per week, peaking with 8 hours. Other than a minor hip flexor issue that I got some PT session for things felt great.
The other big changes in training and prep was weight loss, nutrition and sleep. I used training as an excuse to give up alcohol, which had compound effects on improved sleep. Four months of going try cut out tons of calories and made it easy to knock out morning workouts before the family was awake. By shifting bedtime earlier I average >1hr more of sleep, and cut out late night snacks.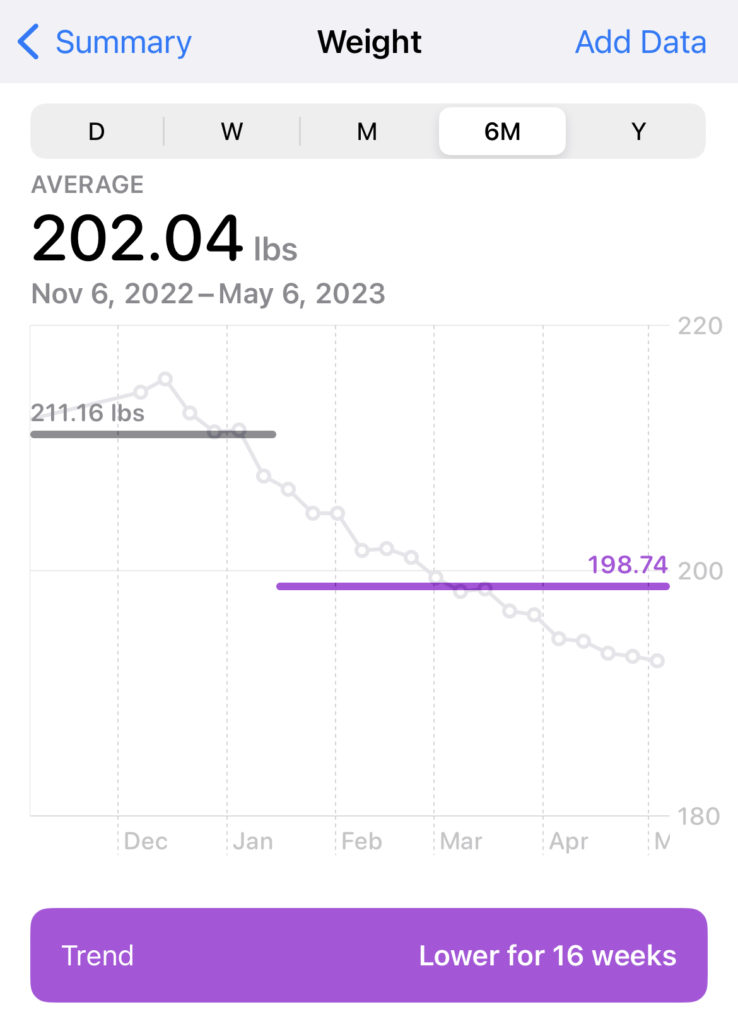 All of this prep work paid off well. Even during training I was able to keep a slight calorie deficit without feeling fatigued. The first pounds fell off quickly then I maintained a steady weight loss, with a total of ~25 pounds lost from my peak in late December.
On race morning I weighed in at 192 lbs. Coupled with some better biking this really helped boost my confidence since many sites suggest 1 lb can mean 2-3 seconds improvement per mile. Plus the weight loss boosted my overall FTP improvements from 8% absolute to ~18% when measured as W/kg.

The one major area that came up short in training was swimming. Specifically, open water swimming. Getting to open water is just turns a 30 minute session in our local pool into a 2 hour endeavor. I managed to get two sessions in but knew that it would still be an issue, especially since I have trouble spotting and swimming in a straight line. On my first go at the OC triathlon my watch noted I swam an additional 250 meters – even if it's not entirely accurate that's an easy place to cut out time.
Other than the training the big additions were in gear. I sold the old touring bike and bought into a proper triathlon bike. The A2 SP is one of the lowest cost entry level tri bikes, which I reviewed here before. It feels crazy fast and I was excited to ride it. In addition I picked up a wetsuit. Huge benefits from that thing included much easier spotting thanks to the buoyancy, and more streamlined with the pool measuring 10 seconds/100 yards faster (review of time improvement from a wetsuit here).
I also snagged an aero helmet, clip in shoes and pedals, calf sleeves for aerodynamics and sun protection, and quick tie laces which are only slightly faster on average (see the review of quick tie lace time improvements) but are so much easier in T2 when you are tired.
With a dedicated 4 months of training, 25 pounds lost, and a few thousands dollars more in gear, I tapered the final two weeks and felt eager to race. Then it was time for race day.
Pre-Race & Race Morning
As mentioned before the huge benefit of the race is that it is 10 minutes from my house. The one logistical concern is that T2 is separated form T1. After checkin the day before you have to leave your shoes at T2 overnight. I did that, but it was my first time since in the past I biked in running shoes. So with my running shoes, hat, and plenty of preferred nutrition tucked in a recognizable bag at T2 I set my alarm for 5:15 am.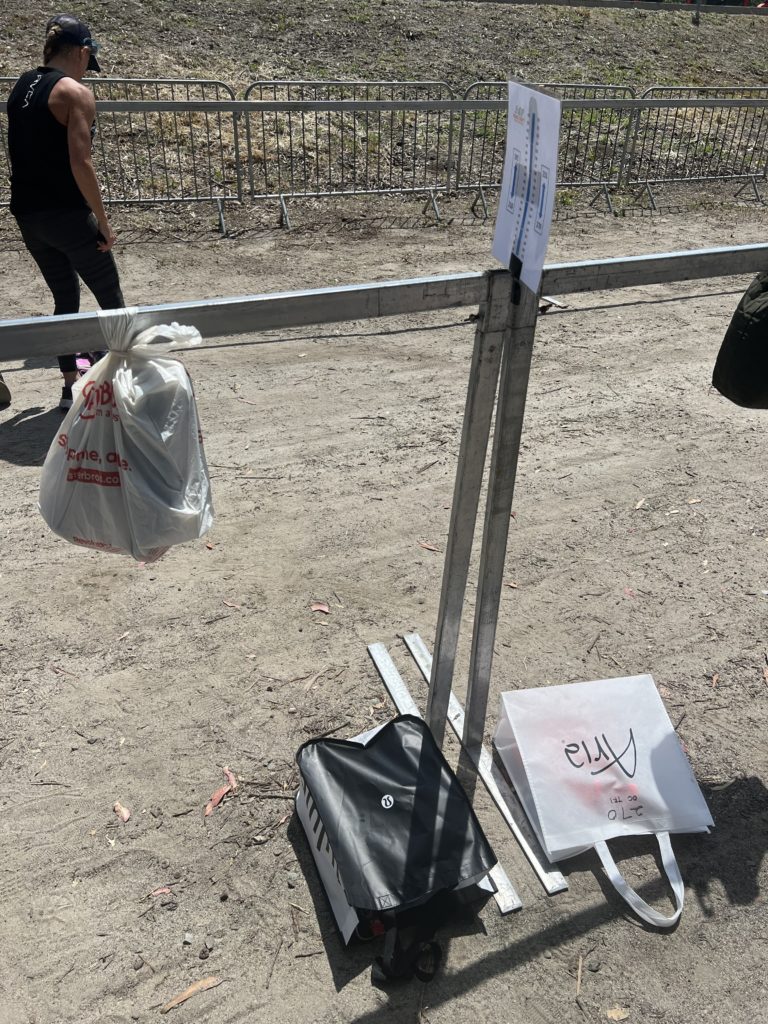 I woke up 10 minutes before my alarm, since that was the time I had been naturally wake up for the week anyways. Breakfast consisted of Oatmeal with Peanut butter power and blueberries, black coffee, an english muffin, and a honey stinger waffle. I also packed an electrolyte water bottle and drank it as I left the house at 5:45.
I rolled up to the race right at 5:55 and parked on the street rather than fighting the already overflowing parking. This was an optimization from last time, I knew if I parked on the street I could coast downhill on my bike rather than hiking up. Headed right to T1 and got things setup. After laying things out I grabbed my wetsuit, hit the porta potties an inordinate amount of times, and found my way to the beach while chatting with the half dozen or so folks I knew who were also racing. My local neighborhood had a 5 dads all taking advantage of the close proximity to the race and it was great to have people to chat with.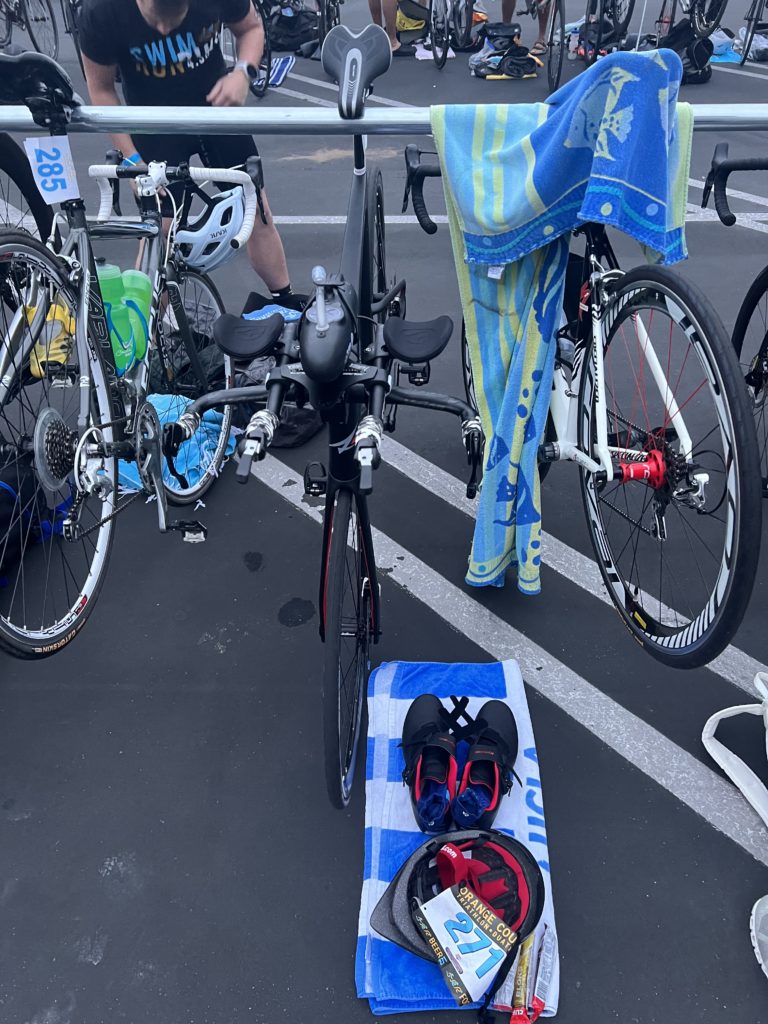 Once I squeezed into my wetsuit I got into the water, which was a pleasant 69 degrees, a did a 5 minute warmup. Followed that up with a few minutes of strides and stretches on the grass just to make sure everything felt good. With 15 minutes to go I hate my final gu and hung out. First off were the elite men/clydesdale/relays, followed by elite women, then my age group. Waves left every 4 minutes so I got to see the first men almost reach the far swim turn around at 800m before the 8 minute wait to our start.
Swim & T1
When our wave started it was with around 50 athletes so the run into the water was exciting but not overwhelming. The group started out strong and together with minor collisions but things settled in within 2 minutes. Water temperatures were 69 degrees.
I felt strong in the swim and was able to keep a decent cadence the whole time. Compared to my past swims my endurance was up and I never had to switch to breast stroke. This was aided in large part by the added buoyancy of the wetsuit.
Even with the more even pace and improved buoyancy I knew that I was not swimming straight. There were a few instances where I got passed by faster swimmers in the following waves, I tried to keep them to my left (my breathing side) and use their path as a guide but I was all over the place. My watch is never 100% in the water but it said I swam aa total of 2200 yards.
Even if that includes some GPS errors, it's safe to say I swam more distance than a needed to. I'll look to improve this in the future. GPS suggested I swam at 1:26/100 yards, just below my standard 1:35 pool efforts. If only it said that for 1500m and not 2000!
Still, side to side swimming aside, my pace was great and I felt strong. I came out of the water without having swallowed any lake water and checked my watch to see 32 minutes and change. While not at my aggressive target of 30 min flat, this meant was still an incremental improvement from the 39 minute and 35 minutes previous two attempts. Things were off to a good start.
T1: Coming out of the water I peeled the wetsuit down and ran the 100 yards uphill to my bike. Getting the ankle's off was easy, although it did send some quick cramps in my calves that had me worried. Given that I opted for the sodium version of clif bloks (I had a variety laid out in T1), and made sure I took in 100 calories of them as I walked/jogged to the exit.
Bike & T2
The bike course is not flat, but having ridden it twice before I knew what to expect. I used the first 1.5 miles to find a good rhythm and planned to push up the major climb from 2-5.5. This plan worked out and I found myself cruising past most riders, with the occasional light roadie blowing past me as well. It was still overcast but there was no moisture in the area of trouble with visibility, these were ideal conditions.
Up the hill is where the motivation kicked in. Compared to years past, where I was getting passed consistently on the bike, it was quickly obvious that I could stick with other riders. Then we got to the fun part.
After the first major climb is a solid downhill section with only minimal rollers and flats that you can carry speed over. While I saw a lot of riders coasting on this I made sure to pedal and stayed in aero. There was a solid 6 mile section where I did not get passed by a single rider.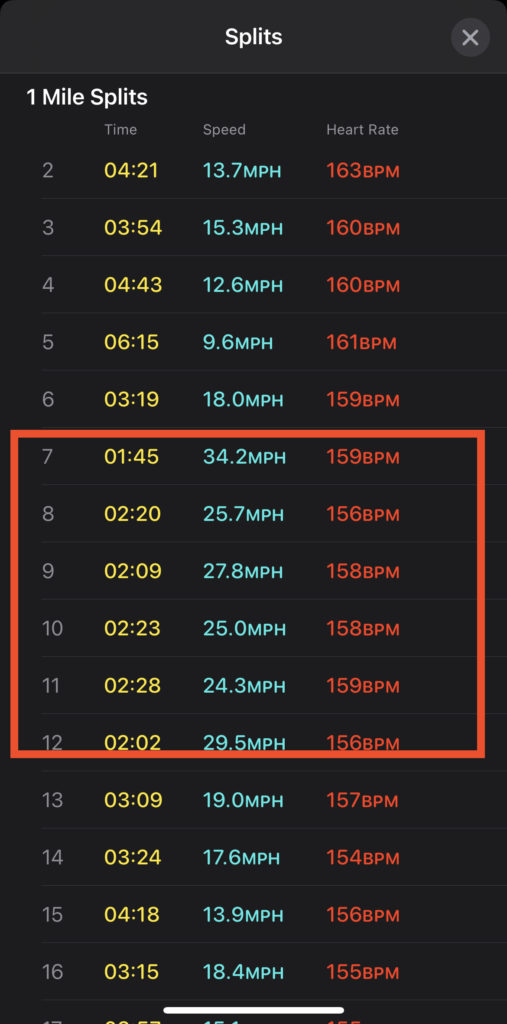 The aero bike and prep was paying off. Even with my heart rate a few BPM above my target (155 was target) the speed was simply fun and the bike was WAY more stable than anything in the past. I knew some people would leap frog me back on the uphills, but this downhill section was fun.
The results of just those 5 miles were more than 5 minutes gained on previous attempts and cool Strava category logos for UCL Pro and World Class level efforts (granted these are non-valued internet badges, but still things I did not know existed).
An hour into the ride my Apple Watch blinked at me that it was at 10% battery. Conservation mode kicked in and the tracking stopped. I do not yet have a bike computer so this put me in the dark from a data perspective, but I knew where I needed to be from a feeling stand point and kept charging.
While the beginning was passing some of the duathletes and slower riders from relays, by the end of the ride the field had thinned a bit. The final 5k of the ride is downhill on a public bike path that is slightly winding. This gave me a chance to stop pedaling while still maintaining speed and save the legs for the run. I also used it to take the last sips of my hydration, which included a total of 200 calories of tailwind.
As I hopped off the bike I glanced at my watch (which still showed absolute time, just not a tracked workout) to do some quick math. It seemed like I had beat my goal pace decently and even would hit my goals solidly unless I completely blew up, which didn't seem likely given how I was feeling.
Total time on the bike was 1:17:48, with an average pace of 19.16 MPH. This was nearly 5 MPH faster than prior attempts and more than 2 minutes ahead of the targeted 1 hr 20 min goal.
T2: Nothing had moved from the night prior in T2 which was great to see. I dumped my bike and slipped my shoes on while noting how great it was to have quick tie laces when you are a bit shaky from a ride. As I ran off I made sure to open another pack of Clif bloks that I planned to scarf in the first mile of the run. After the race I would reflect on how efficient my transitions were. As a competent runner I always figure once my shoes are on I can figure out other details while moving, this was reflected in my overall T2 time which was Top 10 in the field of 300+ athletes.
Run and Finish
The first 2.5 miles of the OC Tri run are a pleasurable 1-2% downhill grade on a wide bike path. It's ideal running and my watch suggested I was peeling off <7 minute pace (I glanced at absolute times and opened the heart rate app at each of the mile marks but otherwise left the screen off so I could see the time of day and know if I was on track for good things).
After the optimal downhill run the course turns more ugly although I was still feeling strong. Up the mulched trails I was running, where in the past I took a power walk approach. Similarly the one major hill (300 ft of climb from mile 3.5-4) felt like a hill but was not the overwhelming effort I remembered from past years. It helps that the cloud cover stayed, so instead of 5-6 minutes grinding up a hill in direct sunlight this was more akin to a single hill interval that coach had often prescribed on Tuesday training runs.
As we came off the paths and back to the road I passed the last of the runners I would maintain contact with. Over the last 1.2 miles I don't think I was within 100 yard of a single other athlete. While it was nice to feel like I was way ahead of past years it would have been great to have someone to work together with and push.
Coming into the finish area I kept an eye out for family and noticed my daughter (8) first since she was decked on in her favorite bright pink hoodie. Seeing the kids and my wife was the perfect boost to hit a strong finish as I knew I had completed all my goals, and they had helped support me for all the hours every week spent training.
After that race I would find out that my time in the 10k was 48:39, ahead of the 50 minute goal and nearly a full minute/mile ahead of prior races.
In one of the two prior races I missed the T2 in tracking, so don't have all splits. Given that I'm comparing splits to 18 months prior, but even to the 12 months prior my reduction was >30 minutes.
Compared to 18 months ago though the total improvement was 37 minutes 57 seconds, within improvement in every split (even transition).
Post Race
Immediately post race I hung out with the family and got the 8 year old ready for the "splash and dash", here first attempt at any competitive swim trial. It was a casual event, with the crew of local neighbors we knew making up >50% of the field. After the kids ran I headed out to grab my bike from T1, then home.
The rest of the day I grabbed some normal meals. Took some iburprofen and iced the hip, then decided to opt into a full lower body ice bath which alleviated a lot of slight discomfort. By dinner time I felt fine, no worse than any longer training day. The following morning I had a PT session for my hip, after which I noted to the PT that this was the best I'd ever felt the day after a >2 hour race.
Next Up
After checking results I realized that I finished 10th out of 45 people in my age group. Since the USA Triathlon had designated the race as the California state championships, that landed me a qualifying spot since it was in the top 35% of the age group field. While I am unlikely to attend the Milwaukee based event, it's still a neat accolade as it's the first time I've qualified for any event since high school.
My goal is to take a few weeks off, before trying to get some speed back with a 5k training plan. I'll follow a similar strava 5k training in order to take on a PR attempt at the local 4th of July race.
After the speed session sights are set on a sprint triathlon in Malibu. This was my last race back in 2013 before moving to the OC area. I'll be taking part of it as a fundraiser for the corporate challenge that helps raise funds for Children's Hospital Los Angeles. Its a great cause (if you know me personally and have read this far just know I'll likely be asking you to help support!)
A number of friends have asked if I plan to do an Ironman. For the time being the Olympic distance and local race fits my training level and time that I can commit to training. While I do not have any immediate plans to do so I'm not ruling it out. Beyond the Malibu race we'll see, but most likely I'll be back in OC next year trying to improve on the time again!.