For those who live their lives in some form of athlesiure wear there is a good chance you have been introduced to the Vuori brand. If not, then it is worth taking a look. Vuori has made a name for themselves, after being founded in 2013, in the fast growing direct to consumer market. They primarily market their premium fitness apparel through social media, where many have likely seen their ads, although these days the company has around 20 physical stores which function as showrooms as well.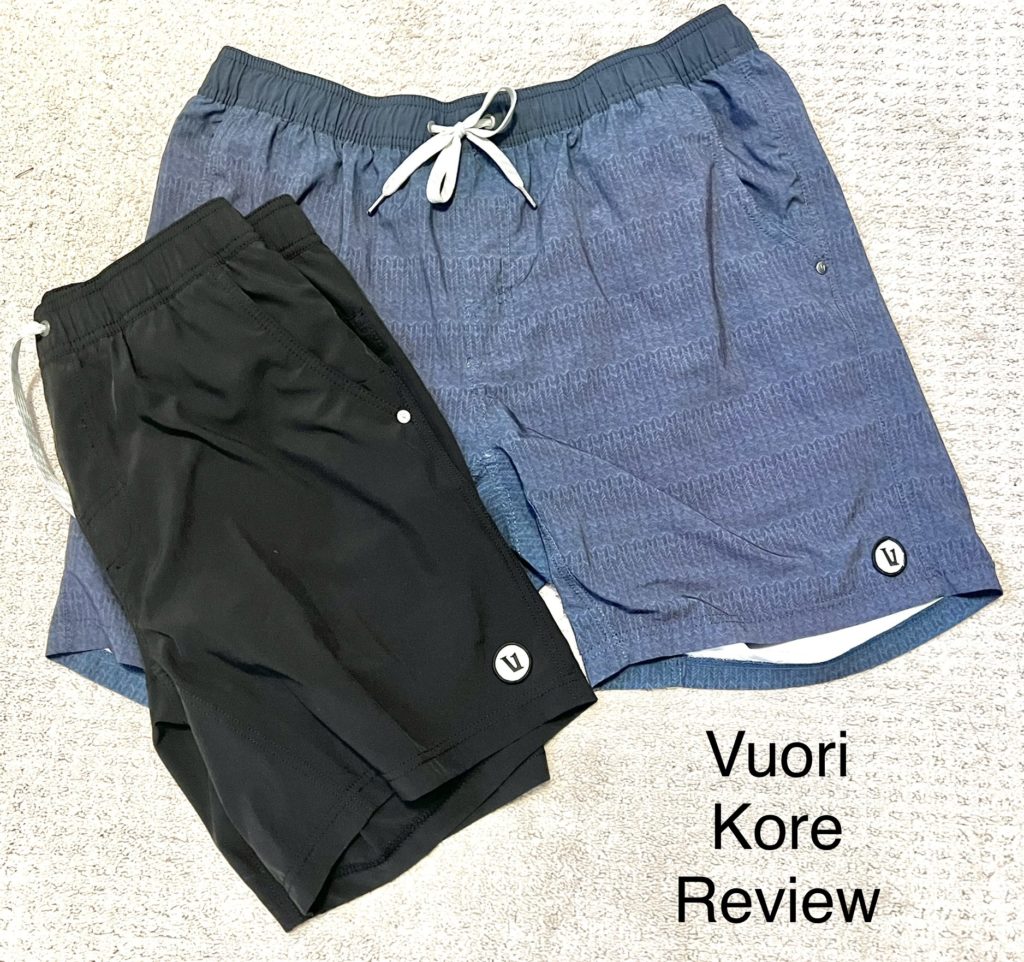 The core of their lines are sweats, active tees, and shorts including one of our personal favorites, the Vuorit Kore Short. On any given day these shorts are a go-to option for hanging out, short runs, tennis, the gym, or pretty much anything active. The only activities where they come up short (all puns intended) are those where they are going to get wet. This is due to their liner, which is not wicking and retains moisture, so long hot runs become an issue. They also make the shorts less enjoyable when jumping in the pool (although they work in a pinch… and who of the guys hasn't enjoyed just swimming in whatever they have one).
Durability and Materials of Vuori V302 Model Shorts
Vuroi generally is made of good materials. Compared to some other active wear that can barely hold up to a strenuous walk, the Kore shorts are durable. There are no obvious issues in the workmanship and the stitching holds up to stretching and gym activities including the most extensive lunges.
The built in boxer briefs are super comfortable as well. It's possible to wear them without anything else, but you still may prefer to wear tighter boxers below. The briefs are somewhat skin tight but have just enough movement and are soft enough  and hold moisture, such that chafing by themselves would be a real issue. 
Style and Colors of Kore Shorts
As a stylish short the Vuori shorts hit on a simple and somewhat classic design. The only real flair on them is a small logo place low on the leg, but it is subtle enough to avoid distraction. 
Vuori's site often has a dozen colors for the Kore style. A new color is the limit to the options though. There are no variations of inseam length, which can be limiting. If you are looking for a long distance running short then keep looking because the Vuori Kore sit just above the knee and are too long for most runners.
Pockets on the Kore are also a bit of an issue. Many men are used to having low cut pockets, it is an issue in the industry, with keys and phones often slipping out. These suffer from the same issue, so if you want to avoid searching for your phone under a car seat then make sure things are tucked away in the pockets. It is possible to keep them in, the pockets are big enough for a wallet and phone, but the deeper cut of the opening is still sub-optimal. 
The Kore shorts also have a back pocket with Velcro. It's big enough for a small wallet and secured things alright. Still there is no zipper and it is not fully sealed so you won't want to trust it for keys or similar items if spending a full day out being active. 
Can You Wear Vuori Shorts for ANY Activity
Like we shared above, the promise of being an all sport short is a bit excessive for these shorts. While they are a great all around option, and there is no doubt that they can function for any sport, they are not optimized for anything. This is the problem with an all around style, it fails at delivering on anything specific.
If we had to pick one activity for which Vuori Kore shorts are made, it is lounge wear. Simple around the house activity, running errands on a summer day, or generally hanging out in a low key setting. For this the Kore shorts are ideal. They are light enough and breathable that you can get up and partake in pretty much any task or activity without having to go change. That said, if you know that you are going out for a run, cycling, swimming, yoga, or other specified activity you may be better off getting a pair of dedicated sport shorts.
The gym seems to be the one other place where Vuori shorts are really made for the activity, and this might be where they really win. In an event where you are not going to get overly sweaty, and you may even have to get some other things done on the way, then these are a great pair of shorts. 
How to Wash Vuori Kore Shorts
The upside of these shorts extends to the care. They are no so delicate to require too much special handling in a normal wash load. While it's suggested to machine wash them on cold with a low dry, this pretty much means they can be tossed into a similar colored load with no issues.