Experimental sports activities continue to generate new ideas, and a recent fun one is Stadium Links. Part driving range, part executive golf course, part sports bar, the concept involves building a small course within an existing sports stadium.
We had the chance to try it out recently when it came to Angels Stadium. After a fun evening our twosome was agreed, we'll be coming back. Not only would we come back to fire more balls into Angels Stadium, but we'd gladly make to drive to other ball parks and Stadiums that we otherwise have a tie to. This article covers a summary of what can only be described as a unique experience.
What Is StadiumLinks?
As we mentioned above Stadium Links is a golf setup within an existing stadium or field. The organization sets up 9 pins and greens on the outfield or turf of a stadium. Sprinkled throughout the stands are nine individual tee boxes that make up a 9 hole "course".
With the regular greens fees or access you get a bag of 18 balls. This lets you play two from each hole, and score either the best ball or (as we did) treat them as the "front nine" and "back nine". On our evening the bags we were handed had a few extra balls as well as a bonus bag of range balls. In total each of us had between 27-33 balls.
The extra balls were great as it allowed for mulligans as well as challenge shots. Scoring was pretty straightforward, although it favors lower handicaps since it's capped at double bogey and eliminates all sorts of errors
Stadium Links scoring is:
Double Bogey – Not even on the field
Bogey – On the field
Par – On the green
Birdie – Inside the circle (about 3-5 yards from the pin)
Eagle – hole in one

Is StadiumLinks Real Golf?
Yes, StadiumLinks is real golf by many standards. Although it's not a round that will impact your handicap.
The evening had all the classic things you would expect from a round of golf. Fun with friends, plenty of walking, and all the same frustration you would expect from a course. It also had plenty of beer, good natured banter, and opportunities to needle your playing partners.
What was missing were some of the nuances of a normal round, including those that are frustrating. Shot creativity was limited as the only complication to deal with was the elevation change. Everything was hit off a turf tee-box. There were no bad lies. No drivers or putters were used, but if you wanted to it was possible to hit some variation of every iron and wedge in a bag.
The scoring system made it so you could play an objective round and have a clear winner and loser. It also made it easy to gamble. In this sense, with the ability to challenge yourself while still competition against others there is no doubt that it was golf.
Chipping Challenge
In addition to the actual holes the main Club level of the Stadium was setup as a clubhouse. There was a chipping competition (shown in the images) that you could take part in for $15. For that you got 10 balls, including a "bonus ball" worth double points. A chipping ski-ball setup of sorts was about 15 yards away, get a ball in one of the holes and you got that score (10, 25, 50,75 or 100). The high score over the weekend one a prize of a couple Angels tickets, and when we were there the high score was 350. A similar putting challenge was also setup.
The tee-boxes themselves were mostly scaffolding placed atop some of the seats. While we thought the round would be quick, each tee box was placed such that you got to weave a bit through the stadium and it took about 90 minutes to play our full round. Along the way the stadium concessions were open for limited selection of beers, candy, and easy to grab items.
Missing from the Stadium experience was access to anything super exclusive. We would have loved to do the putting challenge in the dugout, or had one tee-box in the bullpen. Still the round did take us on a tour through the club section and offices, areas that general access tickets wouldn't make it too.
Having been in the Stadium before for a Spartan race that let you in the dugout, and gone with friends to Diamond Club seats, there was no more access than you can get through other activities. And yet wondering through the bleachers and hammering 9-irons under the lights where we've seen dozens of great games was entirely a new experience.
Non-Golfers Can Play (and have fun) at Stadium Links
After playing and sharing the pictures of our outing with friends, a bunch of folks asked if Stadium Links is good for non-golfers. The short answer is yes, it is fun for non golfers. In our twosome one of us had swung a club in years while the other plays around 40 rounds a year. We both had fun.
This assessment aligns with who we saw at the event as well. It was noticeable just watching other players that at least half of the folks there were not regular golfers. They all looked happy.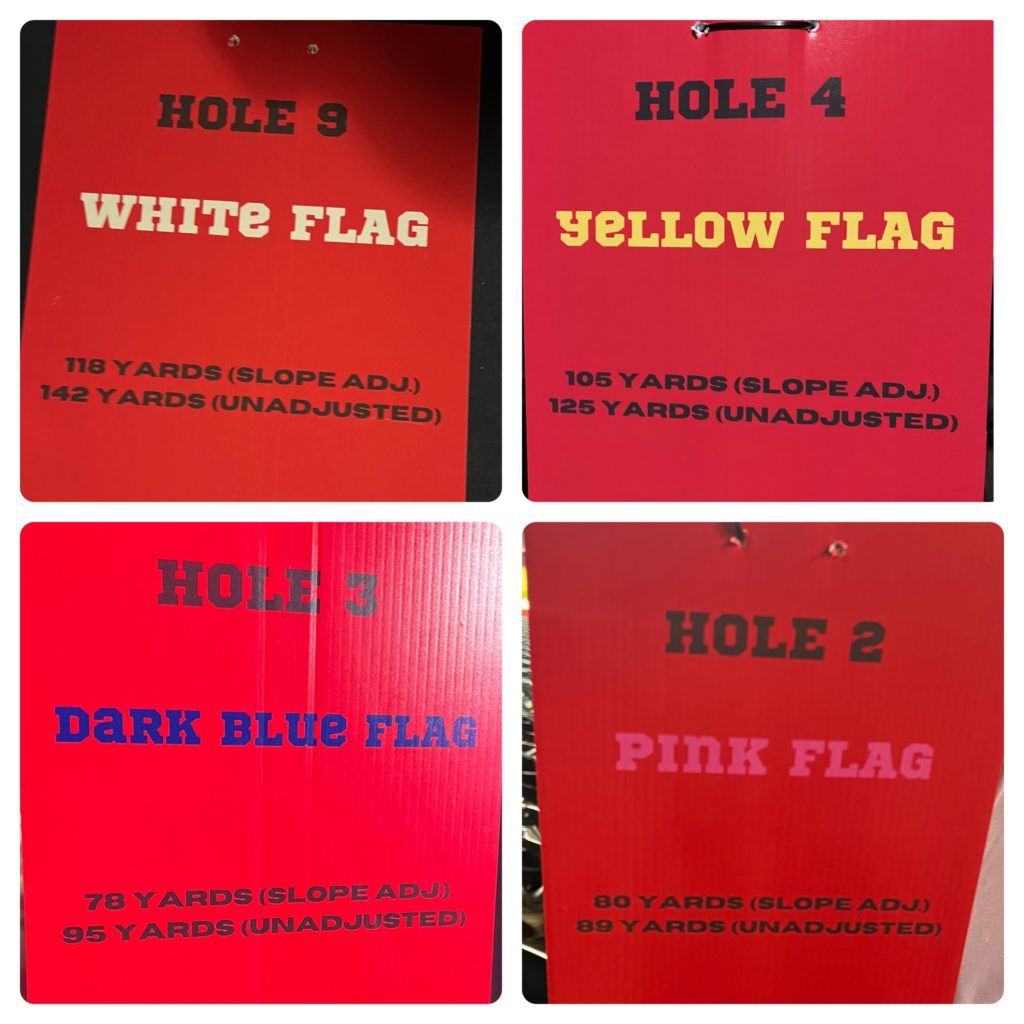 Holes themselves are somewhat forgiving. Being up high means even a putter can get you out onto the playing field (we confirmed this from the upper deck and even rolled one over the green).

The maximum hole distance was marked at less than 150 yards, while the minimum (other than the chipping challenge) was less than 80 yards once adjusted for the elevation.
Golf is notorious for making people frustrated, but the huge open space is forgiving. Similar to a driving range a shot that's offline but has good ball flight still provides some satisfaction. Newer players benefit from that feeling of launching one off at a ballpark, and the scoring system is forgiving that they may even score if playing best ball. Not to mention, the added challenges, tour of the stadium, and snacks make for a fun outing.
What Clubs Should You Bring to Stadium Links?
None. Really, it's possible to just pickup and play with the handful of clubs provided. When we went, there were right and left handed clubs at each hole that would work.
At most, if you want to bring your own, you should be carrying no more than 3 clubs. Trekking up and down the stairs and ramps is not worth the effort with a full bag, not to mention that the 150 max yardage leaves half a bag as worthless. Our recommended three clubs to carry are:
Pitching Wedge
9-Iron
7-Iron
The elevation change made it tough to gauge distance but even a non player hit at most a 5 iron that was way too much club. Most holes we alternated between a 9-iron and a lofted wedge. The wedge also came into play at the chipping competition. A putter is also an option if you plan to do the challenge, although again, there were dozens to pick from at each setup.

At the door the organizers were even turning people back to their cars to ensure that drivers and woods did not make it in the building. Tee boxes were not protected from someone firing a 3 word from the other side of the Stadium, so traveling light is a safety thing to.
Is Stadium Links VIP Worth It?
One major drawback of StadiumLinks is the cost. When we bought in the fees were slightly more than $100 per person just to play a round. VIP experience was worth if for being able to double our time of fun in the stadium and get more access, but it's not required.
VIP access was another $100 on top of that, and there were additional add ons (concessions, extra range balls, entires to the chipping challenge, guest non-player tickets) that could run up the bill.
We sprung for VIP and got with it a bit of extra access, as well as some freebies. Included in the fee were two drink tickets, a meal ticket, and one entry in the chipping challenge. On a pure dollar for dollar basis this was almost that same cost as just getting those things individually. It also got us access to a VIP lounge and VIP driving range.
If you do spring for VIP plan to spend more time in the VIP lounge and driving range. Here there were simulators setup, corn hole courts, and putting greens, as well as a bar with a substantially shorter line than the main clubhouse. We'd recommend allowing an extra 1.5-2.5 hours to hangout and take everything in. This would turn the event into the similar time of a 3.5-4 hour round at a nice course, and puts it at a similar price to the same experience at a unique course.
StadiumLinks Summary
In general if we have another chance to do StadiumLinks, we plan too! Next time we'll be enlisting a larger group and spending some more time enjoying the evening, and may even bring some of the kids or turn it into a date night. Both would be great options and a one of a kind experience.

Hope for good weather too. StadiumLinks rain policy is "this event happens rain or shine". Unlike a real round though the stadium can still be fun in the rain. Even though most tee boxes were exposed, a rain jacket for hitting is fine and for us much of the concourse walking was covered, plus the clubhouse was indoors.
We're already planning on next trip to hit in a park, and this time will be with even more friends!