This Lululemon zip up hoodie is the go to daily piece of our wardrobe that works year round. We review a lot of wellness and fitness activity themes on this site, and when doing all of those activities there is always a need for something to wear. When it comes to staple products, one of the top ones we have found ourselves wearing on a regular basis is the Lululemon City Sweat full zip hoodie. 
The zip up nature of the piece makes it function more like a jacket, and the hoodie itself winds up being more than functional when you want to hide away and get cozy, or as a way to block out wind. It is made of some of the more popular Lulelemon materials, and has a cotton/polyester blend with just a small amount of elastane to give it that active wear stretch. 
For the work from home crowd, this is the one jacket that stays at our desk chair throughout most of the day, and then travels well when we head out to dinner. It is light enough to avoid any overheating and serves as a simple cover up when the AC is blowing or the room is chilly. At the same time the neckline and shoulder stitching make it reasonable to throw on and appear as if you are in much more than just pajama bottoms and a (wrinkled) tee shirt.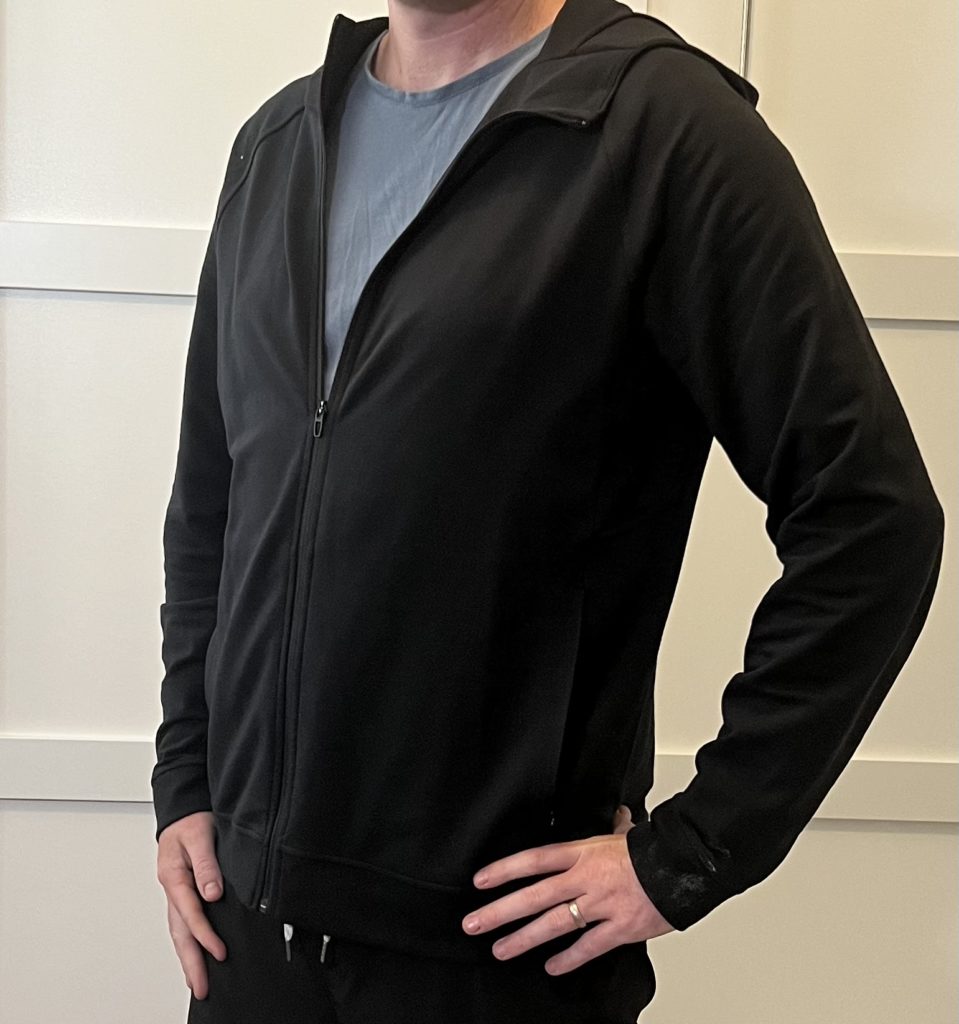 Pockets and Functional Wear of the City Sweat Zip Hoodie
Pockets on the jacket are well sized to stuff your hands in, but are separated since it is a zip up. Still the addition of zippers on the pockets is a great touch and extend the versatility of the hoodie into actual active wear. On a sunny day we would have no problem taking this on the ski slopes and knowing nothing will fall out of the pockets (admittedly this is in a warmer climate where ski days in the 40-50's are not out of the question). For any men who have the issue of a phone or wallet continuously falling out of too shallow pockets, this is a big plus.
The color selection on the hoodie also allow you to pick it as a go to that works with most outfits. The black style does not pill like a sweatshirt (thanks to the elastomer material) and makes it a good option to throw over nice jeans or slacks, or as an options with workout shorts. 
There is a noticeable lack of any branding or logo anywhere on the jacket. This may be a feature if what you are looking for is an understated but quality staple to add to the coat closet. However if you are gifting the jacket or want the addition of the telltale Lululemon logo, you are out of luck. 
Fit
As a zip up hoodie this jacket is designed to be worn over other pieces. The chest has plenty of room in it, as do the arms and waist, to ensure that whatever you are wearing underneath does not wind up looking frumpy. 
For the most part the length is also fine, even as someone a bit taller (6 feet 3 inches). The arms on the jacket are long enough not to ride up the wrist when stretching for something. This makes it fine that there are no thumb holes, a stable feature of many of the long sleeve pieces that Lulelemon and other athleisure brands make these days. 
We have taken a look at other products on this site, but stand by the fact that this is our favorite jacket. If you want to pair them with our favorite around the house pair of shorts, check out the Vuori Kore shorts as well.