For casual runners, cyclists, and triathletes it is common to enter dozens or even hundreds of different events over the years. Normally each race will have some sort of swag that they give away. While this often includes a race t-shirt, increasingly races are trying to differentiate themselves with other items including towels, bags, or event specific items like wine glasses or beer mugs. Even with all of this expansion the one thing that is present at nearly all events is some type of finishers medals.
Medals come in all types of shapes and sizes. Some are hand made and painted while others are stamped out pieces of metal with unique race specific designs. Often they include a strap so that they can be hung around the neck. But what do you do with these race medals once you get home?
Personally we have a small but growing box of medals where we toss each of them after completing a race. This has the upside of being a walk down memory lane each time we add one to the mix. Below though are some of the other options we have found for displaying medals.
Showcase Triathlon and Spartan Race Medals
One of the most important considerations when trying to display medals is determine how many you want to display. There is no reason that each medal has to get the same treatment, and curating a collection will go a long way in avoiding an overly messy hanging rack and instead turn the setup into a trophy case wroth of being on display.
There are a few groupings we have found suggested for how to curate which medals you hang or highlight. Things like Spartan races make it easy since they have designed their medals to work as a grouping, with each medal serving as a puzzle piece to a larger display. This is a suggestion for how to think about grouping race medals to tell a story.
Favorites by Type. The best event in each activity (One 5k, One 10k, One Obstacle Course, One Triathlon)
Chronological order. Which activity did you do first. This builds a timeline and makes for a fun walk down memory lane.
Best Performance. Organized by PR or performance as done by standings. This ensures that things like podium finishes, age group medals, or proud moments get highlighted.
Unique Medals. So many medals are simple round plates stamped with a generic logo and hung with a strap that carries a random sponsors branding. Others offer a unique story or serve as pieces of art. We much prefer the unique medals to display.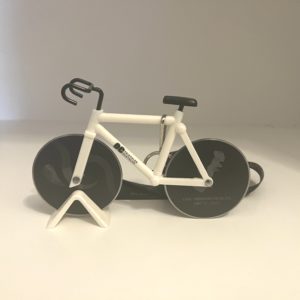 Use An Included Stand
Use the display that came with the medal. Our favorite unique medal is the one shown. It is a bike shaped pizza cutter. Practically speaking it is not a great pizza cutter, but it was on theme for the triathlon since it is a bike, and also matched the post race pizza party at the event. The cutter itself came with a stand that makes it easy to put on display on a shelf. Compared to other medals this is great since there are no additional materials required.
Hanging a medal from a rack is probably the easiest single solution. While there are dozens of great medal display options available for sale, we like integrating them into existing places. A hanger doesn't have to be a complex piece, since the focal point is the medal anyways. One of the best options are stock able command strip hangers or even a simple push pin that can be stuck into a wall. The upside of these options is that they are discrete and reconfigurable. If you get a new medal to add to the collection, a single additional pin, screw, or hanger will extend the rack nicely. If doing this on a wall the best option is to make a pattern of pins and leave space to extend the pattern as the collection grows.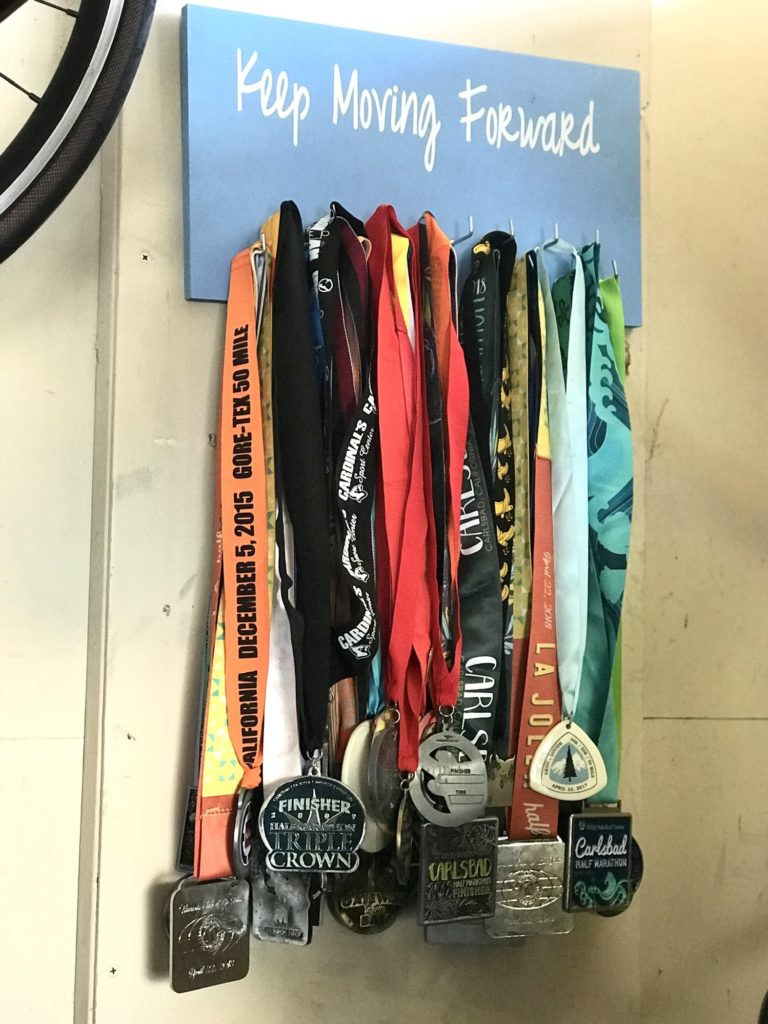 Dump Them In A Box
A great way to display a huge amount of medals is a dump bin. The upside of this is that it encourages exploration and leaves a bit of fun if you rummage through it. Practially speaking you will not be doing this often, and a box is easy to move into storage if you want to clean up. A huge benefit of this method is that you do NOT have to curate what does in the box and adding a new medal will not kill the aesthetic.