How accurate are Cue Health Tests for at home Covid tests?
For an at home test, a review needs to consider both the ease of use and how accurate are the results of the test. 96%! That's the effectiveness of the Cue Health at home Covid kit effectiveness (according to the FDA filing). That's also the worst case number presented.
Beyond how accurate it is, knowing the Cue Health monitoring system cost is also critical. If not provided through an employer it is available over the counter, or via subscription for as much as $90 a month but coupled with telemedicine coverage. More costs details for the Cue kit are below, but expect that these prices may change as insurance carriers, governments, and corporations continue to subsidize the costs for individuals in an effort to montior and protect whole populations.
Other documents expand on that accuracy number, saying that the agreement of a positive Cue Covid test compared to a lab PCR positive was 97.4%. That is accurate. Even better, for agreement on negative tests with lab PCR the rate was 99.1%.
The Cue Health false positive rate (<3%) is important because there is always a chance that you have a false positive or negative. Still, it is overwhelmingly likely that your Cue Covid test results match what your doctor or a lab done test says.
What type of Test is Cue Health (PCR vs. Antigen vs. NAAT)?
Cue is an NAAT (nucleic acid amplification test) test, with similarities to PCR, and is authorized for energy use under the FDA. This means that, according to the CDC, it's acceptable for entry into the United States and is often acceptable for entry into events, concerts, or sports arenas that require vaccination or proof of a negative Covid test to enter.
NAAT still amplify the material in a sample, so it is designed to test for even small amounts of the virus markers, although the amplification process is what makes them take longer than antigen tests. Antigen test are typically the rapid tests that are provided in many at home kits but are often inferior in their accuracy when compared to NAAT test like Cue. Considering comparing the test types from reputable sources.

With mandates and testing needs changing so often, the easy to pack reader is helpful. Compared to taking a picture of a Covid test the results screen also provides a more thorough summary of a negative result. Some professional labs and test centers even use the reader directly and provide the test results screen shown above.
Does Cue Health work with Omicron?
It's also good to know that Cue kits will work with omicron, delta, and other known strains. It won't tell you which one you have, but it does detect them.
As new variants and testing protocols arise, the supervised testing is also an option. BEFORE  opening the test kit you can select this option. With it you are connected to a doctor who, over video call, will monitor the test swab collection. Some travel and work locations require this.
How quick are Cue Health Covid test results?
Using their reader, cartridge, and nasal swab the results are generated and shared to your smartphone app within 20-30 minutes. If you are looking for a supervised test, one where a doctor is on a video call to monitor how you take the swab, this may take an additional 10-15 minutes to wait for an available observer.
Taking the swab sample only takes a few seconds. Make sure to plug in the reader and let it heat up before taking the swab. The steps are prompted in the app and easy to follow.
This turn around time makes it easy to screen somewhere before entry into an event (like an NBA game or MLB game) or for sending them back to a busy classroom or group. Having it all on your phone also makes sharing the proof very easy.
Should there be an issue with your test, getting a replacement quickly is also critical. Some users have shared that a replacement was made available by DoorDash, and delivered within hours. Having same day, on demand delivered at home Covid testing is huge.
Using Cue Health for Travel and Flights
It is hard to keep track of what type of Covid tests are usable for different types of travel and event entry. Cue has announced a fit to fly partnership with Air Canada, but as on January 2022 this is the only airline that has Cue listed as an accepted testing partner.
Others may accept the results, but could also require it to be coupled with a doctor review. It's important to check the airline or venue restrictions.
On the plus side Cue is easy to travel with, since it packs away so easily.
With changes happening often, I reached out to Cue to find out what areas their tests are certified for, here's the response:
Cue's COVID-19 test is a Nucleic Acid Amplification Test (NAAT) and therefore meets the testing entry requirements by the many countries that accept NAAT as an travel entry requirement. For example, return to the U.S., travel to Canada, France, UK, Taiwan,Singapore, Japan, South Korea, several of the Carribean countries, have NAAT as acceptable travel entry tests. Travelers should check the US State Departments list or call their airline in order to check requirements for their particular destination. Note that these testing requirements are usually coupled with vaccine mandates, supervised testing requirements, like which Cue+ provides, and they typically require tests to be conducted within 24-72 hours prior to a flight.

NAAT travel entry requirements are considered more stringent than those countries that allow antigen testing. For example, to travel to Canada, you can use a Cue supervised test, but you cannot use an antigen test. However, NAAT tests can generally be used anywhere antigen tests can be used.


With Cue+ Complete, NAAT tests with supervised testing via video provides broad travel entry coverage.


That said, some countries (like Australia, New Zealand, China) only accept authorized laboratory-based COVID-19 PCR tests. Travelers should not expect to meet lab-based PCR-only requirements using Cue without calling their airline first.


Hawaii is the only state in the U.S that requires a special authorized laboratory-based testing requirement for entry. Cue is working to become one of Hawaii's Trusted Testing and Travel Partners. 
Do you need a prescription for Cue Health Tests for Covid?
Simply, no.
The tests are available over the counter without a prescription. Originally the units were announced to be available for $199 for the reader and some tests. There is also a Cue Helath monitoring membership available as an over the counter consumer option.
That CueHealth.com membership cost might be a lot, but cue readers can be used by multiple people. Also the cost should be available as an FSA account or HSA account purchase.
So far it's unclear if any insurance companies will offer them at a discount, but some large employers (Google, Netflix, Activision Blizzard, according to Cue's documents) are providing the units and kits to their employees as a free benefit. Cue is also not yet a part of the free test kits that the federal government in the US is providing (even though it's accepted for cross border travel).
If you wind up exposed and needing to quarantine, or just need the peace of mind, these at home tests are easy to do and avoid making you find a local testing facility.  And likely cheaper than other options since some urgent care centers charge $250 per Covid test. If you options are to wait in line for 2+ hours at a local test center, with others who are either traveling or suspect they have covid and need a test, then taking a Cue test in your home seems like a great option. The app also stores all of your past test and information for every member of your family.
The Cue health app tracks all of your test results. You can setup profiles for different members of the family as well. Some places that require vaccination or negative test result proof may not accept this, for whatever reason, but it's nice to know the direct results and not just a picture of a stick without a red line can be shared with others.
The test kits themselves are good for about a year. Expiration of the kits isn't something you have to worry about during a school year then, so long as you can store them somewhere at room temperature. Unfortunately that does mean that traveling with them too far will require at least a check of the environment you are traveling in.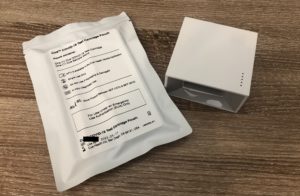 Do Cue health at home Covid tests hurt? What about for kids?
No. The nasal swab used for the test must be circled through each nostril 5 times. At best a swab can be called mild discomfort.Under their FDA clearance the tests can be administered on those over 2 years old. For school kids who are exposed and need to get tested this is a great option.
If you already have a stuffy nose (which may be the reason you are testing) this could cause some sneezing but that's about the worst of it.
Sure they may fuss a bit about having something out up their nose, but there's no need to cause any pain with the depth of the swab. Most of this is mental anguish and fear that has to be overcome. No doubt the anxiety over having mom or dad stick a thing up your nose can be rough, but for kids who are hesitant about doctors the at home nature of the test is highly preferable.
Is Cue Health a good company?
Cue Health is located in San Diego, with a production facility is Vista California. Since they are new a Cue Health review of the product would be incomplete without looking at the company. They were founded in 2013, but made lots of progress during the pandemic when their reader and Covid swabs were fast tracked by the FDA. Surprisingly the industrial design of their reader has not changed much since it was first showcased back then. They also received funding from Johnson and Johnson and other big players, to accelerate their testing kits and expand to things like the flu. Google cloud has touted Cue's infrastructure as a case study.
Recently the company filed for public offering (IPO). If all goes well they will soon be public ally traded. Note this is different than the currently public ally traded company Cue Biopharma, which trades under the ticker symbol CUE on the Nasdaq. Cue Biopharma is is a drug company focused on the development of cancer and autoimmune drugs.
The kits have been deployed by some large companies, schools, and other organizations as of spring 2021. Overall their backing signals a great deal of trust in both their science and their operations. The list of companies they work with continues to grow including Google, Netflix, Air Canada, Salesforce, Johns Hopkins Medicine, JPMorgan and the NBA.
Cue is reported to have been the testing that enabled the NBA to conduct daily testing of all athletes during their Covid bubble for the 2020 playoffs. The success of safely keeping top tier athletes isolated long enough to play a world championship shows the outsized value that tests like Cue can have.
In 2021 Cue also became the provider for the MLB Covid tests. Again, when the impact a single player can have on the effects of a game, and subsequently the media rights and money surrounding something like the World Series, the reliance on a health testing provider shows a great amount of trust. Not to mention, things like this tend to trickle down into collegiate and lower level sports.
So far Covid test kits are the key thing the Cue reader works with. Their site says they are working on fertility tests as well as tests for the common flu. If and when this happens the value or all the cue readers that have been supplied by companies, schools, and institutions will sky rocket.
Cue health reviews on employee monitoring websites suggest the company is doing well, although is likely going through some growing pains as they exploded in 2020. For a company that went from making a loss financially each year, to raising more than $450 million from the federal government and shipping thousands of hardware devices and biotech kits, some of this is expected.
The negative reviews of Cue as an employer center mostly around being over worked and have unrealistic expectations. This is not uncommon for hardware startups where management isn't used to scaling device production but is something that can be fixed.
For those looking at Cue Health to expand testing beyond Covid, this is in the works. They first began working with the Department of Health in 2018, when they received $30M to develop flu tests. While that development has not yet resulted in a commercial product, it can be assumed that their attention was diverted in 2020 to Covid. As they expand and grow some of their resources should be shifted back to developing other tests and securing regulatory approval for them.
When will Cue Health launch tests for Fertility, RSV, the Flu, or more?
According to their filings, Cue is already in works on a number of additional tests to use in their cartridge reader. Expect Flu and RSV to come shorty, followed by Fertility and Pregnancy testing.
For any parent of trying parent those five show huge value. Someone who gets a reader to help find fertility and pregnancy is likely to use the RSV and Flu tests sometime in the first few years of a kids life. This is a very sticky time to introduce such a crucial technology that gives more insights without having to go to a doctor.
Beyond these Cue claims to be working on Vitamin D test kits and Cortisol test kits. Again, these are common labs that doctors use in diagnosis, and enabling them at home where the results can be shared with a care provider through the app will make huge strides in telemedicine.
Cue Health Membership Subscription
In late 2021 Cue released their reader for public availability. This expanded on there programs with major employers. They now offer the readers for sale, as well as a telemedicine subscription option.
The subscription is called Cue+. It includes a limited number of tests, supplied monthly, but also provides access to a doctor for review. This is a unique step toward providing comprehensive medical coverage. With the reader Cue becomes one of the few telemedicine options that can diagnose more than just a skin rash through an app. It provides access to board certified doctors. No doubt they are working to make this billable through insurance, but even today the subscription can be paid for for a health savings account (HSA) of flexible spending account (FSA):