How accurate are Cue Health at home Covid tests?
For an at home test, a review needs to consider both the ease of use and how accurate are the results of the test. 96%! That's the effectiveness of the Cue Health at home Covid kit effectiveness (according to the FDA filing). That's also the worst case number presented.
Other documents expand on that number saying that the agreement of a positive Cue Covid test to that of a lab PCR positive was 97.4%. Even better, for agreement on negative tests with lab PCR the rate was 99.1%.
There always a chance that you have a false positive or negative, or that your actual status changes if you take two tests on different days. Still, it is overwhelmingly likely that your Cue Covid test results match what your doctor or a lab done test says.
How quick are Cue Health Covid test results?
Using their reader, cartridge, and nasal swab the results are generated and shared to your smartphone app within 20 minutes.
Taking the swab sample only takes a few seconds. Make sure to plug in the reader and let it heat up before taking the swab. The steps are prompted in the app and easy to follow.
Do you need a prescription for Cue Health Tests?
Simply, no.
The test are available over the counter without a prescription. That's if you can find one to buy. Originally the units were announced to be available for $199 for the reader and some tests. Since then the roll out of their system seems to be limited to organizations that are doing the bulk buying of the units and test kits (expect them to be at least $30-$50 if competitive kits are a benchmark).
That cost might be a lot, but the cue readers can be used by multiple people. Also the cost should be available as an FSA account or HSA account purchase.
So far it's unclear if any insurance companies will offer them at a discount, but some large employers (Google, Netflix, Activision Blizzard, according to Cue's documents) are providing the units and kits to their employees as a free benefit.
If you wind up exposed and needing to quarantine, or just need the peace of mind, these at home tests are easy to do and avoid making you find a local testing facility. And likely cheaper than other options since some urgent care centers charge $250 per Covid test.
The Cue health app also tracks all of your test results. You can setup profiles for different members of the family as well. Some places that require vaccination or negative test result proof may not accept this, for whatever reason, but it's nice to know the direct results and not just a picture of a stick without a red line can be shared with others.
The test kits themselves are good for about a year. Expiration of the kits isn't something you have to worry about during a school year then, so long as you can store them somewhere at room temperature. Unfortunately that does mean that traveling with them too far will require at least a check of the environment you are traveling in.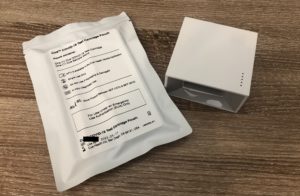 Do Cue health at home Covid tests hurt? What about for kids?
No. The nasal swab used for the test must be circled through each nostril 5 times. At best a swab can be called mild discomfort.
If you already have a stuffy nose (which may be the reason you are testing) this could cause some sneezing but that's about the worst of it.
Under their FDA clearance the tests can be administered on those over 2 years old. For school kids who are exposed and need to get tested this is a great option.
Sure they may fuss a bit about having something out up their nose, but there's no need to cause any pain with the depth of the swab. Most of this is mental anguish and fear that has to be overcome. No doubt the anxiety over having mom or dad stick a thing up your nose can be rough, but for kids who are hesitant about doctors the at home nature of the test is highly preferable.
Is Cue Health a good company?
Cue Health is located in San Diego, with a production facility is Vista California. Since they are new a Cue Health review of the product would be incomplete without looking at the company. They were founded in 2013, but made lots of progress during the pandemic when their at reader and Covid swabs were fast tracked by the FDA. They also received funding from Johnson and Johnson and other big players, to accelerate their testing kits and expand to things like the flu.
Recently the company filed for public offering (IPO). If all goes well they will soon be public ally traded. Note this is different than the currently public ally traded company Cue Biopharma, which trades under the ticker symbol CUE on the Nasdaq. Cue Biopharma is is a drug company focused on the development of cancer and autoimmune drugs.
The kits have been deployed by some large companies, schools, and other organizations as of spring 2021. Overall their backing signals a great deal of trust in both their science and their operations.
Cue is reported to have been the testing that enabled the NBA to conduct daily testing of all athletes during their Covid bubble for the 2020 playoffs. The success of safely keeping top tier athletes isolated long enough to play a world championship shows the outsized value that tests like Cue can have.
So far Covid kits are the key thing the Cue reader works with. Their site says they are working on fertility tests as well as tests for the common flu. If and when this happens the value or all the cue readers that have been supplied by companies, schools, and institutions will sky rocket.
Cue health reviews on employee monitoring websites suggest the company is doing well, although is likely going through some growing pains as they exploded in 2020. For a company that went from making a loss financially each year, to raising more than $450 million from the federal government and shipping thousands of hardware devices and biotech kits, some of this is expected.
The negative reviews of Cue as an employer center mostly around being over worked and have unrealistic expectations. This is not uncommon for hardware startups where management isn't used to scaling device production but is something that can be fixed.
When will Cue Health launch tests for Fertility, RSV, the Flu, or more?
According to their filings, Cue is already in works on a number of additional tests to use in their cartridge reader. Expect Flu and RSV to come shorty, followed by Fertility and Pregnancy testing.
For any parent of trying parent those five show huge value. Someone who gets a reader to help find fertility and pregnancy is likely to use the RSV and Flu tests sometime in the first few years of a kids life. This is a very sticky time to introduce such a crucial technology that gives more insights without having to go to a doctor.
Beyond these Cue claims to be working on Vitamin D test kits and Cortisol test kits. Again, these are common labs that doctors use in diagnosis, and enabling them at home where the results can be shared with a care provider through the app will make huge strides in telemedicine.