Forward is a new type of medical service, designed to be a supplemental offering to your standard insurance. Even though it is not insurance covered you can pay for it out of an Flexible Spending Account (FSA).
I have had the subscription for more than a year, and in that time have not seen my primary care doctor. Forward is my primary care. This costs more but their in app communication makes the experience way better than my doctor.
At any given time you can get direct doctor feedback in minutes. Reviewing my chat log with the doctor and looking at my calendar, it is clear that having Forward led to way more interactions with my doctor this year than any other.
Forward doctors can write prescriptions, and refills are easy to submit through the app and have sent directly to a pharmacy that will deliver to your door.
Lab tests (blood work) are also free within the Forward subscription. In the past year I have had 4 blood tests done, and also used Forward twice for Covid screenings. One of the best parts is that trends of you labs results are easily available in the app.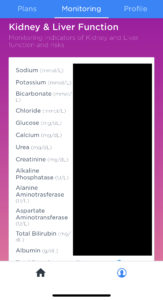 If I were reviewing a normal Doctor this is the part where complaints around how hard it is to schedule each of these is. Not with Forward.
The App makes it self service to book an appointment. It also is the place where a doctor can share lab results directly as soon as they arrive. There's no need to wait to get a doctor on the phone for lab results. It's as easy as a text message (but done in a HiPPA compliant app).
What else does Forward offer?
Personally another great feature was the compress look at health. When you first sign up for Forward Health they kick things off with a rather long total health screening. You can do this after sharing medical history or sending in DNA testing.
In all Forward is more focused on preventative medicine than other providers I have experienced. After the intial kickoff they outline a total care plan. This included twice annually skin checks, in app mental health screenings, recommended books to supplement wellness knowledge, and a weight tracking plan.
Because Forward functions through an app it is easy to link it to other trackers like a connected scale or blood pressure cuff. If you are tracking sleep, they can help you optimize as well.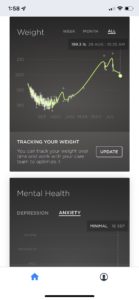 If you are trying to setup weight management, the linking of a smart scale is helpful. Forward doctors will consult on nutrition and diet as well. If you want to share with them a good log, like MyFitnessPal, they'll take a look and help you work on it.
Does Forward cover Covid screenings and tests?
They sure do. Forward even designed their app setup to design for this as it's the first thing you see.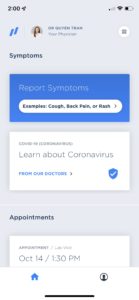 Most other Forward reviews make a point to call this out to.
That makes sense because knowing they did Covid screening tests was the original reason I signed up for Forward health in the first place.
Cancer Screenings
Its a big one in prevention, but cancer management is not something you want with Forward. For that a full team is helpful. Even still Forward puts great emphasis on knowledge and making sure you get the right screenings at the right time.
One piece of this management is a genetic screening. Forward outsources this to a company called Color, but can also pull information from 23andme results.
If you have markers they will add the proper screenings to your plan at the right time. Coupled with the skin checks (for skin cancer) this can go a long way in making you be careful and also feel well informed about thanking a proactive approach to your care.
So far Forward is not available everywhere. If you want to include on site visits you'll need to be near one of their offices in California, New York, or D.C.
Forward does not have specialists, but their primary care doctors do a great job of covering a broad range of topics and really only refer out for critical issues.
Other services like Forward exists,, local urgent cares, One Medical and Parsley Health come to mind. Increasingly good primary care networks also have similar offerings of technology enabled connection and easy telemedicine. Those take large networks, so if you already have one and like it just stick with it.
If you live near a Forward location, and have the money to spend it's a decent investment at least for a short time.
How much does Forward cost?
The standard rate is $149 a month. Typically there are introductory offers of $99 for the first few months. If you have an extra $500 in an FSA account and can get a 3 month commitment (which they do) it's a great primer for setting up good health.
After a year of having it I fell like there is a much better handle on my health. That said I am no longer seeing the value as there are other telemedicine services I have access to that serve similar needs. In that respect the $1800 a year seems like a lot so I'll be stopping the service soon.