Strava is the clear leader in fitness based social networks. There are more than 100 million users on the platform, each with their own feed and activities. While it is great to share your accomplishments on various segments and leaderboards, there are times when keeping a workout hidden is a better idea. Whether you are choosing to hide an activity intentionally or if Strava just doesn't recognize your main segment on a workout there is a lot to consider when managing hidden segments.
Why does Strava hide segments?
There are two primary reasons why a segment might be hidden.
The first reason Strava hides segments is that the segment overlaps with privacy settings on your account that say not to share it. This happens when a segment includes an area inside a designated none sharing zone, typically a rough area around home or another starting point. These segments can still get matched if the settings are changed but otherwise will not be included on leaderboards, local legend counts, or noted on an activity card. 
The second reason why a Strava segment will be hidden is that it is not a great match. Sometimes there are multiple segments that overlap for a nearly the whole segment and in this case Strava will only match a single one. Of course if you started a run near the beginning or end of a segment there is a chance the whole segment does not match.
Why Does Strava Not Match A Segment
If you think a segment should have been detected but it's not showing up you can find out why. To do this you need to use the web version of Strava, not the mobile app. 
Find the activity you are looking at and navigate to the "segments" portion of the activities page. 


Near the bottom of this page will be an alert for "Don't see the segment you're looking for?". Clicking into this will pull up a list of similar segments that also matched the run or ride. These will be segments that have a low confidence of being what you actually did. The map overall will show how your activity data missed the actual recorded segment. Some popular segments were created when an old trail or path was popular, and this will be apparent. For the most part though the nearby segments will be clearly a different route.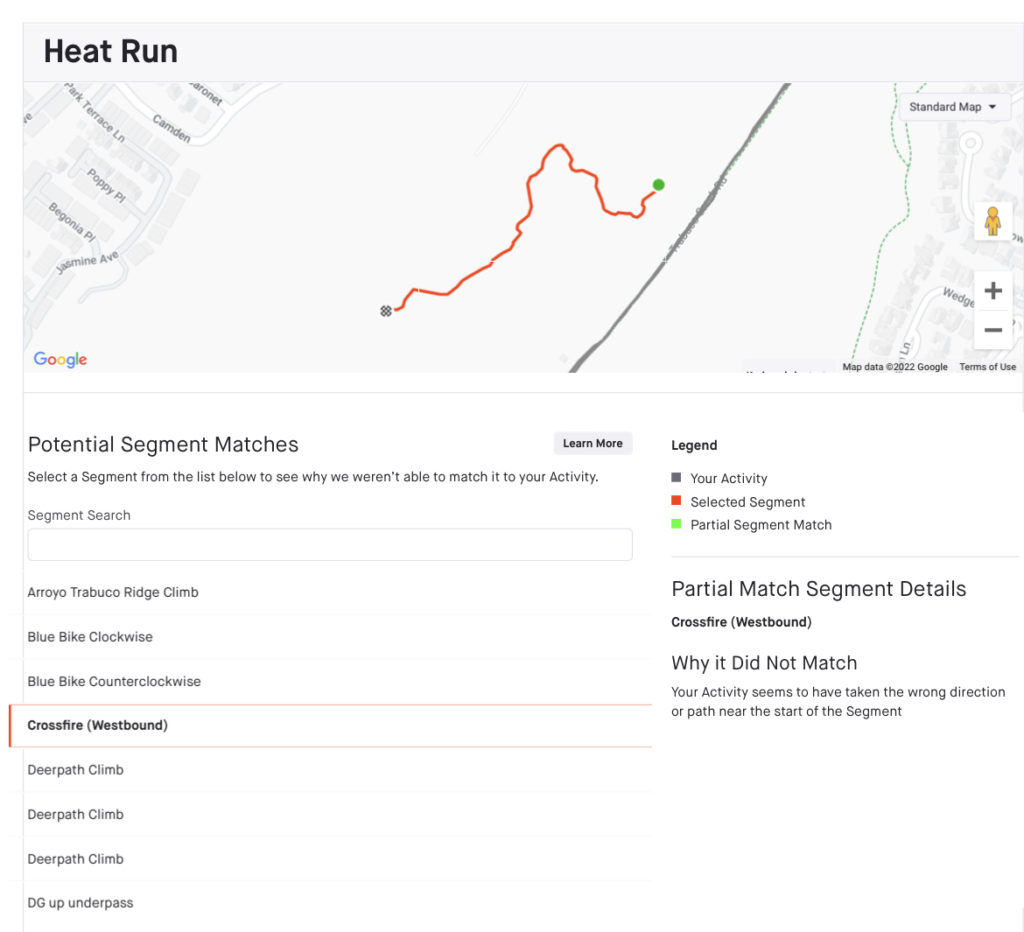 Each of the almost activities will be hidden entirely from the run. There will be an alert summary showing why the segment didn't match and was hidden. If there is a real issue, and it is t on your GPS but is more on the segment or Strava you can reference this response in any outreach to them. 
Setup Your Own Strava Segments
If you are finding that many of your Strava segments are being hidden due to privacy, the best thing to do may be to create your own. If there is a popular segment you want to get tracked on but do not want to expose your location data then using a personal segment is the way to go.
When creating a new segment, just make sure to check the box for making the segment private. This will ensure that you can get tracked on it but that others will not be. Although this also means there is no leaderboard, it is a great privacy safe option.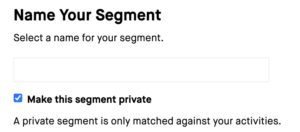 Find Out More About Strava with These Posts
Already got a Strava subscription and looking to find out more about the features, check out some of our more popular posts.
What is A Good Strava fitness score?
Find the Best Strava Extensions – A great way to supplement some of the features of premium Strava subscription with these free add ons.