Finding a great camping site can seem hard, and booking one in California can be even harder. There are dozens of great campgrounds across the state parks, and for those that take reservations they all must go through a single source. That source is the ReserveCalifornia website.
To get the best site, on the best day, requires a bit of preparation since there is significant competition from eager campers. That's what this article helps with. We cover the best tips to securing the campsite, or cabin, that you want while using ReserveCalifornia.com.
Most Desirable California State Park Camp Sites
Cabins in Redwoods National forest operated by the state, beachside bungalows in Crystal Cove harbor, and campsite all up and down the coast. Some of the hardest to book California campsites include:
ReserveCalifornia is the booking system for all of Californias state parks. As the most populous state, and with so many various parks to explore, this makes ReserveCalifornia the place to secure some of the best campsites in the whole US. Not everything amazing in the state is run though this site, since all the national parks have their own booking so places like Curry Village (see our review) are run independent of ReserverCalifornia.

A few of the California campsites are notorious for how quickly they sell out. This includes the cottages of Crystal Cove as well as the beachside group sites of places like San Clemente.
Sadly there has developed a bit of a cottage industry around securing site. This should come as no surprise since the way to get a reservation is to be fastest at navigating a computer system, in a place where there are multiple tech hubs teaming with developers. There are catchpa's in place to help avoid bots from grabbing all the best spots, but even still, the process of getting the most coveted camping sites and cabins can still feel like a bit of a robotic game.
Tips To Secure A Reservation on Reserve California
The trick to getting a good reservation in a prime spot is two fold; either you have to be first to access the reservation when it opens, or you have to circumvent the process entirely.
When it comes to going around the system, there are nuances to doing this. A handful of campsites actually do offer a booking option outside of the reservation system. Most notably is one of the hardest to book spots, the Crystal Cove Cottages.
Tip #1 – Account for web latency. Reservations open at 8AM PST. This is down to the second. Some folks find that refreshing the page at exactly 7:59:58 (effectively 1-3 seconds prior) is actually best since by the time the request to the server is made from you clicking refresh, the time will be 8 on the dot.
Tip # 2: Find out which sites will actually become available at 8am. Since the bookings are on a rolling 6-month daily basis, some sites get booked Thursday-Thursday while others may be booked Wed-Sat. This means that not every site or cottage will become available each day. In preparing for this, prior to 8 am, you can review which sites have their final reservation on the current latest day. For those where "follow-on" bookings look available for the next day, this is the site that will become available for booking. In the below image, only ONE site (Premium Cottage #45) will become available by default the next day.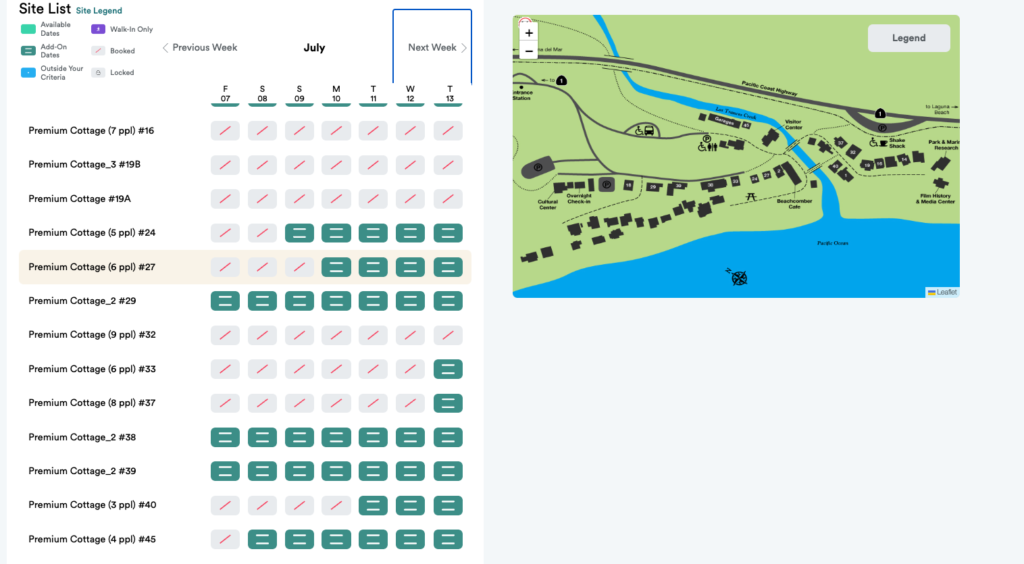 Tip #3 – Book a Full Week Ahead, then Cancel. When booking a site nearly all campsites have a limit of 7 continuous days for a reservation. Often this means if you want to book for say June 17-19, then the first way you can book this is to book a trip 6 days earlier for June 11-17. Doing this still leaves the risk you miss a booking for the 18-18, but similarly you can book June 13-19 and then cancel 14-16 eventually. Most sites are free to cancel up to 2 weeks before, so at worst doing this will hit you with an additional $7-$10 booking fee but can be the best way to grab a spot.
Tip #4 – Have Multiple People Trying for a Reservation. Especially if you are planning to try for a group camping spot, do not designate just one person to be responsible for the reservation. When reserving group spots for YMCA camping groups we've had upwards of 20 different people on with a coordinated effort of which spots are desirable. The only nuance is that you can only have one account per home address. Annoyingly this means that roommates and even sometimes those who are new to an address where a previous owner or tenant has a yet-to-be-updated account can be blocked, but once you establish an individual account it can be used to book. While we write these tips we also want to encourage good overall citizenship, so try not to be the one who uses fake addresses, work addresses, or existent "unit b" to create multiple accounts and crush the system for everyone.
Tip #5 – Go In Person. If you are in the area and looking for reservation that is soon, sometimes going around the formal systems is best. Notably the Crystal Cove cottages, one of the most difficult to book spots, opens up same day reservations to a lottery each day at 11am. Even recently this lottery was run in a literal "pull a name out of a hat" format by one of the on duty rangers. Those present would write their names on a piece of paper and a ranger would pick one for each opening that had a same day cancellation or early checkout. Since many can book extra days (see above tips) and there are limited drawbacks to early check out, this happens more often than the website shows. Same day, and even 1-2 day out cancellations typically will NOT be reflected on the website. Locals know that if you are in the area for a morning brunch that swinging by can sometimes lead to a impromptu staycation treat.
Tip #6 – Check Again at 8:15-8:30. Given the above tips, which tend to result in some extra bookings, checking back after the hold window can occasionally expose a quickly cancelled reservation. If you only have a day or two you are targeting, don't just rely on the 8am window, but plan to check back occasionally throughout the morning.
Tip #7 – Pick a Non-reservable location. This tip requires changing of ideal plans, but sometimes there is so much demand for top spots that looking elsewhere is necessary. Throughout the parks system there are a handful of walk up only, first come first serve accessible sites. Often these are in more remote locations, which leads to some stress that you can get blocked out on a day you need a spot. Still, if you can find these as an option, remember that many booked sites can be cancelled with minimal fees so they can be a great option to keep in mind on a trip plan.
Tip #8 – Call. Rangers throughout the state make the parks experience great for so many visitors. They also can help find the edge cases around what the website does not yet know. Little known unbookable nearby sites, cancellations that haven't hit the site, new campsites that have not been publicized widely. Try calling the site directly or reaching out and it can result in either a spot, or some additional information that is too difficult to keep updated on pages like this! Enjoy!