What accessories come with the Peloton bike, and are they needed?
When first thinking about purchasing the Peloton, the price can be a deterrent. Especially since, like many things, it's not so clear what the total cost will be once you get the "necessary" accessories.
To be fair, it's possible to get a good workout in with just the bike itself. None of the accessories or memberships are entirely necessary, but a few makes things more enjoyable.
Shoes
The most obvious Peloton accessory is shoes. Pedals on the bike are clip in compatible, so if you already have clip in shoes they may work. You can still pedal with standard sneakers of any kind. The Pelton shoes, or clip in bike shoes in general have a few major benefits if you are trying to optimize power output.
The first shoe accessory benefit is they enable a full pedal stroke so that picking up your foot transfers some power, this helps work a different muscle group a bit. Beyond that cycling shoes will have a hard sole, compared to a running shoe or sneaker that you can bend. Again this helps power transfer, any power pushed into the heal of the shoe gets transferred to the pedal instead of being being used to bend a shoe.
If you have two people riding and they are the same size, you can use one pair of shoes. They can be cleaned or sprayed on occasion to keep them fresh but otherwise don't see much wear and tear.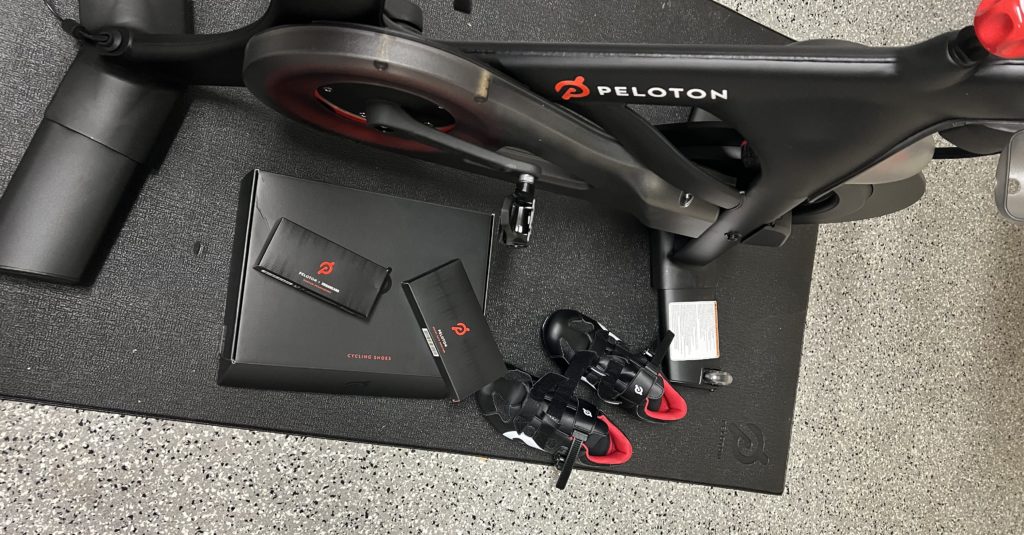 Peloton bike mat
A mat for below the bike is my next favorite accessory. This is especially important if your putting the bike in a place that has super slippery floors (epoxy garage floor). The other reason to get a mat is to protect a floor from sweat, this can be done with a towel too. Even with a mat down a towel can help extend the life of the mat. Even though the Pleoton accessory mat is made from a closed cell foam, over time it'll get smelly if you don't while it down or protect it.
The mat is really only big enough for the bike itself. If you plan to take Yoga classes having a dedicated mat for that also will make things more comfortable, although this isn't required- you can practice yoga anywhere so long as you have enough grip on the floor.
Heart rate monitor
A heart rate monitoring chest strap is a good accessory IF you can follow it. Heart rate training is its own thing, and can be a stand in for how hard you are working. You can also go with "perceived effort" to gauge how hard you are working and be just fine.
The major benefit of heart rate tracking is to quantify that effort. Many people, especially who are new to cardio and or haven't done any heart rate monitoring, wind up over estimating what an "easy pace" is.
There are great results of cardio vascular fitness linked to high volumes of very low effort work. Having a heart rate monitor and knowing this can help make useful workouts out of things that feel easy. This also makes recovering from a ride much easier.
Not every ride should be hard, and if you get into a good training program, there are times that you should be able to walk off the bike and within an hour not even feel like you did a workout. This is a good thing and over time shows great progress. You can get all the calorie, and cardio benefits without tearing down your body.
The Peloton Heart rate monitor is also ANT+ and Bluetooth low energy (BLE) compatible. That means you can pair it to an android phone or Apple iPhone and use it for tracking outdoor workouts or other classes.
If you have two people using the Peloton you can use the same heart rate monitor. It does get sweaty after rides since it's worn against the skin, but dries out pretty quickly. The sensor also easily pops off the strap so it's possible to just get a second strap and move the sensor between both for each ride.
Screen Pivot
For folks with the basic Peloton Bike the ability to pivot a screen is a major limitation to getting the most out of non cycling classes. The Bike+ includes a pivot feature, but the basic bike requires a small accessory to enable pivoting.
Thankfully there are a number of secondary accessories available to add pivoting.
Headphones
The bike comes with a standard headphone jack, and also is Bluetooth compatible. The Appleton branded headphones are nothing special, but it is nice to have a dedicated pair that stays with the bike so you never have to search for them. It's worth noting that the speakers work fine to, but if you have the bike in a shared space it's nice to be able to zone out without bothering others aside from the slight "whirring" sound of the spinning pedals and resistance wheel.
The one issue I have had with the Peloton headphones is that they sometimes wind up triggering volume down/mute. I can't tell if this is from accidental pressing of a volume down, or if sweat is causing that same volume down feature. It's annoying for sure but has only popped up on a handful of rides.
Where is the power and volume for peloton bike screen?
Seriously these are hidden away and hard to find intuitively. For 15 minutes of my first ride I searched for these buttons. Like a computer from the 20th century, the power button is on the back of a Peloton bike, and the volume buttons are hidden behind the screen on the ride side by the headphone port.
Taking screenshots of your workout on Peloton, for example if you wanted to add them to a website, is a bit tougher. The easiest way is to use the key frame generated for each ride which is then shared to Strava or Instagram. It's possible to manually take a screenshot of the Peloton screen by hitting the down volume button and the power button at the same time, and holding for 1-2 seconds. This saves a screen grab to the internal storage of the bike. From there you can connect a secondary device by Bluetooth and share the images by accessing them in the settings. This won't work with iPhones since they refuse images shared directly via Bluetooth, but most android phones and tablets will work just fine.
Add Peloton rides to Strava after setup.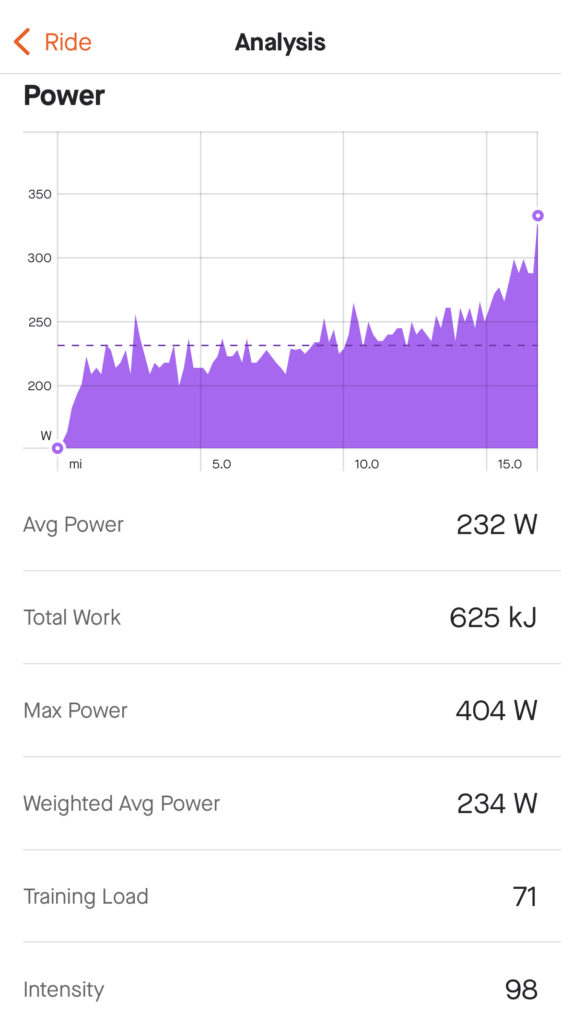 Combining workouts into a single place makes it easier to monitor and planning a training routine. Many athletes have had the experience that "it's it's not tracked it didn't count". This concept is the same for grandparents with a step tracker as it is for a competitive athlete. Strava and Peloton have worked out a simple integration that allows Peloton rides to automatically save to a Strava account.
A scenic unguided power zone ride on Peloton.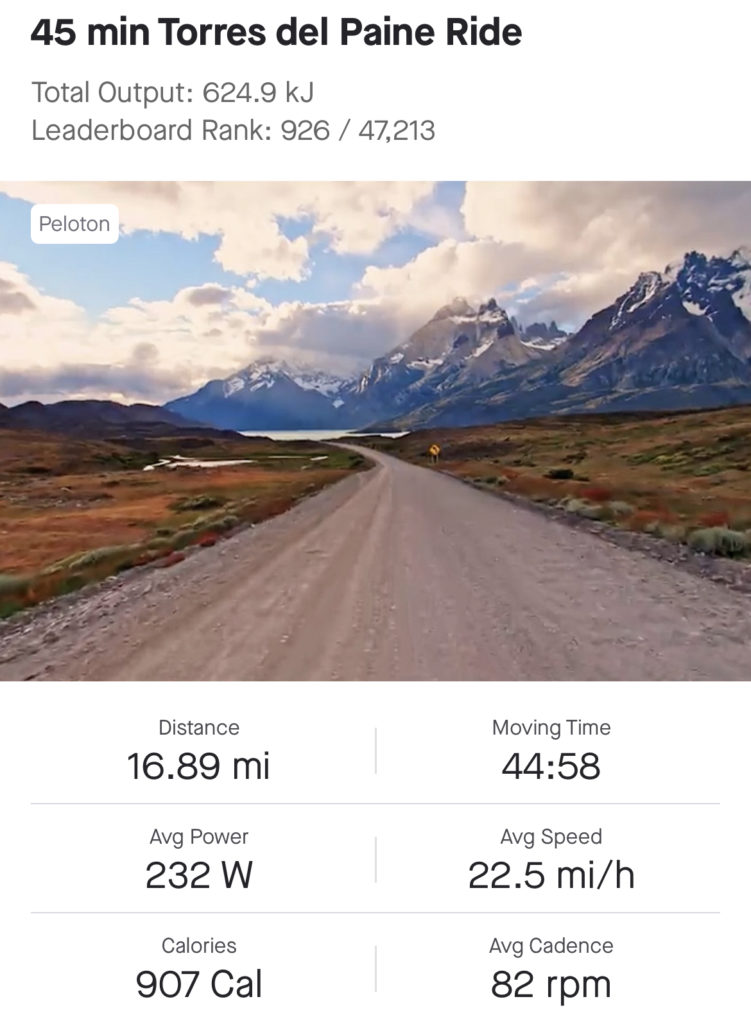 Consistency in cycling helps build a base for training. When on an exercise bike, it is nice to get some new scenery. Peloton offer scenic rides S a way to break up the monotony of watching a screen. Paired with a good sound track and an idea of how to structure your ride, scenic rides can be turned into hard workout or training test.
The Icelandic ride starts and stops over a long gravel road, weaved through the mountains. Wild life and new scenic views are a minute to minute occurrence. While the road follows over hills, you can pick a pace and lock on it at a metronome like pace.

Power zones can be hard to stay in. you put power zones on screen, track your rate rate, or match a songs cadence at a known resistance and it helps stay within those zones for longer. Especially nice is not having to navigate hills, which again helps stay in a predefined zone.