Strava is known as a social platform for fitness. They talk about their users as athletes, and the groups and challenges are designed to keep you motivated to be active. If you are the type of person who is more motivated by close friend than by leaderboards filled with strangers, then you will appreicate the new additions to the service.
Recently Strava added the ability to have shared challenges. Groups Challenges of this style let you work together to achieve a distance, time, or elevation goal. While some of the public challenges have switched over to this format, doing these as a group looses some of the fun. In part because the challenges are so large it is hard to feel like you contributed, and in part because the top contributors often appear to be folks who uploaded glitchy rides.
So, how do you setup a Strava Group Challenge among your friends. This can be done, and it is easy to get started. To do so, for now, you must be using the mobile app as the following steps are not available on desktop. 
Groups>Challenges>Create a Group Challenge. First, go to the groups tab (bottom of the screen) on the Strava app. Then select "Challenges" from the top three options. From this screen just above the public challenges there is an option to start your own group challenge with friends. You do not need to be a part of a group to setup a challenge, you can start one personally then invite people to join the group.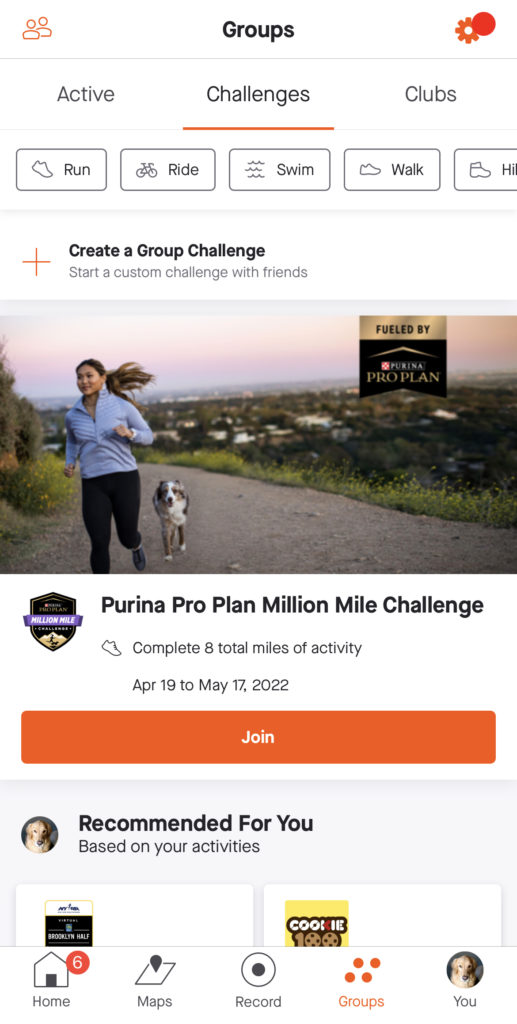 Once you choose to start a challenge, the app will walk you through the setup. You can choose what the challenge can be about by selecting both the type of activities that count, and the total that you are shooting for. Right now the options are Altitude, Time, or Distance, all of which are collective; there are no head to head fastest race or PR style challenges available. These private group challenges are about community, not necessarily performance. 
After you select all of the details of the challenge you will have the chance to name it and give it a description. Knowing how many people will take part ahead of time is useful to set a realistic goal given the time frame. Then to add your friends you can invite athletes one by one. To join a challenge the organizer will have to follow or be followed by the athlete, otherwise they are not available to add in the invite athletes option. We are not sure how you can add a whole group together, so but presumably if you are the organizer of a separate group you should be able to add all of those folks to the challenge as well.
Once you have everything setup, the challenge will automatically be added to any activity which qualifies. If you click into the activity type you will see a small banner that shows that the workout contributed to the challenge. Clicking into the challenge itself will give you all the details of how you as a group are progressing, and you can even see how much each individual has contributed to the totals.
This ability to setup small group challenges brings a whole new excitement to challenges. While some users complain that the public challenges clog up the activity feed, this is often attributed to one or two athletes going down and joining 10-15 challenges all at once. With the addition of individual challenges you now are likely to feel more personally connected, compared to seeing who of your friends was partaking in a 300,000+ rider monthly event. 
While challenges are one way to get more out of your Strava experience, there are others. If you want to find out how to use Strava extensions to get the most out of your data you can check out our review of the top Strava Add-ons. Got any other details to share about how to make the most out of a challenge, feel free to leave a comment below.