If you are the type of person who takes training seriously, then the out of the box activity trackers may not be enough for you. Especially if you are training across multiple sports. Or you are looking to maintain weekly totals of more than 5 hours, and hundreds of miles, then having aggregated details is useful. If that is the case, then one of the training tools wroth looking into is Intervals.ICU.
Intervals.ICU is a complete training tracking tool that puts all of your workout data into one place. Their aggregated calendar view will appeal to those who are used to seeing months long training plans. Similarly, if you are working with a coach and want to be able to quickly share detailed information about how training has been, it is a great option. The Intervals icu app is available as a desktop platform and is not a stand alone app. Given the way they display data this makes sense, as viewing on mobile would be much more difficult.
Track a Triathlon Training Plan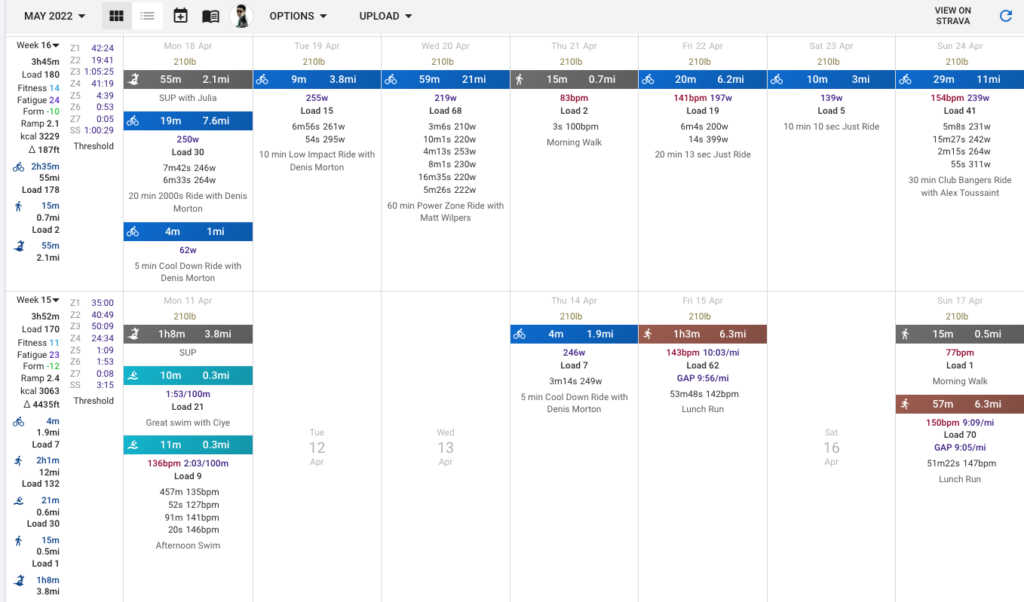 The above image is a look at two weeks of training across multiple activity types. This calendar does a great job of pulling forward the information about training time totals and activity time and mileage totals. Since many training plans will have targets for totals hours and mileage, this makes it easy to see how you are stacking up. Especially for triathletes who are busy, and may vary their day to day schedule from the master plan they received, this allows you to show in aggregate how things are progressing.
What is missing from Intervals is the ability to layout a plan in advance. The tool is designed as analysis of your existing activities, so there is still a need for an independent planning tool. Sometimes that can be a low tech solution, like a printed calendar out of a book, but there are competitive tools that combine both planning and analysis.
Needing to go into multiple programs in order to plan and analyze may mess up the flow of your training. Many athletes, including those who are spending 10+ hours a week training, will find that there is limited time for managing analysis and planning and try to bucket into a single sitting.
If there was one area we wish to see improved for Intervals it is in this end, managing a proactive training plan to see what you are supposed to achieve in the coming day or week, and not just focusing on what you have achieved. This would be especially useful since the historical analysis of how hard you have been training may influence how you approach upcoming days or workouts and whether or not you are prepared to get the most out of them.
Find Charts of Time Spent in Heart Rate Zone 2

Similarly, there is a totals view that can be customized for different time periods. This makes it possible to review either a base building phase, or a more intense speed building phase of training. Especially when looking to manage intensity, the handy chart of heart rate and power zones will make it clear if you are spending too much time in the upper zones.
So many training plans focus on some form of the Pareto Principle, the idea that work and output should be split 80%- 20%. For this, it is hard to tell if you are spending 80% of your training time in zone two, unless you feel like painstakingly added the zones together.
One of the handy parts of Intervals.Icu is how easy it is to setup. When testing it out for this Intervals.Icu review, it took less than five minutes to create an account and populate it with all of our training data. This is because Intervals is one of the many app and add ons that allow you to import from Strava. We have covered other Strava add ons before. At the cost of free, Intervals stacks up nicely as a training management tool for more advanced riders, runners, or swimmers. Other sports might benefit from it as well, but the focus on heart rate and power output makes it ideal for triathletes.
Intervals.Icu vs Training Peak and Others
Intervals is not the only game in town. There are dozens of great tracking software applications out there. We are obviously a big fan of Strava, but have noted that the comparison of what it is designed to do (even in Premium version) is not the same as Intervals.
Many athletes also consider Training Peaks for it's similar multi-sport approach. In general Training Peaks software does the same thing of tracking events across disciplines. They make it easy to output the results and view them in a useful way, just like Intervals. Where Training Peaks tends to separate themselves is with integrated coaching. It seem from their site and experience that Training Peaks is more focused on making the connection to a personal coach (either digital or in person) and setups their software to  build towards this.
Both Training Peaks and Intervals are a great option, although the price tag (free, with recommended $4/month donation) makes it the more economical choice for athletes who are already bombarded with options to spend money on gear!