Getting the most out of your activity data is a useful way to stay motivated, and to track progress. While Strava offers a nearly unbeatable level of data integrated with social functions, if you want to dive into the stats more you will need to check out a Strava Add on. One of these is SmashRun, which is a stand alone web application
SmashRun is a solid option for analyzing Strava data, especially if you have not used Strava exclusively. It allows you to import workouts form a number of sources. This means that even if you used Garmin or MapMyRun or another service before switching over that you can still analyze the progress you made across the trackers. 
As the name suggests, SmashRun is best if you are a runner. Cyclists and other sport athletes will find that there are similarly setup analysis tools for their sport. But to really dial in on specifics you need to optimize challenges, charts, and visualizations to a single activity type.
Find Totals and PRs with SmashRun
One of the best things about SmashRun is the ability to see stats totals over a long period of time. Strava does give you totals and year to date (or YTD) totals, but if you want to see a specific month you'll go searching. By default the visualization in SmashRun shows rolling 365 average distance totals, but also lets you select any time period. Want to know how many miles you ran and what your average pace was back in late 2020, you can get that by tapping the right selection boxes. These monthly and total stats are typically saved behind a Strava Pro account, so this is one way to save a few dollars.
The display also makes it dead simple to add in goals. Just click into the box and you can ensure that your ultimate goal is front and center any time you are looking at your data. Whether that means training to complete the next half marathon or inputting a total distance for the year, simple motivators like this can go a long way in sticking to your training.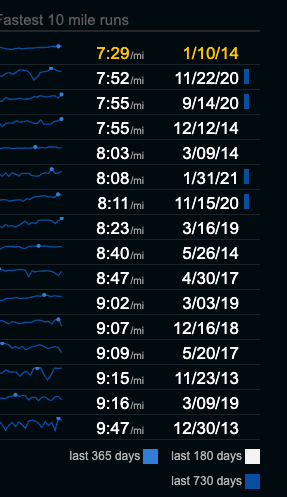 While Strava enables you to see the fastest individual effort at a distance, if you want to find your second fastest you are out of luck. With SmashRun you are able to see the best effort times for a variety of different distance. Check out your top ten 10k times overall or see how the individual effort compares to others with this type of analysis. 
Individual activities also include data about how the run went. You can input your weight and get a calorie output, even with a calculator to tell you how many slices of pizza you burned. The pace data is also broken down into small increments so you can tell how your pace varied over time.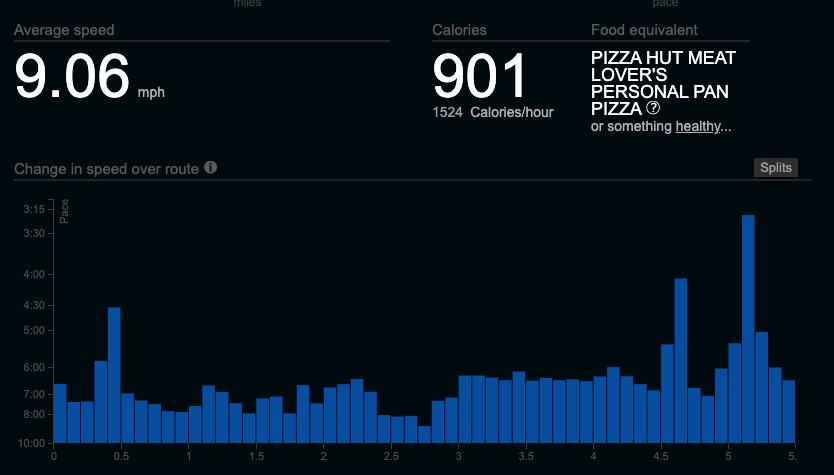 The activity analysis is the one place where SmashRun surprisingly falls short compared to other Strava add ons. The activity data does not include strong information on the inclines and declines, nor does it include great opportunities to see pace in custom areas. While the data is broken down into small 0.1 mi increments, there is no way to dive into this is a more customized way.