Tracking your personal accomplishments and wellness comes in many forms. This site has covered many apps and connected devices that help do that. But sometimes a simple solution is better.
One of the easiest ways to track your wellness is with a simple notebook. A simple wellness tracking Google sheet takes the old pen and paper to the next level.
Goolge sheets inputs let's you manipulate and share your tracking with coaches or friends. It also makes it easy to produce great charts that show progress over time. Done correctly you can see how you are tracking to goals by highlighting cells dynamically, and share your personal wellness success with a beautiful chart.
Having a wellness sheet doesn't have to be complicated. A few labeled rows and a quick link to the sheet from your smartphone home makes a Google sheet wellness solution as powerful and customizable as many of the top apps.
Set up a Google Sheet for Tracking New Years Resolutions and Annual Goals
Many people use the new year as a way to make wellness resolutions. Most indications are that tracking your resolutions helps keep them. We prefer to focus on resolutions that can be defined as measurable goals.
Want to be more active? Make a goal to walk 500 miles in the year. Although this may sound like a large goal, when broken down to a daily level all it means is "build a habit to walk an average of 1.4miles per day". That seems much more reasonable.
The Google sheet shared here is a template to track a handful of large goals that are setup as a total volume in a year.
20,000 Pushups
3,650 Pullsups
730 miles run
20lbs lost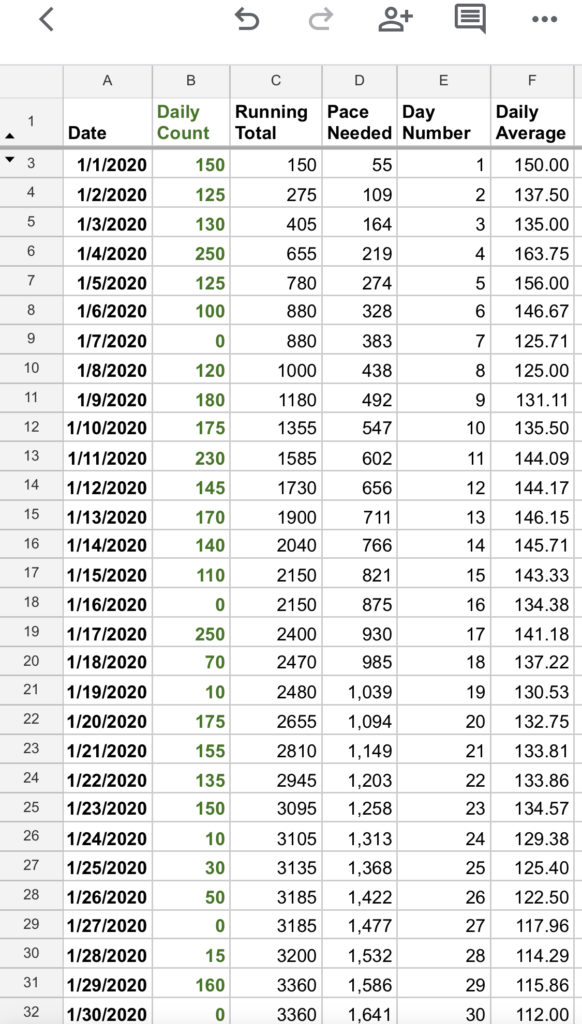 All of these can be daunting. But the ebbs and flows of a year can be normalized when looking at the big picture.
Maybe you start off strong, but soon realize the pace is unsustainable. That's ok! This wellness tracking sheet shows how far ahead of pace you are and how much you have banked!
Each spreadsheet is hosted online and has it's own custom link. By saving that link you can create a simple shortcut on your smartphone. Then each day, instead of checking social media one extra time, just open the link and log a single line.
With the date already in the sheet all it takes to track an annual goal, like "do 20000 pushups in a year" is to fill out a single cell. The sheet will calculate the rest for you!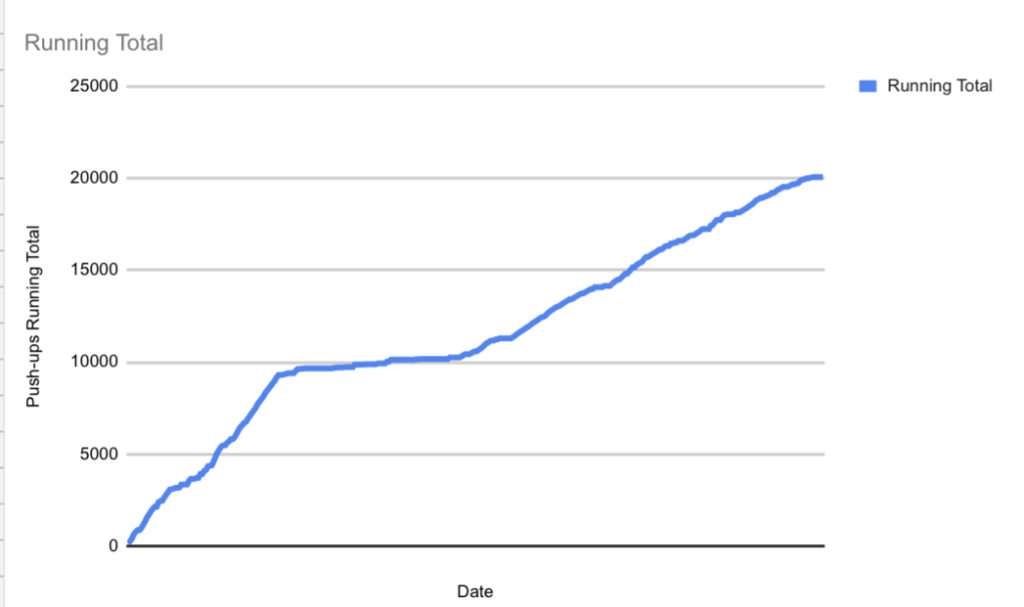 Here is a simple chart showing the progress towards that annual push-ups goal. It's clear that at some point in the year the motivation was reduced. Seeing that you are only slightly behind (or even still ahead of) your big goal after taking two weeks off can be the perfect spark of motivation.