The Evidation app specializes in paying you for submitting information and helping add days to health testing surveys. It used to be call The Achievement app. After setting everything up, and sharing data you are already monitoring with your favorite fitness tracker the app pays $30-$50 per year.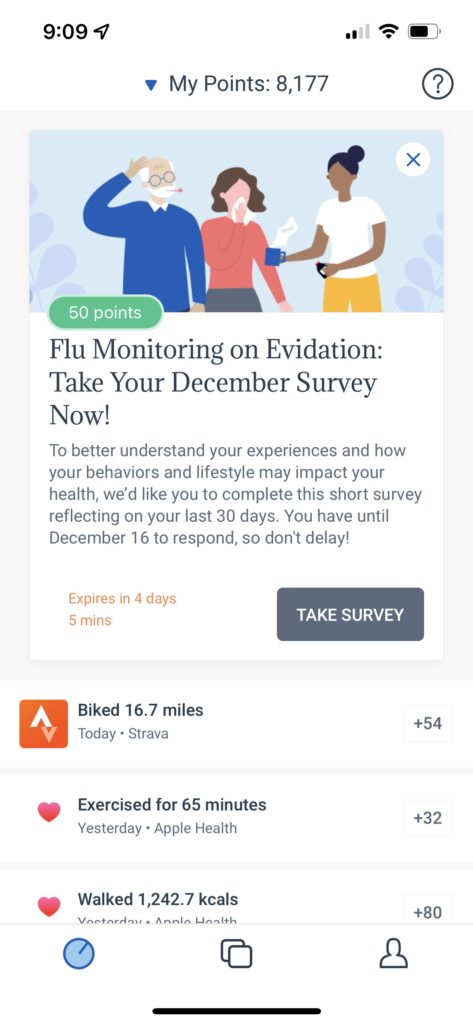 The Evidation app is easy to use, once you have setup the app there are a handful of survey and points opportunities that are offered up.
There are dozens of device trackers compatible with Achievement, many because they already work well with one of a handful of tracking apps. Strava, Apple, and Under Armour all have apps that connect to popular device trackers. Fitbit devices, Apple Watch, and Amazon Halo band also all work to provide step information to Evidation. 
A minute of working out or logging an activity of 10 calories equates to a point, or $0.001 per minute of activity or $0.06 an hour. This doesn't replace a job, but it basically means a healthy habit of walking, running, or working out daily can pay for a coffee every couple of weeks. 

Even with just standard tracking of activity you can get around 1000 points per week. This equates to about $1, since Evidation point convert 10k points to a $10 cash redemption. That is just for movement that you are already doing. Earning money with Evidation doesn't take any more action beyond setup, if that's what you want. 

Redemption is simple, all you need to do is provide an email and the app will send $10 via PayPal . The best part is that you can accrue these points without even opening the app.
Once the trackers are linked you'll earn points daily for the calories burned, steps taken, or workouts that get logged. This helps justify the low total payout, since that $50 per year wouldn't feel like a lot if you had to open up the app everyday to fill out surveys or log  activity. In total you could spend less than an hour in the app per year just redeeming points. 
It is worth calling out that this app used to be called Achievement, which we previously reviewed. With the rebranding the company appears to be more focused on actual published studies. Most of the survey points are for participating in various medical studies and filling out questionnaires. One of the more common ones are flu related, with all the activity tracking the goal is to correlate low level flu symptoms to daily output- things like resting heart rate and total activity done. Because they also ask for your zip code this helps them build a sense of how the flu is spreading on a regional and National level. 
Compared to other apps designed to pay money, Evidation has been one of the most consistent. Over nearly two years I have logged into the app maybe once a month, typically while killing time in a line or waiting room. That was only to tackle the handful of surveys. Luckily the surveys don't expire immediately so there's no need to check every day. It is likely that I have missed out on some of the points opportunities though.
Still, just have a linked log of tracking that is already happening from an Apple Watch and Strava gets plenty of points. On a good week that I workout the total is around 1000-1100 points a week. This means that once every two to three months I can login and redeem my Evidation points for an easy $10 through PayPal. Mentally I think of this as making my premium membership of Strava free every year just by letting these two apps talk to each other. For all the times people say "if you do t pay for it you are the product" this is a clear case of seeing that value.