After first taking a kid to a climbing gym at age four, and eventually visiting around a dozen different climbing spots with the young ones, there is one location that stands out for kids. That is the Sender City gym in Santa Ana, which is part of the larger Sender One gym. Sender One is a huge indoor warehouse climbing site that is now part of a small group of gyms under the same name. It is known in the Southern California area as a top spot for climbing, and even hosted the Olympic trials ahead of the 2021 (originally 2020) Olympic debut of climbing.
So what makes Sender City so much better than other spots for kids climbing. The whole experience of Sender City is designed specifically for kids. While not all locations of Sender One have a Sender City, all of the Sender family locations are kid friendly. If you want to get a kid-centric experience though you will need to head to the LAX or Santa Ana locations as these are the two that have dedicated "City" sections which cater to little ones. These features are what set Sender City apart as a top sport for rock climbing with kids: 
Themed Walls. The presence of dinosaur bones, race cars, and block letters as holds makes the visual approach to Sender City unlike any other climbing gym. By simply making the walls look appealing to what a kid is used to the gym gets over the initial hesitation for many young climbers.
Auto-belay. Both for safety and comfort reasons, auto-belays are an amazing feature. There is little chance of having a jolting fall where a belayer has to catch you and no concern about not having enough rope out. Further, any competent adult can clip a kid into an auto-belay and know they are good to go. For any roped climbing with kids, finding a gym with auto belay is a great idea.
Wall & Climbing Surface Variety. With more than a dozen different wall types the options at Sender City should appeal to every type of budding climbing enthusiast. At the Santa Ana location there is everything from a 5 foot tall horizontal bouldering wall to a 40 foot slab style climb to learn a smear technique. In between are cargo nets, ladder like holds in glow in the dark, and side by side speed walls for racing or collaborative climbing with a mate. 
Route Setting. Routes that are reachable for little ones are hard to find in a normal gym. When the setter of a route is 6 feet tall there are many areas where a kid can technically climb easier routes but is limited by a simple lack of reach. At Sender City the themed walls and even the normal climbing routes are setup with plenty of great hand and footholds all at the right distance.
Good Peer Pressure. The term peer pressure is often associated with negative things, but it can serve as a huge benefit in the right situation. A typical session will have a dozen other folks under age 8 that will open a kids eyes to the idea that someone there age and size can really have fun climbing.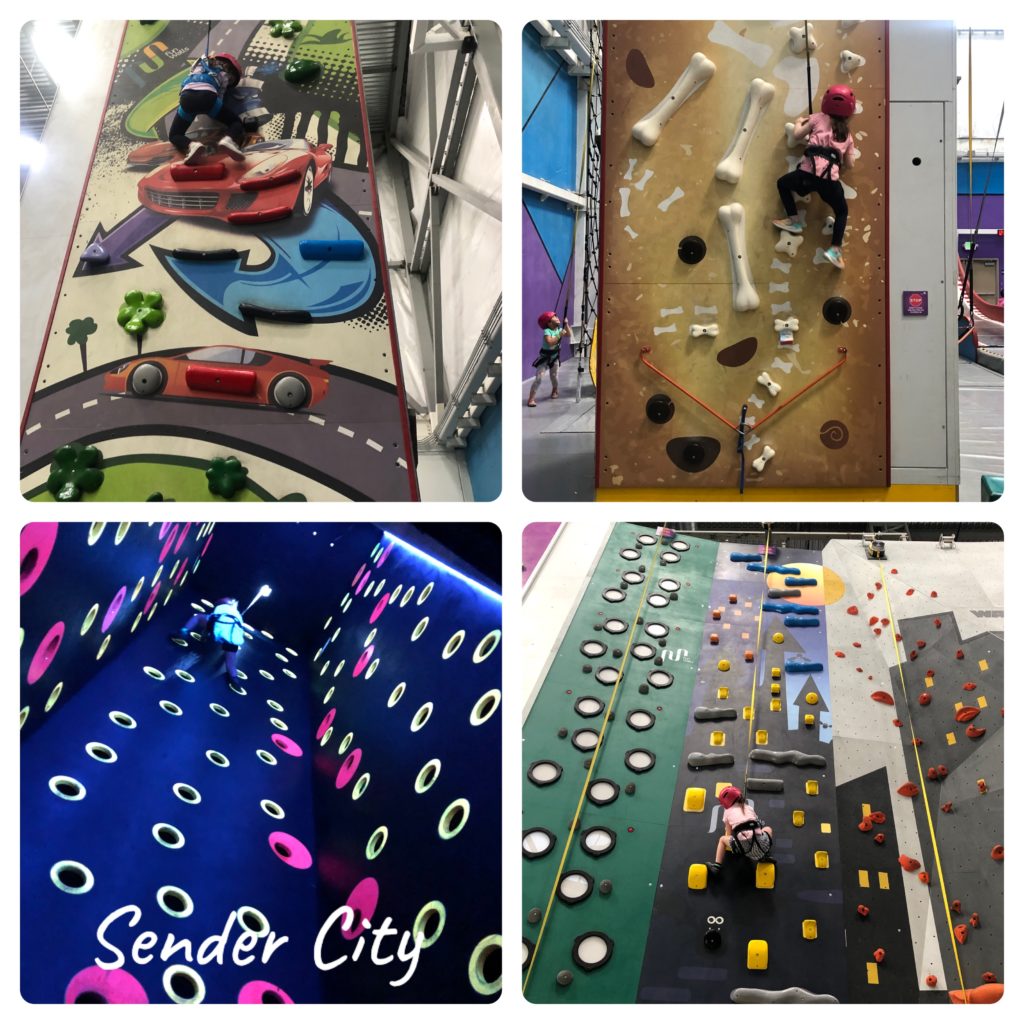 When Can Kids Rock Climb?
The answer to when can kids rock climb is often simply "when they are ready". Most gyms allow a parent to sign a release on behalf of a child and in those releases we've never seen a hard age limit. So if you are asking, Can I take a 3 year old climbing? the answer is yes… with caveats. Knowing where to go in order to have a safe and enjoyable time is key. Check the local gyms in your area first and understand there may be some limits. There are outdoor areas and group that will put a limit on ages as well.
Notably Yosemite National park says kids under 8 can not take part in group sessions, but they can do private group lessons or guided days. That means even at world renowned climbing locations you can still have a 5 or 6 year old climbing. While this makes sense from a sheer market perspective (really, how many 7 year olds are ready to climb outdoors in one of the world's top climbing locations), it is still a bummer for anyone who is there as a family and wants to take advantage of the opportunity.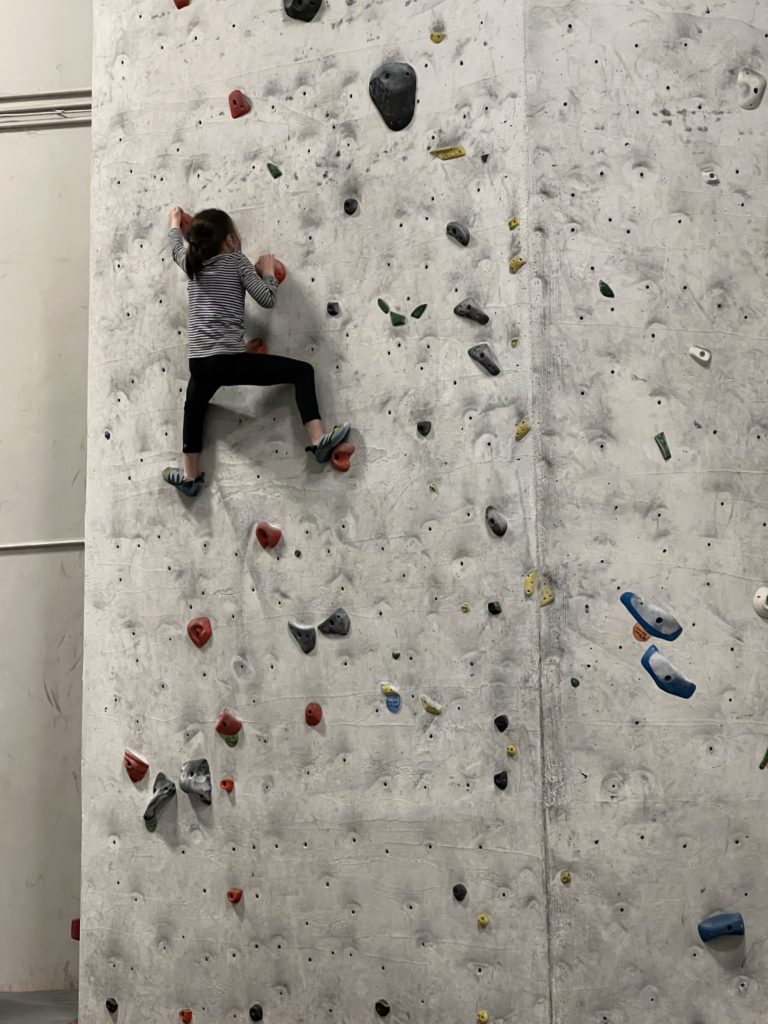 We began taking the little ones to ca climbing gym at age 4. While this is young, there was never a scenario where anyone in the gym was less than encouraging. The kids do a pretty good job of self selecting what is within their bounds. As a bonus, it is pretty easy to spot a person who weighs less than 50 pounds  since you can just catch them. 
How to Rock Climb with Kids
Getting into climbing with a kid can be easily be done by just showing up to a variety of parks. Most play grounds and park areas have something that a kid can climb on, and there is no reason to think that climbing a play structure is any different than climbing at a gym or on outdoor features. Often a gym will even be preferable for the access to safety landing areas and proper encouragement from others around them.
The easiest way to start climbing with a kid is to just go try it out. Most gyms have simple day passes and in our experience many of them will even let a kid climb for free with an adult as a way to encourage them to enjoy the sport.
In a bouldering gym the mats and fall area are a fun place to play. You can do a small tumble run or just bounce around. But safety and control should be paramount. We ensure the kids know they can NEVER do certain things, that includes running, going below or near anyone climbing, or going outside their comfort zone. Beyond that, before showing up and after, we always make sure to tell and ask the kids that it is about having fun. Since climbing can cause feelings of everything from nervousness to excitement, it is useful to help the kids work through their emotions and manage them. This is a huge reason that getting kids into climbing can be beneficial.
The other major rule we tell the little ones is to know your limits and that anywhere you climb up to you must be able to climb down from. This is important to understand for adults too, especially in a bouldering gym where there is a need to down climb. The best thing to do is start climbing by trying the down climbs. Most of the time the down climb mimics a ladder, but is made out of major holds, and this will be an easy route to take on and have the benefit of ensuring that the down climb is doable.