Great Style Versatile Shorts
When choosing the best pair of shorts for an activity there are two questions to answer. First, are liner or linerless the better option, and second, how long do the shorts need to be.
If you can answer these two question it will be easy to find a solid pair of shorts just from the Pace Breaker line from Lululemon.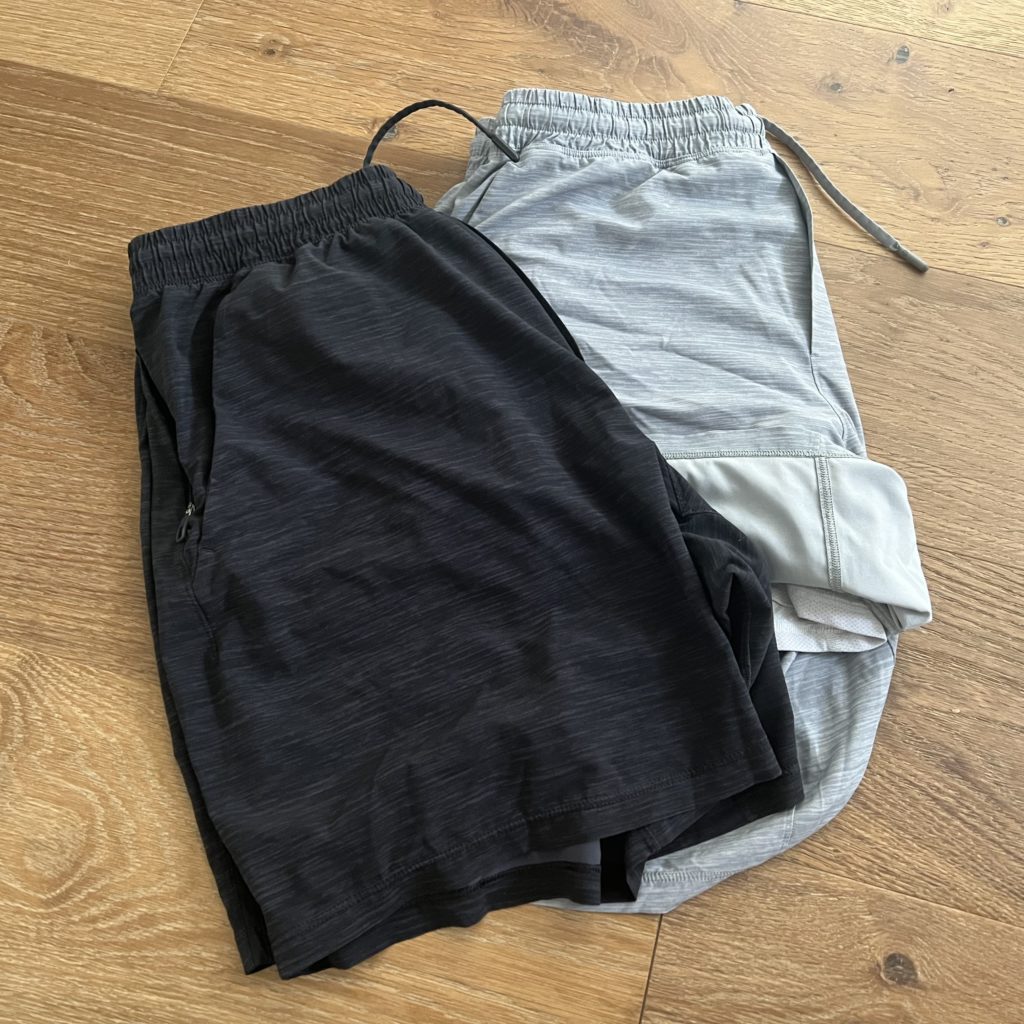 Liner Vs Linerless Shorts
A defining feature of the various shorts options are the linings. Some are free hoop shorts while others contain a compression under layer. The Pace Breaker are lined Lululemon shorts that can go from the couch to the pool, and everywhere in between. 
The lining preference comes down to personal choice, as well as preferred activity. 
For runners and cyclist there liners can become a battle of what causes chafing. On the pace breaker the liners are skin tight and stretchable so they mostly stay in place. This helps avoid chafing although it also depends on anything else you are wearing.
Personally we have found the liner on Lululemon shorts to be much less likely to introduce an issue than most other shorts. The one caveat here is when the shorts gets soaking wet. When they do the material has a tendency to roll at the bottom of the leg and then bunch up. While this is not unique to the Pace Brealer (most competitive shorts have the same problem), it is worth considering.
Linerless shorts are the real option if you already have an underwear selection dialed in. The Linerless shorts are slightly lighter weight, and still have an elastic band and pocket. They can be worn over a hammer style swimsuit or bike shorts. If you need padding though keep in mind that the Linerless is as minimal as shorts come so don't expect much cushion if you are worried about having soreness from a hard bike saddle.
Zip Up Running Pocket on Lululemon Shorts
One of the biggest issues with many athleisure pants and shorts are the top shallow pockets. If you have every dropped a phone down the side of a car seat, or lost a head phone that bounced out while running, you will know the frustration.
To combat this the pace breaker shorts all have a zip up pocket on one leg. The. Storage is perfect for some hills, credit cards, or much needed nutrition on a long run. 
Are Lululemon Shorts Worth the Cost?
One of the downsides of Lululemon is that the initial costs of most of their staple items is pretty high. Even so, the quality of their items and the solid customer service make the everyday items well worth the cost. Compared to other athleisure the Pace Breaker shorts are not too overpriced, since you can often find them discounted to $49.
Everyday pricing on Pace Breaker is often $68, but when the price drops it winds up being across the board. This is great news, especially since the discount is rare to see on popular colors of other Lululemon pieces. If you have ever been into a Lululemon and seen the overstock or sale rack you may have experienced finding exactly the right item for you but in a color that is anything but flattering.
Our preference for Pace Breaker shorts have always been the staple colors. Black, Navy blue, and white options pair well with active wear of most colors and styles. Each is also classy enough to be paired with an active collared top to make for a more refined yet relaxed look when transitioning between the pool area and a cocktail hour at a resort. 
The other major reason that Lululemon can justify the cost is the material and quality. When issues do arise make sure to take them back to a store and ask. On more than one occasion the sales associates have swapped out a pair of shorts with a small tear for a brand new pair of shorts. This happens only when the tear is in an obvious workmanship area, like stitching coming apart at the crouch, but not when there is a hole torn right in the middle of the shorts leg.
The light material also makes Lululemon shorts easy to wash. They rarely get so dirty to be a big issue. Cold wash is sufficient and keeps them lasting for a long time. While you can run them through the dryer (and for liner version this helps) you can also hang dry. The shorts will wrinkle slightly coming out of the wash, but quick folding solves the issue. 
Need to find an alternative to the Lululemon Shorts? There are many other less costly options. Check out our review of the Vuori Kore short, which serves as a great other option if you do not go with the Pace Breaker (although still at a premium price).