The Complete Guide to the Easiest Peloton Rides for Beginners
What is Peloton and is it for Casual Cyclists?
Peloton is a fitness company that offers live and on-demand cycling classes. The company sells a home cycling bike with a built-in touchscreen that streams those classes directly to the bike so that you can follow along. These classes are led by expert instructors who offer instruction, motivation, and inspiration for people who want to get fit at home or at the office.
While the Peloton Bike and Bike+ offer a great indoor training option for serious cyclists, it also caters well to the larger segment of the population that wants to try out a cycling class from their home. The bike itself should not feel intimidating, but many first time riders can feel overwhelmed by the number of metrics on the screen especially when the instructors are calling out cadence, resistance, or output targets. Even though the instructors do a good job of reminding riders to go at their own pace it is important to find an achievable first class in order to enjoy the experience.
If you are new to the sport of cycling, or spinning, the courses are a great way to ease into things. It also takes all the guesswork out of deciding what class to do. If you find nothing else, scan through some of the programs and start one as it will give you a backup any time you get on the bike. If after a few minutes of scanning and sorting classes you do not find one that inspires you, just jump into the program. You don't have to complete the all – but it does help cut down on decision fatigue when choosing a ride for a beginner.
How to Choose The Best Peloton Classes For You
Peloton is a company that has revolutionized the fitness industry by bringing high-quality, live cycling classes to people's homes. When deciding to pick a class though you should remember where you are in your own personal journey. If you have been taking spin classes at a studio for years and riding outdoors every weekend, then switching over to the structure of the classes in your own space is easy. Beyond how familiar you are with cycling, there are a few other questions to consider when trying to find a great class.
What is your preferred exercise?
Climb Rides and HIIT &Hill rides are great for folks used to high impact interval training. Cardio rides are best for someone who is experience at endurance athletics. Warm Up rides are also an ideal way to test out a new instructor. There are over different live streaming exercise classes available on the bike ranging from yoga to strength training to cardio. These are independent of the cycling classes that incorporate other components beyond just pedaling. If you are used to yoga or strength training, it may be best to pick one of those classes before even getting on the bike. Low impact rides are the easiest to get into for a 15 minute introductory course. An "arms and intervals" ride seems to match well with people who take part in more explosive sports, and even though it is not the same as lifting weights it mimics the nature of doing a lot of short sets. 
How important is the music playlist to your workout experience?
Artist Series, Hip Hop, Rock, and other music rides are great when you draw inspiration from the music. If you are an audiophile and a great sound track is what keeps you interested, then make sure to start trying out the various music filters. There are a number of Artist Series rides that cover top bands from the current era as well as classics, which are a great place to start. Keeping in mind that there is no reason to actually match the guidance that the instructor gives you (to pedal faster or slower), finding the right music tracks will make a 20 or 30 minute class way more enjoyable.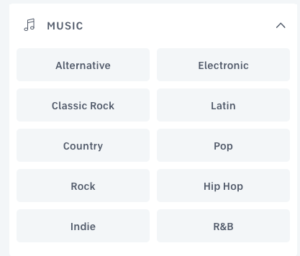 Do you want to measure your results?
Power Zone rides are the best for folks who are really looking to track some metrics. Even in advanced classes the instructors break down what the zone are (there are seven of them) and define the riding based on this perceived effort output. If you get into it more, you can take a 20 minute FTP (functional threshold power) class, after which your zones will be personalized and on screen regularly.
What are the Benefits of Using a Peloton?
Peloton provides a cycling experience in the comfort of your home. The bike is connected to an interactive video screen and live in-studio classes. The bike also has a built in tablet for watching live or on demand workouts and can connect with Bluetooth headphones and speakers for audio. Ultimately, the major benefit of them though is the access to classes.
If you are into just riding a training bike, the 'Just Ride' setting will do the trick. Still, if this is the type of ride that you like it may be hard to justify the price premium of a Peloton. Similar bikes can be purchased for a fraction of the cost with the only major difference being the screen size – which can be overcome by opening a laptop or phone or just putting the bike in front of a TV.
The Right First Class on A Peloton?
There is no such thing as the perfect first class, but there are tips to make things more enjoyable.
The right class is one that you like and will keep you engaged and coming back. With that in mind, remember that there is no reason to ride a class to completion. If you find yourself annoyed by the instructor, unable to keep up with the pace of the song, or distracted by the leaderboard then STOP! There is absolutely no shame in switching the workout. You may even want to intentionally plan your first ride to be the first 5-10 minutes of 3-4 different classes to get a feel for each instructor. Although many classes begin with a warmup you still will be able to tell the general feel of the class within the first couple intervals.
Are Peloton Shoes Necessary for Beginners?
Peloton shoes are not necessary for beginners. They are designed to be used with the Peloton bike, which is a stationary bicycle designed for fitness. The bike has a screen that displays live and on-demand cycling classes that you can take from the comfort of your home.
The only reason to purchase these shoes would be if you plan on using them with the Peloton bike. They DO help though. Some classes will ask you to pedal with only one foot at a time and being clipped in will make that much easier. That is because you get to not only push down on the pedal, but also pull up on it. Being clipped in engages different muscles. On classes with lower cadence targets it becomes easy to understand how much more efficient you can be with a full motion pedal stroke. At higher cadences this is harder to sense, momentum will be moving your legs as well, but it still makes an impact.
Do Easy Bike Rides Help Improve VO2 Max?
The answer is yes, they do!
VO2 max is the maximum amount of oxygen the body can use. It is a measure of how well your body can transport and use oxygen during exercise. The VO2 max test measures the volume of oxygen you use (VO2) and your heart rate (max).
Aerobic exercise, such as easy bike rides, helps improve VO2 max because it increases the amount of red blood cells in your body. This increase in red blood cells improves how much oxygen is delivered to your muscles when exercising.
VO2 max is heavily influenced by age and sex, and it is also influenced by the type of exercise. Thankfully cycling is linked to some of the highest VO2 max readings. That is because the sport correlates so well with being light weight but muscle dense sense it trains muscles that are already disproportionately more weight in the body. Sense VO2 max is calculated using body weight, and muscles process O2 more quickly, being more muscle dense is great.