One of the more tiresome tasks with managing a well thought out and structured training plan, is the seemingly simple act of scheduling workouts. There are a number of great applicatoins to help with this, inluding Training Peaks (which we've reviewed here in detail) as well as a free competitor Intervals.Icu.
Here we use Google Calendar for nearly all of our scheduling. There are personal and work calendars, along with others. Seeing workout details in the same shared calendar is super helpful. The image below shows what a Training Peaks calendar looks like when pulled into Google Calendar. For workouts that have yet to be scheduled they show up generically on the day but without a time. You can edit the planned time for the activity and it will pull in (just make sure to get the time zones right). Once a workout is uploaded it shows up at the time of the .fit file or workout meta data states.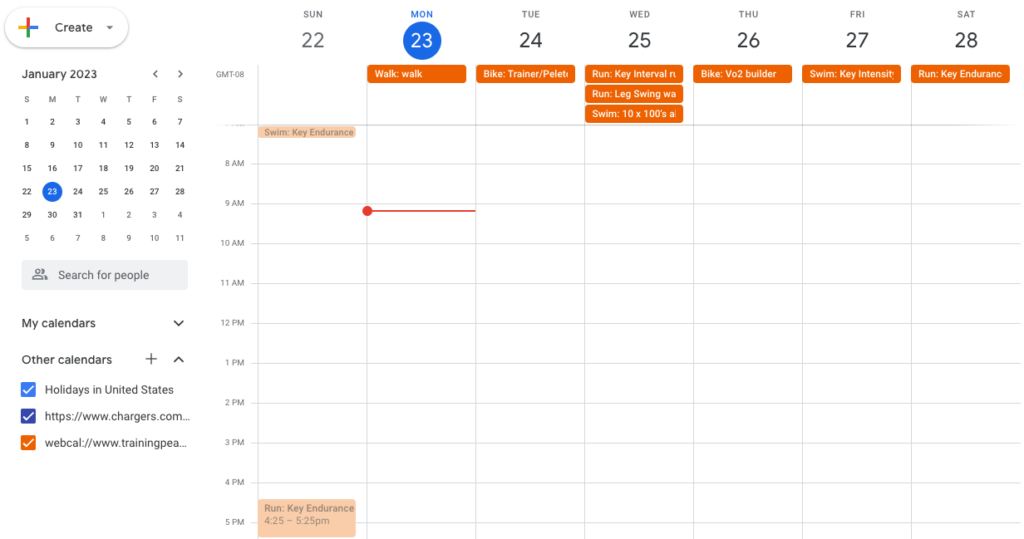 One item that is missing from planning workouts is the prep time or shower/change time afterwards. It is possible to create "other" workout types in your training plan to account for this time if it's necessary, but be careful as these blocks will get added to weekly total times.
It is worth highlighting that this method of sharing calendars is not unique to workout managing applications. As only part time atheletes, we also wind up taking part as a coach and player in various recreational leagues. Each of these has their own schedules managing by a variety of platforms. Similar instructions on how to share calendars from TeamSnap and GameChanger are available elsewhere on this site.
The First Step in syncing a Training Peaks or Intervals.ICU calendar is to find the URL of the shared calendar. From Training Peaks this is found in the Settings>Calendar link. Anyone with this link can access a training calendar, so you can share it with a friend, coach, or family member as well. To keep your training private, simply do NOT share this calendar link.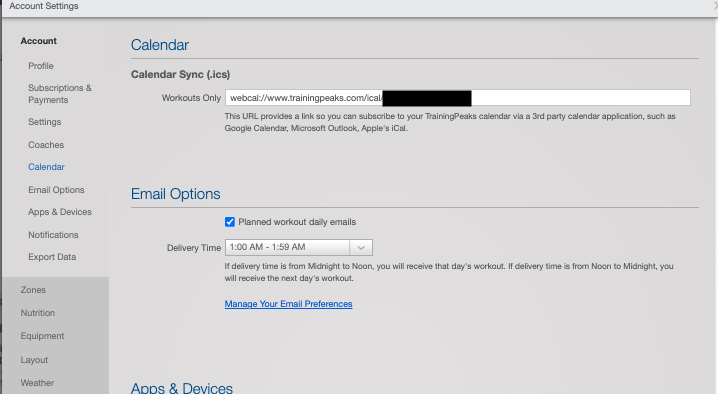 On Google Calendar Take These Steps to Add the Training Peak or Interval.ICU's Calendar
On your computer, open Google Calendar.
On the left, next to "Other calendars," click Add   From URL.
Enter the URL of the Team's shared Training Peaks calendar (see above to get the URL).
Click Add calendar.
On Apple Calendar or iPhone Take These Steps to Add the Training Peaks or Interval.ICU's Calendar
Open Calendar App. Select "Calendars" from the bottom of the screen
Click "Add Calendar" from the bottom of the screen and choose "Add Subscription Calendar"
Paste the URL of the Team's shared Training Peaks calendar(see above to get the URL).